ABC is pulling an upcoming episode of The Proposal after one of the contestants was accused of sexual misconduct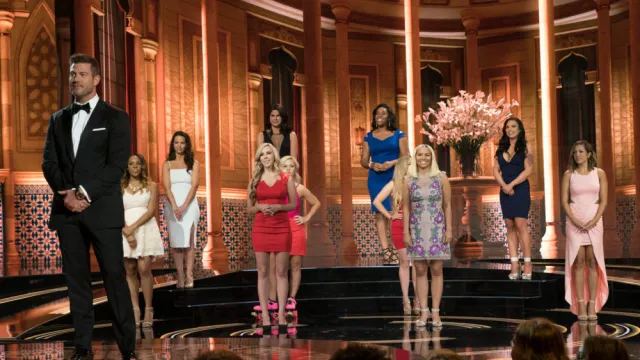 ABC's flagship dating-reality shows, The Bachelor and Bachelorette, have seen their fair share of scandal, especially over the past year. From seasons being completely canceled, to questions raised about how contestants are vetted for the show, and numerous sexual assault allegations, it's messy. And now, ABC's other new dating show is facing similar issues.
ABC has pulled next week's episode of its brand new dating reality show The Proposal after serious sexual assault allegations were made against one of its contestants. In a Facebook post from June 20th, Erica Denae Meshke, a Milwaukee, Wisconsin resident, recounted how the show's upcoming participant, Michael J. Friday, was "directly responsible for my date rape."
"After keeping this buried for nearly eight months, and seeing this man continue to succeed and not be held accountable for his actions, I've had enough," Meshke wrote. "I've lost sleep, relationships, self esteem, trust and countless other things because of that night. And I'm done keeping it quiet."
As Meshke explained in the post, she initially met Friday on Tinder, and he asked to meet in person. He was accompanied by two men who appeared to be in their 50s, both of whom he referred to as his friends. Meshke said they poured her a drink, and Friday left her alone to be with the two older men. She tried contacting Friday to check if he would come back, and while waiting, they offered her another drink she now believes was drugged.
While Meshke did not go into further detail about the sexual assault, she did say that she was brought to an apartment by one of the older men. What she had to endure for the next five hours were "unspeakable." She said she ran into Friday later, and tried to confront him about what happened to no avail.
"I ran into this person once since at a bar and confronted him after he attempted to buy me a drink," Meshke continued. "Once I reminded him of who I was, he acknowledged his part in that evening, and tried to argue with me and justify what he did, but was promptly asked to leave the bar by employees/my friends. This man is the pretty face that is used as a lure to get girls into unsafe situations."
Meshke ended the post with a warning to other women to be cautious about "bait-and-catch" situations.
"I've heard so many similar bait-and-catch horror stories, and it's sickening," she wrote. "Protect your fellow women, and keep trash like this accountable for their actions. Be safe. Be aware. Be cautious."
After the post made rounds on the Internet, ABC and Warner Horizon Productions released a joint statement about their decision to cancel the episode.
"An allegation has been made against a contestant on next week's episode of 'The Proposal,'" the statement read. "While the accusation was not related to the contestant's appearance on the program, we take it very seriously. ABC and the producers of 'The Proposal' are pulling the episode while this matter is under review."
Going public with allegations this severe is extremely difficult and we can't even begin to imagine what Erica is feeling right now. We applaud her for being brave and sharing her story, and our hearts go out to everyone affected by sexual assault and abuse.