The president of Planned Parenthood is knitting a Pussyhat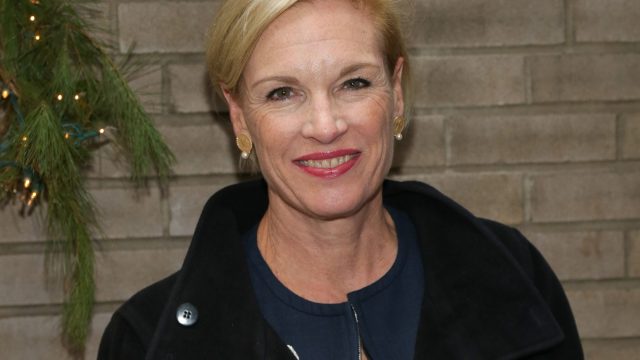 The president of Planned Parenthood, Cecile Richards, is getting down to business: she's knitting a pink hat. The recent news and political climate have — and truly always has been — a threat to women. While Richards is busy fighting the good fight, she is also taking time out of her busy day to stay involved in the Pussyhat Project, a project that is encouraging women to stay active in the upcoming Women's March on Washington by knitting pink hats.
The project offers ways for women to stay involved by signing up to knit a hat and women who are marching on Washington  (and across the country) will sport the hats to keep their heads warm during the cold season. The hats are pink, handmade, and designed to display solidarity.
Richards posted an image on Instagram where she was propped in front of her laptop, watching a YouTube tutorial, and knitting her pink pussyhat while on the way to the rally for immigration rights in D.C. Richards goes on to say how "meditative" knitting is and how she she is inspired by the women producers on The Daily Show who were knitting their own hats. 
The Women's March on Washington is being led by Tamika Mallory, Carmen Perez, and Linda Sarsour. Over 194,000 women are interested in the march, which will happen on January 21st after Donald Trumps' inauguration, and are standing up against racism, sexism, and anti-immigration rhetoric. Perez told The Huffington Post:
I want to make sure my children, my nieces, get to see themselves on that stage. It's important as a Latina woman, as women from different walks of life, to show we can come together in solidarity. If any young girl can see me or Tamika or Linda [on that stage], that's success.
https://www.youtube.com/watch?v=AesiuE-D1Ms?feature=oembed
For women who are unable to attend the march, knitting hats is their form of protest, empowerment, and protest to the conservatism that is politicizing their body's. The Pussyhat Project's mission includes 1) the power of numbers 2) the power of pink 3) the power of individuality within large groups 4) the power of handmade and finally, 5) the power of pussy.
Perez added, "Women from all walks of life coming together ― that's what resistance looks like."
To get involved in the Pussyhat Project, simply download the PDF, spread the word through social media, register your hat, host a knitting circle, and mail off your hats in time for the march!