Here's the deal with The Possession of Hannah Grace—the super creepy new movie that's currently trending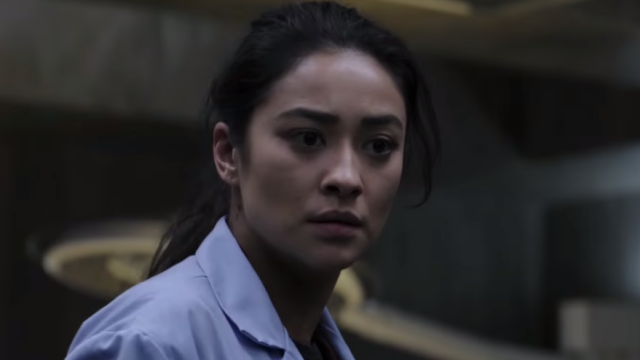 Halloween may be long gone, but in our opinion, there's no wrong time to watch a scary movie. And The Possession of Hannah Grace certainly seems like it fits the bill. Shay Mitchell of Pretty Little Liars fame plays Megan, an ex-cop who picks up a night shift in Boston Metro Hospital's morgue. Megan remains calm, cool, and collected…until the body of Hannah Grace, a victim of a botched exorcism, arrives on the unit. Slashed, gashed, and contorted, Hannah's body doesn't stay put in her designated refrigerator vault for long.
Still possessed by whatever demonic spirit possessed her in life, Hannah's corpse torments Megan and pushes her over the edge.
Jump-scare junkies and fans of realistic special effects will likely enjoy the Hannah Grace viewing experience. As Variety notes, the film's director, Diederik Van Rooijen, has made sure the film's cadavers are as true to life as possible. Audiences are apparently introduced to the disturbing authenticity early on in the film—the opening credits "look like they were taken from a serial killer's Polaroid scrapbook," according to the site.
If you're looking for a not-so-feel-good flick to put you in the anti-holiday spirit, this is definitely it. Check out the trailer below (if you dare).
https://www.youtube.com/watch?v=RHAgri92JP8?feature=oembed
The movie hits theaters today, November 30th (and is already trending). We'll be quivering in our theater seats very, very soon.