The Office cast recreated their famous wedding scene via Zoom, and it's glorious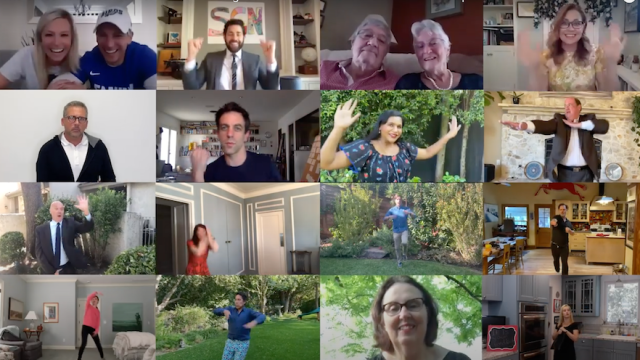 If there's one thing that been consistently bringing us joy during the coronavirus (COVID-19) pandemic, it's John Krasinski's "Some Good News" Youtube show. The show is exactly what it sounds like: a collection of good news stories reported by Krasinski, who has perfected that signature broadcaster voice inflection. And although we've loved every single episode, he really outdid himself in the most recent installment. Krasinski made an Office reunion happen—and the gang recreated *the* famous wedding dance.
On the May 10th episode of "Some Good News," Krasinski reunited Office stars Angela Kinsey, Kate Flannery, B.J. Novak, Steve Carell, Mindy Kaling, Rainn Wilson, Jenna Fischer, Ed Helms, Oscar Nunez, Brian Baumgartner, Phyllis Smith, Creed Bratton, and Ellie Kemper to help celebrate a Zoom wedding for one very lucky couple. The couple, Susan and John from Maryland, sent in "the greatest proposal video [Krasinski has] ever seen," in which John got down on one knee outside of a gas station and proposed to Susan, just as Jim did for Pam in Season 5 of The Office.
To offer his support to the couple whose wedding plans were being altered by quarantine, Krasinski decided to throw an impromptu virtual wedding ceremony.
With social distancing measures in place across the globe, Krasinski knew it would be hard for the couple to have a special moment like this without family in attendance. So, he enlisted their parents and two of their good friends to act as a bridesmaid and groomsman. Then…he added Jenna Fischer to the call to serve as the maid of honor. Country star Zac Brown even joined the call to perform a a song he wrote especially for the occasion. Then, the crew got on with the nuptials, which Krasinski officiated by the power vested in him by the internet. After pronouncing the pair husband and wife, the actor cut his tie to give tribute to that sweet Office moment from the day Pam and Jim got married.
Then, this happened.
https://twitter.com/udfredirect/status/1259709454901280768
Krasinski proceeded to bring on the rest of The Office cast to recreate the absolutely iconic scene in which everyone danced down the aisle at Jim and Pam's wedding, against Pam's initial wishes, to "Forever" by Chris Brown. (Yes, we also very much wish this classic moment was set to the tune of a different artist's song).
"Thank you so much for being a part of this," Krasinski told the newlyweds. "You're not only good sports and a beautiful couple but you also represent all of the other beautiful couples who are going through the exact same thing."
Like the above tweet says, this clip will be our main source of happiness for the foreseeable future.