"The Finer Things Club" from The Office just reunited, so grab your berets and cheese crackers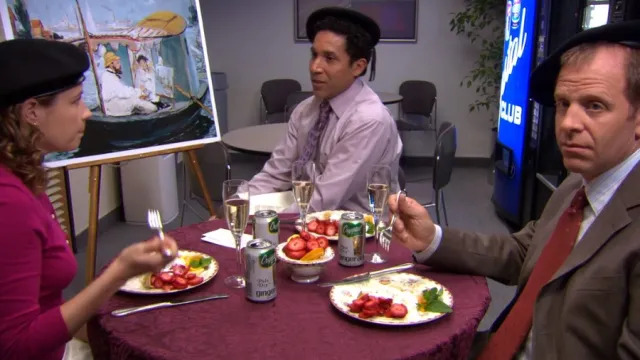 All true Office fans will recall The Finer Things Club, so we're happy to report that the club — which consisted of Pam, Oscar, and Toby and celebrated art, literature, and classy snacks — is still alive and well. And it's working to do good.
For some context: On April 16th, Jenna Fischer revealed products related to The Finer Things Club that she, herself, helped design for fans to purchase. And as expected, they're adorable (we're glad Pam's putting her art education to good use). Sales for the products will benefit Miry's List, which is a non-profit organization that strives to provide a safe haven and necessary materials for refugee families in the United States.
The three founding members of The Finer Things Club — plus one special guest — had a reunion to celebrate the merch today, May 3rd, and the photo makes us want to rewatch The Office, stat. (Wait — actually, we're already doing that.)
"The charity drive inspired us to get the whole gang together - and, in the spirit of giving, to finally allow Andy to join," Fischer wrote.
https://www.instagram.com/p/BiSt2XwnPhV
OUR HEARTS.
Fischer, Paul Lieberstein, and Oscar Nunez look so happy to be together, and we love that a smiling Ed Helms tagged along as well. Also, it looks like Jim's membership really was a temporary arrangement — as Fischer herself confirmed.
While Fischer initially said the products were only going to be available for two weeks, she extended it through the night of Thursday, May 3rd (tonight!). So you should order asap if you want some Finer Things Club merch of your very own.
https://www.instagram.com/p/BiK9HfgH1pm
Our only question is what book did they discuss this week?