Superfans of The Office, rejoice! You can now own actual props from the show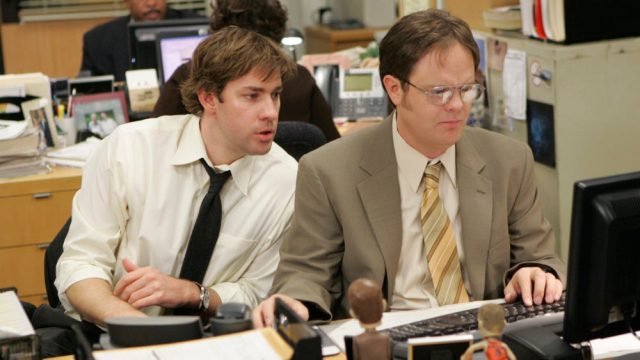 The Office aired its final episode in 2013, but if you're one of the lucky winners of the official Office auction, the show can live on…forever! The auction just launched via Screenbid, so you can now bid on 500 of your favorite props, sets, and memorabilia from The Office. All items come with a certificate of authenticity, so you know you're getting Kelly Kapoor's notebook and not just a random notebook. Most items are under $100; for example, you can have Angela's Purple Keystone Water Bottle for $50 or Erin's highlighters and calculators for $50.
The auction is mostly made up of regular office items like keyboards and phones. Jim's desk lamp is just a regular swivel desk lamp, but it can be yours for a cool $1,100. The appeal is you can own a piece of Hollywood history, even if that piece of Hollywood history looks like a normal computer monitor. Why have a regular mouse when you can have Kevin from The Office's mouse?
The most expensive item is the Dunder Mifflin, Inc outdoor sign ($5,000). Pam's reception desk also has a high bid of $5,000.
You can also get other pricey bespoke items like Michael's Neon St. Pauli Girl Beer Sign, Michael's Framed Dunder Mifflin Family Map, or Dwight's Sales Associates Association Award 2008.
If you've yet to find another show that fills that Office-shaped hole in your heart, maybe you need to get your hands on one of the 500 items in the official auction. Act fast because the auction officially closes on October 5th, 2018. It's time you wow your IRL office mates with an official Dunder Mifflin Sabre Catalog 53 (for only $125).