The Obamas went out for lunch in NYC, and people lost their GD minds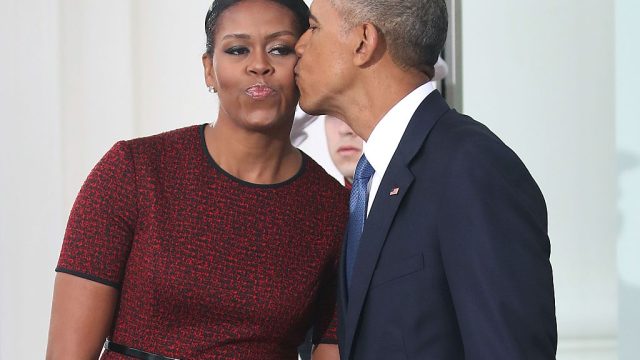 It takes a lot to upstage 22-time Grammy Award-winning musician and U2 frontman Bono, but it happened on Friday — all because he went out to lunch with Barack and Michelle Obama in New York City.
Since leaving office in January, Barack Obama has become the subject of a Where's Waldo-type hunt, and each new post-presidency Obama sighting elicits a barrage of "we miss you" tweets. So it won't come as a surprise that most people who saw Barack and Michelle in NYC with an actual rockstar on Friday were screaming praises to the Obamas as if they'd just released a number one album.
Check out these fans' videos to get an idea of the scene
Lunch-goers can be heard cheering and clapping for the Obamas as they enter the restaurant, trailing behind a parade of security. Talk about an entrance!
https://www.instagram.com/p/BReBdxWDXL7
This Obama-spotter captioned her pap-like shot of Barack with, "I'm dying. I'm dead. PRESIDENT OBAMA is at lunch w us. We all clapped and cried."
RIP, girl. The whole world totally feels you.
In another video, people who happened to be eating at New York's Upland Restaurant with the former first family (but always first in our hearts) can be heard yelling, "We miss you! We love you!"
https://www.instagram.com/p/BRePfnJhA8f
Even celebs and fans who weren't at the restaurant with the Obamas (physically), but felt they were with them (spiritually), got in on the love fest, taking to Twitter to express their adoration for the couple who looked *so NYC.*
Comedian Billy Eichner shared his appreciation for this now-iconic photo.
And fellow funnywoman Ziwe Fumudoh remarked upon the glow that only a major relief of responsibility can create.
https://twitter.com/udfredirect/status/840608936998891521
Need to see the photo one more time? Here it is:
https://twitter.com/udfredirect/status/840379755597856768
The fandom is so real and so well-deserved for Barack and Michelle Obama. To echo the cheers eagerly yelled at Upland on Friday: We love you, Obamas!