Here's a "Mindy Project" shocker — Mindy and Ben are getting divorced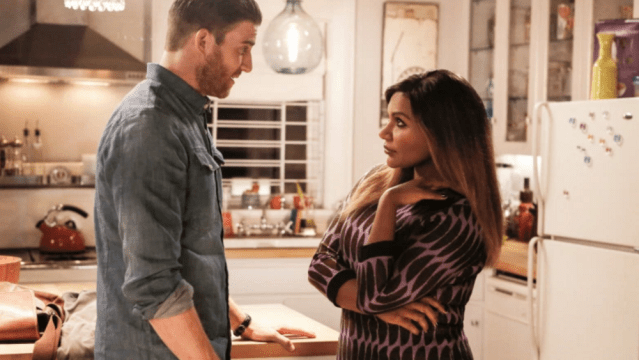 Grab your sour straws and wine bra, because there's going to be another breakup on The Mindy Project, and we're not quite sure how we feel about it just yet.
Entertainment Weekly revealed that in the upcoming, final season of the series, Mindy Lahiri and pediatric nurse Ben (Bryan Greenberg) will be getting divorced, and it'll happen pretty early in the season.
This actually is not all that surprising, especially given the fact that Mindy looked pretty sad and reflective following the subway marriage proposal in the show's Season 5 finale. PLUS, we know for sure that Danny (Chris Messina) is coming back for the upcoming season, so perhaps that could spell trouble?
No word yet on how big of a role Danny will have. But according to Kaling, it's going to make for a really intriguing return.
"We've been texting with [Messina] recently and wrote some really great stuff, Kaling said during the recent Television Critics Association summer press tour.
There's also a chance that Mindy won't end up with Danny — or anyone for that matter! — and we could really get behind that as well. What's more, Kaling added that her character will get a happy ending.
"I think that happily-ever-after can sometimes be romantic happiness, and sometimes it can be feeling a contentment about your life — your professional life and as a mother," she said.
For those of you who had staked a great deal of hope and shipping time on the whole Mindy/Ben relationship working out, take heart in knowing that the two actors seem to be the greatest of friends.
Like, look at this picture Greenberg posted of the two of them on-set:
And this one:
One more for good measure:
Here's to eagerly awaiting the final season of The Mindy Project, which returns to Hulu on September 12th.