The military parade Trump wants to have is honestly really terrifying
It's really astounding how Donald Trump can manage to find new ways divide Americans, such as turning our respect for the military into a grotesque display. In case you missed it, Trump is throwing a military parade, and it is terrifying — and it's not un-American or unpatriotic to say so. This week, the president asked the Pentagon for a military parade that would go down Pennsylvania Avenue in Washington, D.C. He wants something like the French Bastille Day parade he saw last summer — but obviously bigger and better. Yuuuuge, if you will. Yup, our very grown-up president wants to ship in tanks, LAVs, missiles, and rockets from all the bases, along with thousands of military personnel, and march them through the capitol as a show of "appreciation" for their service, according to White House press secretary Sarah Huckabee Sanders. It's like a Saturday Night Live sketch waiting to happen.
Sanders added, according to NPR, "President Trump is incredibly supportive of America's great service members who risk their lives every day to keep our country safe. He has asked the Department of Defense to explore a celebration at which all Americans can show their appreciation."
According to the Washington Post, Trump expressed this desire in a meeting in late January with top Pentagon officials. "The marching orders were: I want a parade like the one in France. This is being worked at the highest levels of the military," is how an anonymous source put it to the Post. There are a couple of reasons why this idea is so outrageous and terrifying, yet unsurprising.
The U.S. doesn't normally do military parades like this (the last one was in 1991 after the Gulf War) for a reason: They're a really extreme display of military power. Dictators love them, as did the former Soviet Union. North Korea's throwing one this Thursday, for example. But the thing about these parades is that they're less of a way to show appreciation for the actual human beings who are deployed into war and more of a show of strength, meant to scare enemies.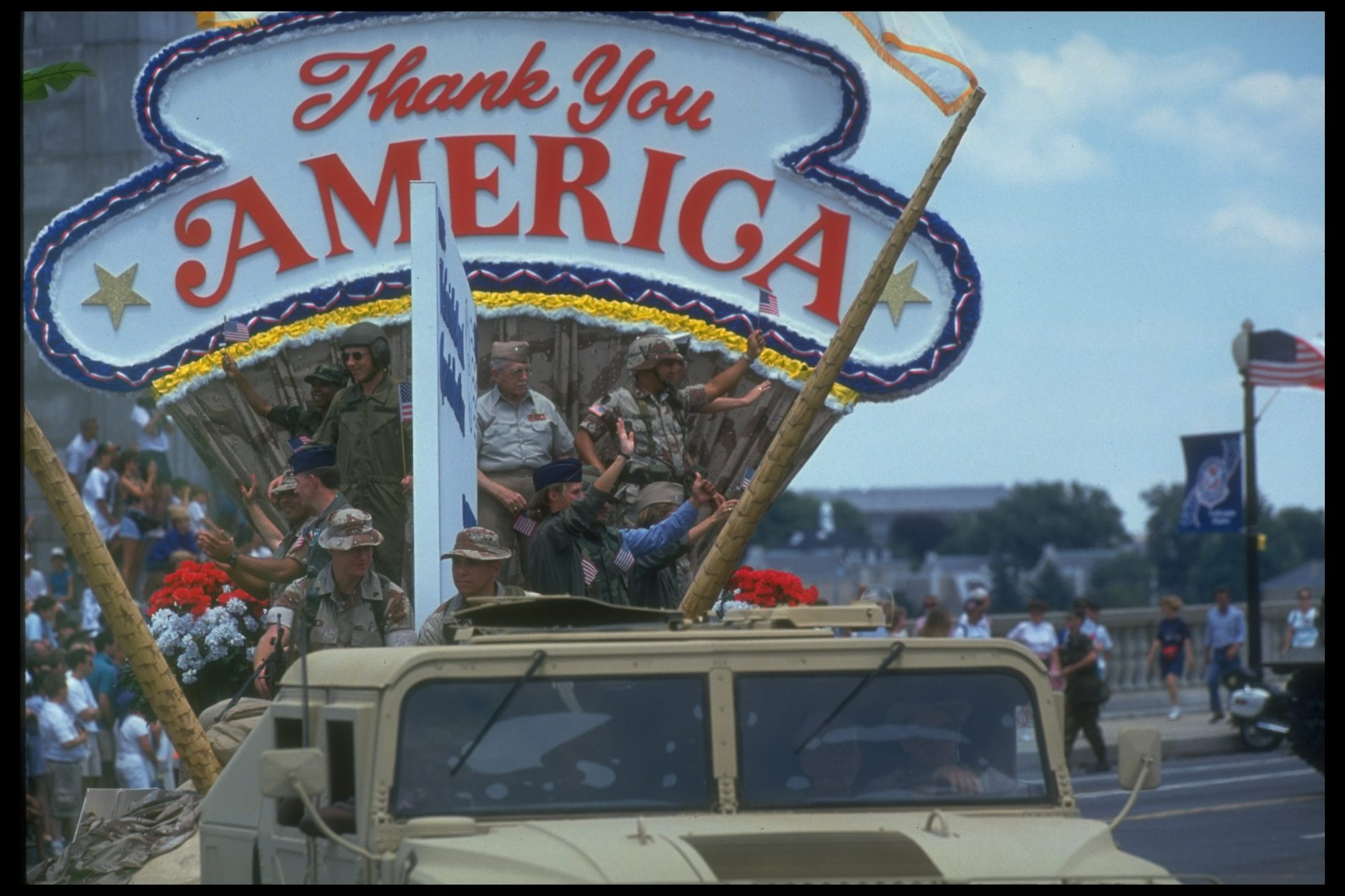 But you know how calling yourself "cool" means you're not cool? (Sorry, Dad.)  That's kind of how military power is. Despite whatever you think about our military culture or our defense budget, we can all agree that America has the most powerful, highly trained military in the world. We don't need to show off our tanks, missiles, and marching soldiers to believe it.
Then again, maybe this parade is not meant to be a show of nationalism or prove to Kim Jong Un how big our tanks are. It's entirely possible that Trump actually wants the military parade to celebrate him, as commander in chief, which is way, way worse. According to USA Today, Trump asked for the same type of parade at his inauguration, which again, is something dictators do. Combined with his comments earlier this week about how everyone should be "loyal" to him no matter what and declaring the press the enemy of the state — he's really getting comfortable with this despot-like behavior.
https://www.youtube.com/watch?v=jNhmXSC4xxg?feature=oembed
It's not just Trump's cartoonish motives for this parade that send chills down our back. It's also that he has top military brass trying to figure out where to find the millions of dollars that a parade would cost. Missiles and tanks don't ship themselves, and D.C. security would need a major boost. Surely, there are better ways to spend that money and the time of our top military experts.
As much as politicians laud our military service members with verbal shows of support, they don't often celebrate it in ways that are actually meaningful. This includes Trump. For example, we outsource health care and social services for active and non-active military families to private charities instead of taking care of them ourselves, which is shameful (but also fortunate in some ways since the Veteran's Affairs Department is a mess). Although the VA's budget is supposed to increase by six percent under Trump's budget proposal, it comes with lots of caveats, such as capping GI benefits at more restrictive rates and cutting other cost of living and health care benefits for military families.
Until we really, really support our troops, maybe we should hold off on the fanfare, which is just a distraction.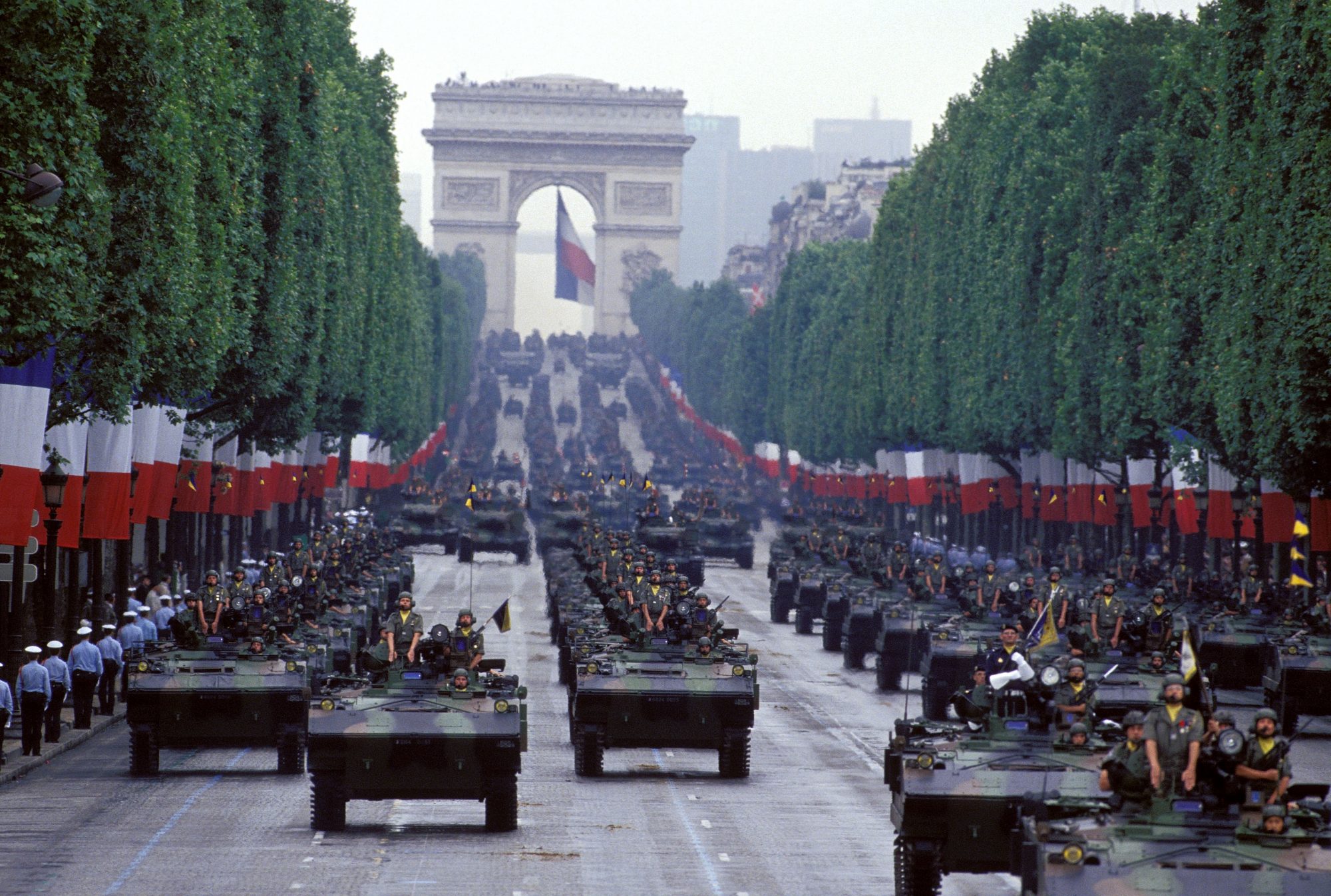 We have so many ideas about how to do that! How about taking the money we would spend on a parade and pay some experts to figure out how to better help vets and their families in the long run? Or revamping recruiting so that multiple deployments aren't "routine" anymore? We could figure out a working exit strategy in Afghanistan or the other places in the world where we might not need such a huge military presence. Or, at the very least, you know, not antagonize other countries into war on Twitter. Empty cheers and salutes to the military for political gain — which is exactly what a parade would be — don't do anything productive.
But really, the most terrifying aspect of this parade is that the mere suggestion is a low-key way for the president to divide us all even more. Since he knows we don't have the money for it and the Democrats would tell him to slow his roll, it's like he's asking them, "Do you love America or not?" It is a total false equivalence.
The way the White House statement put it, one would think that the other presidents didn't support our troops and Trump is the singular stable genius to have ever thought of such a thing. Or that anyone against this proposed parade is unpatriotic, which is not true. Most Americans respect the military and want to support service people. It's also painfully true that most Americans are estranged from the military, since we're not forced to do service and are left with all sorts of stereotypes and misunderstandings about the institutions and the people who do serve. More interaction between civilians and military members could go a long way. But there are longer term, more meaningful strategies the Department of Defense could implement to fix that. Exploiting the military with an expensive, unnecessary parade to celebrate Trump's ego is not the way.