The psychedelic costumes in "The Love Witch" prove that not all witches have to wear black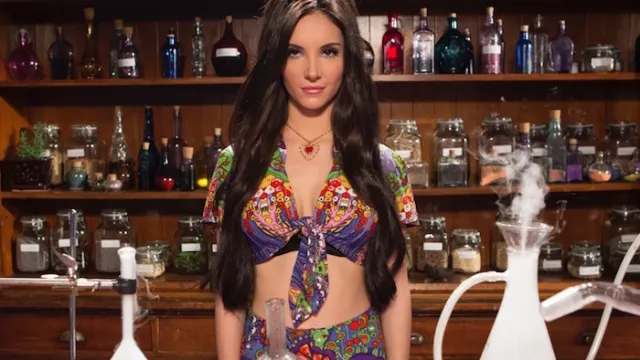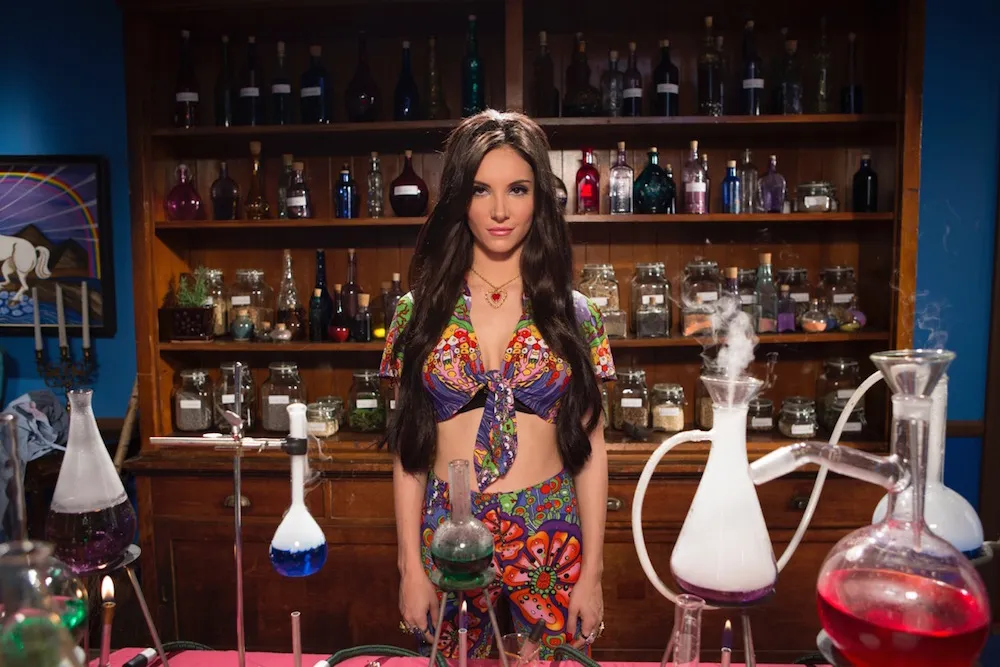 When I first saw the trailer for The Love Witch, my jaw-dropped at the gorgeously vibrant, highly-stylized visuals. The scenes looked incredibly authentic, as though they were ripped straight out of old Technicolor films from the 1960s. The film tells the story of Elaine (played by Samantha Robinson), a modern-day witch whose goal in life is to make men fall desperately in love with her, which she does via magick.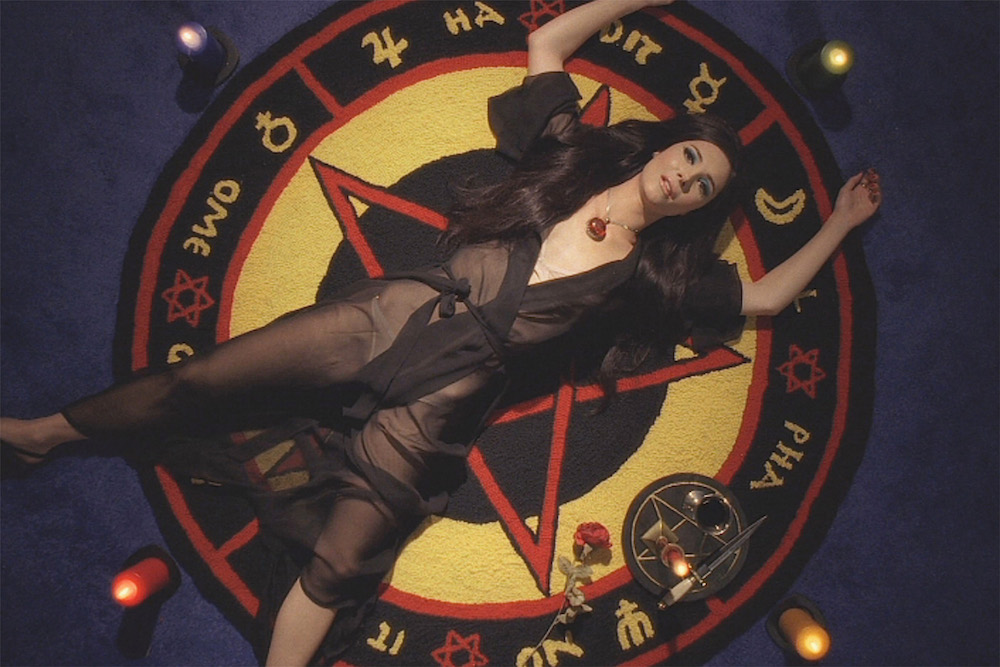 There are many different themes explored in The Love Witch — relationships, the male gaze, narcissism, witchcraft, revenge, power, and feminism. Today, we are focusing solely on the aesthetics, namely the costume design. The film's colorful costumes are set against a vivid set design, adding a whole different level of enchantment to Elaine's spells and potions. We are so used to seeing witches either portrayed as ugly (Hocus Pocus), or incredibly beautiful (but solely wearing head-to-toe black, like in American Horror Story: Coven.) Elaine's sartorial style is the opposite of the typical cinematic witch — a psychedelic, mystical rainbow. She's Morticia Addams meets Mary Quant.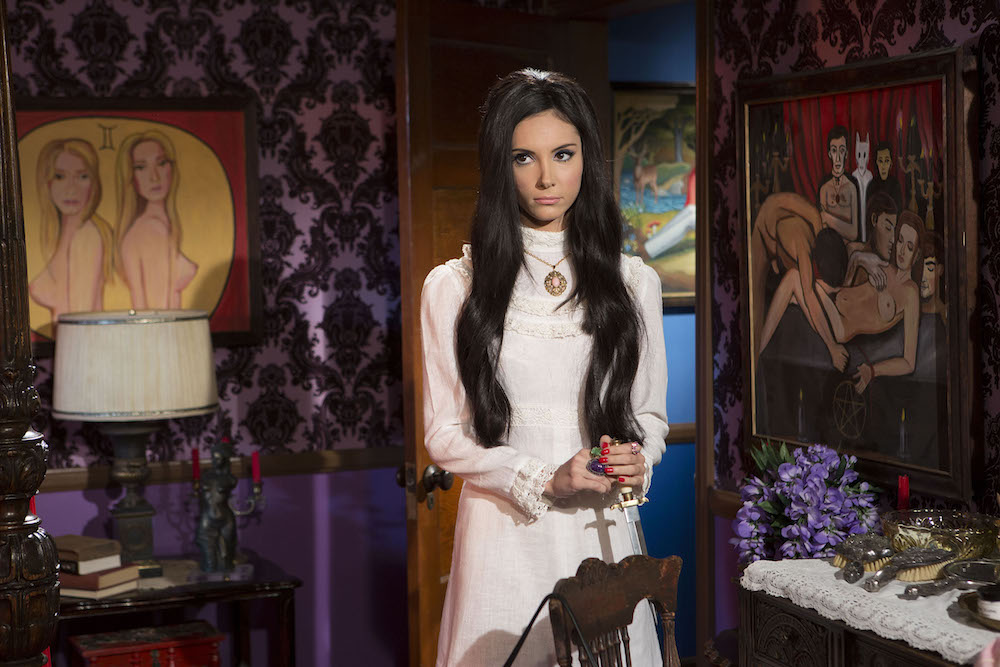 Anna Biller not only directed, wrote, and produced The Love Witch, but also made many of the costumes and props for the movie, just as she did with her 2007 film, Viva. We talked to Anna about the inspiration behind Elaine's outfits and the classic beauty icons that inspired her makeup looks. (We had to specifically ask about Elaine's eyeshadow, which Anna said was from Shiseido.)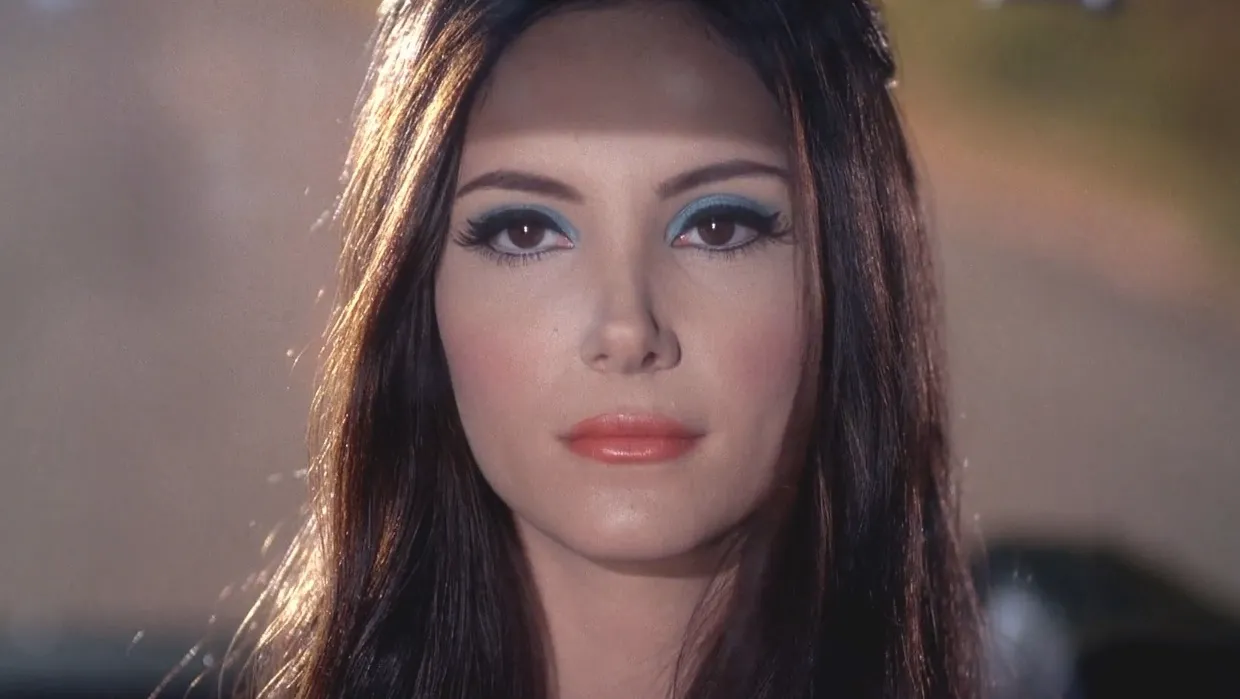 HelloGiggles: What was the inspiration behind the outfits? Were many of them vintage/thrifted or handmade?
Anna Biller: I wanted the costumes to come from Elaine's romantic self-fantasies. I made a lot of them, and also a lot of them were vintage. I tried to sew as little as possible, but there's always a ton of sewing involved no matter what! (Including tailoring men's suits and that sort of thing). The most laborious task was making all of the costumes for the Renaissance scene, each of which required several pieces, plus hose, hats, and headdresses.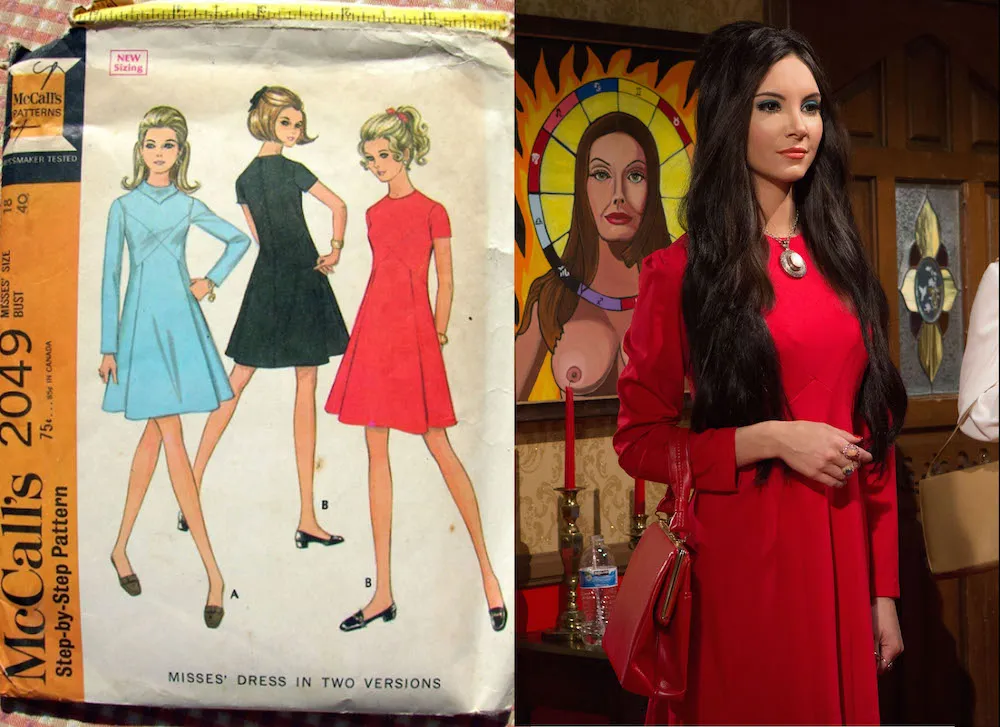 HG: Did you have a favorite outfit of Elaine's?
AB: I really love the little white linen dress she wears near the end, a vintage dress from London. And I also love the two '60s-Victorian dresses she wears, one pink and one yellow — her "tea dresses" that were made by Gunne Sax.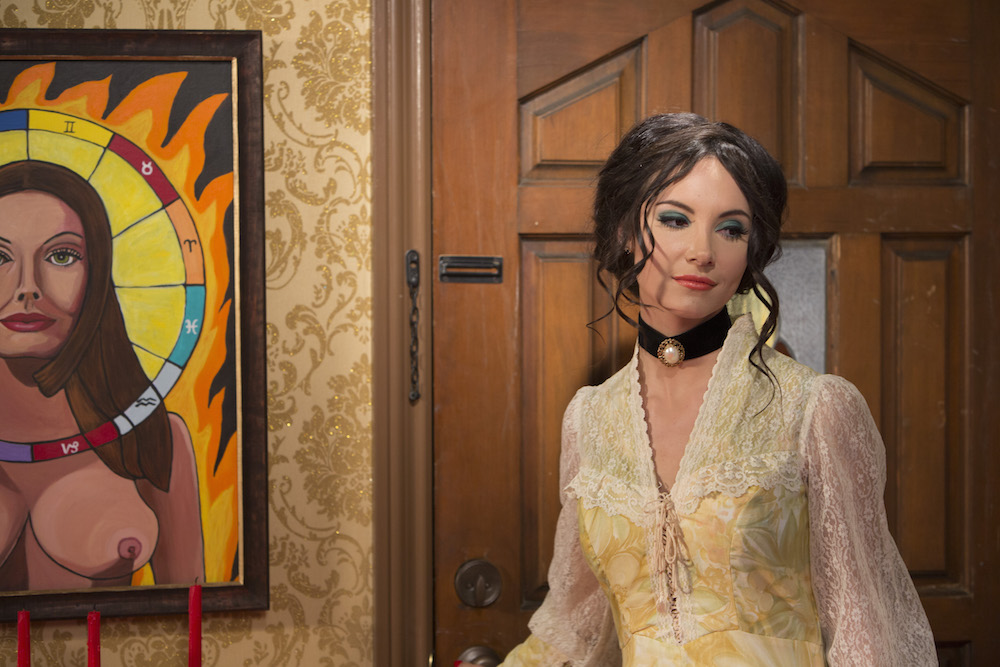 HG: What was the source behind the incredible tea party scene?
AB: The tea outfits were all vintage finds, but I had to do a lot of alterations to make them right. I looked for vintage Gunne Sax dresses specifically, wanting to give Elaine the look of those vintage Bradley dolls with the big eyes, and of the prom girls, bridesmaids, and Wild West gals you'd see in movies from the '60s and early '70s. The scene itself was inspired by an actual tea room I visited once where all the ladies wore hats trimmed with flowers, and pastel colors. I really saw Elaine in that setting, with all of her princess fantasies.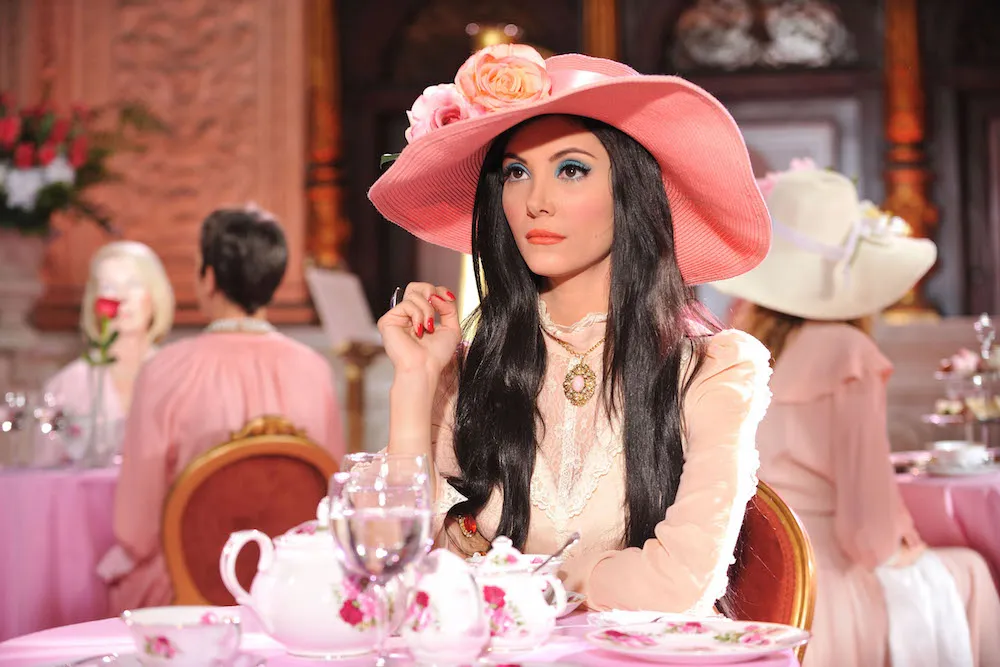 HG: Were there any stars from the '60s that were the inspiration for Elaine's style?
AB: No stars in particular, although some of her outfits were reminiscent of clothes worn by Audrey Hepburn or Tippi Hedren. Some have also compared her to Diana Rigg and  to Edwige Fenech, which I can definitely see. But now that I think of it, actually all of the stars from the '60s dressed like Elaine!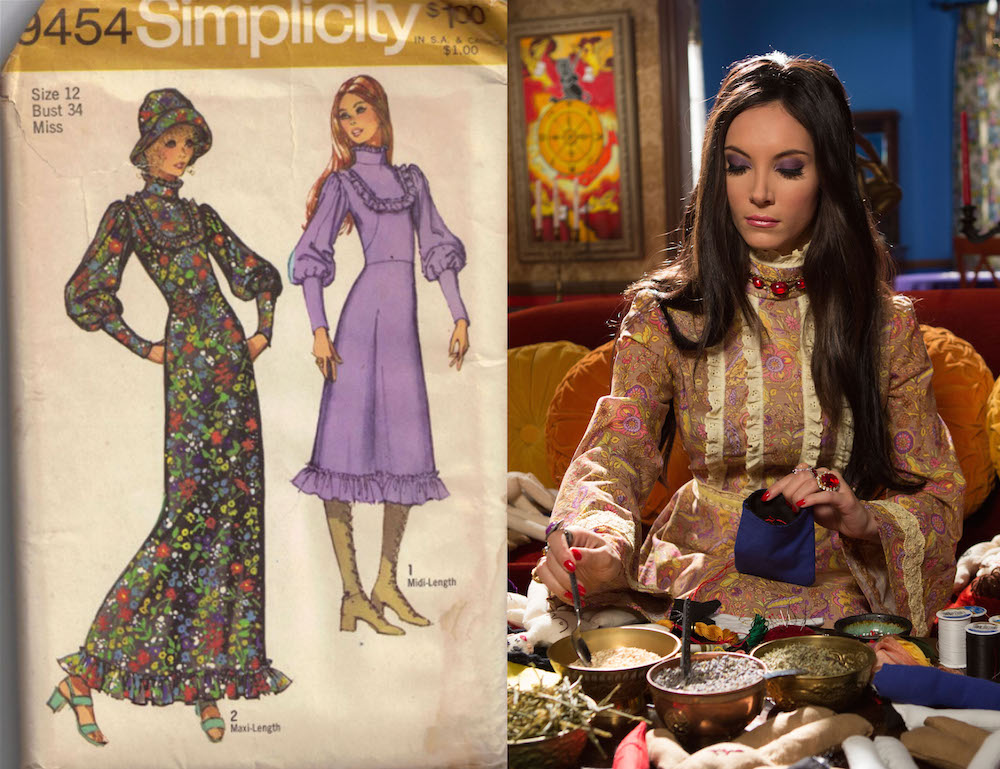 HG: Can you talk about Elaine's makeup? Any particular beauty icons that you took from for it?
AB: We looked at Brigitte Bardot's and Claudia Cardinale's eye makeup in particular, and also at their hair — they wore falls over their natural hair to create length and height, like Elaine.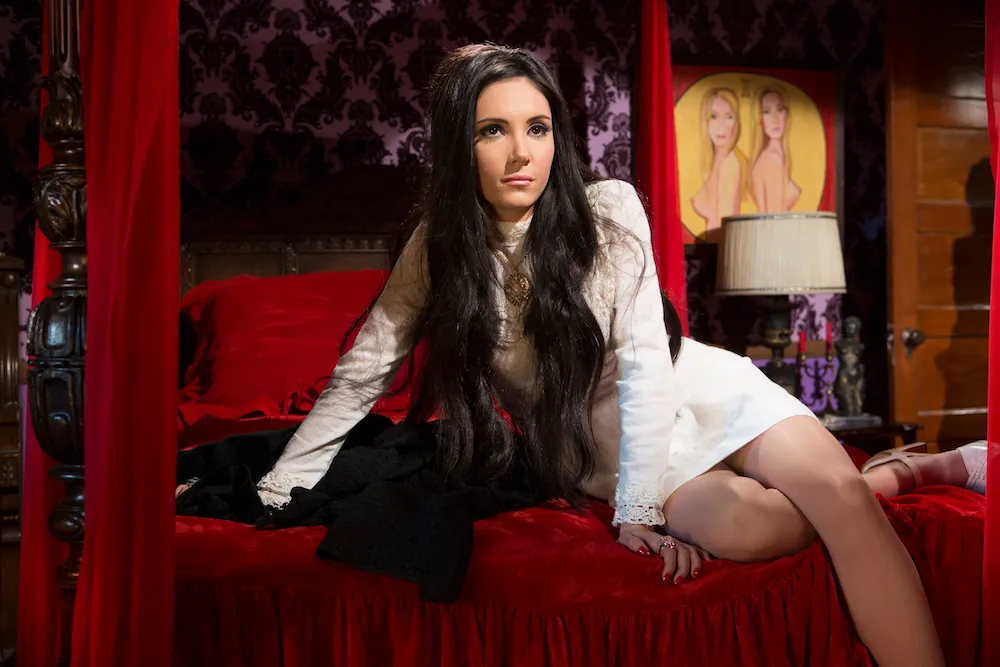 The Love Witch is screening at both domestic and international film festivals throughout the summer, and is scheduled for theatrical release later this year.  In the meantime, watch the (NSFW) trailer, below. https://www.youtube.com/watch?v=