The Kardashians just went on the most glam road trip, and we're taking notes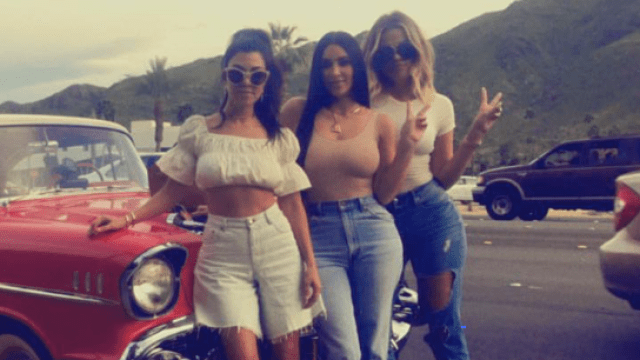 All aboard the Kardashian express! Leave it to the Kardashian sisters to have a chic road trip…yes, a chic road trip.
We know what you're thinking, a road trip is so NOT chic. In fact, a typical road trip includes long hours on the road, which sucks. There are usually lame snacks and rare bathroom stops at less-than-ideal gas stations. Oh, and who can forget the heat and cramped spaces?
Yes, road trips aren't always the most stylish adventures to go on, but the Kardashians aren't your average travelers. When they travel anywhere it's in style, and road trips are no different.
Kourtney, Kim, and Khloe took a little sister trip to Palm Springs, California, and we're really wishing we were invited.
After having what looks like a sister sleepover, the three ladies explored Palm Springs for the day.
Yes, those are your favorite reality stars jumping on beds in their pajamas.
It might've been a quick trip, but it was definitely jam-packed with fun and style.
Once the trio was done goofing around in the morning, the Kardashian sisters hit the road in a sexy, red vintage car.
They drove around the desert in a Chevrolet Bel Air convertible that was SO chic.
"Southernplayalisticadillacmuzik," Kourtney wrote on a sassy sister photo.
Based on the ladies' Snapchat stories, Kourt drove for a little bit, before Khloe took the wheel. Throughout the day the girls all looked fierce and fabulous. Like you'd expect anything less?
The Keeping Up With the Kardashians stars made a pitstop in the desert to brunch.
Who cares that it's hot in Palm Springs? That would never stop the Kardashians from dressing up and having a blast together.
Last but not least, the reality star sisters stopped by the iconic Dinosaur statues.
Of course they posed for a picture because if you go somewhere and don't photograph it, did it really happen?
Next road trip we want in!