The Kardashian-West house is very, very ready for Christmas and we're into it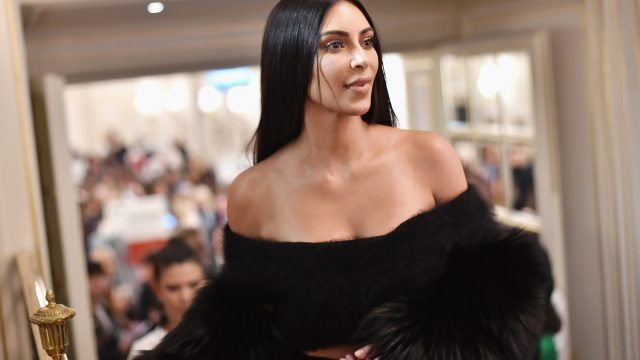 During the holidays, there's always that one house that is decorated within an inch of it's life and totally over the top. Well, it should be no surprise that this year that house belongs to Kim Kardashian and Kanye West. Seriously, the Kardashian-West's Christmas light display is something else, like straight out of that Chevy Chase movie, but waaaaaay classier. The pair couple are notorious for their extravagance so of course they'd go all out for the holidays. Kim's BFF Jonathan Cheban posted a video of the lights on the outside of their house and the whole thing is seriously awesome.
Cheban also posted a video of the grandiose Kardashian-West family Christmas tree which is, like all the other Kardashian sisters' Christmas trees, flocked. Unlike sisters Kylie and Kendall, Kim's tree is sans ornaments and only has the flocking and white Christmas lights. It is very minimalist and beautiful. All of the trees look like they are covered with freshly fallen snow. I wonder if it's because there is no snow in Southern California?
https://www.instagram.com/p/BOFy62rgZJE
It is no secret that the Kardashians L-O-V-E  loooove the holidays. Over the years we have waited with baited breath for their annual family Christmas card, and as much as Kris loves to entertain and have everyone around, Christmas is probably her favorite time of year, too.
If you want to decorate your home like a Kardashian, but don't have a Kardashian sized budget, there are plenty of ways to do so without breaking the bank. There are fun and easy DIY snowflake decorations you can make out toilet paper rolls, which everyone has lying around. Or if toilet paper rolls aren't really your speed, why don't you try and make your own snow globe?
The best thing about the holidays is that there is truly no wrong way to decorate. This is the perfect time to reflect yourself and your interests. Do you love ornaments? Christmas balls? Just the lights? The sky's the limit! Make like a Kardashian and get merry.