The internet thought Beyoncé sent a secret message to Kanye through her shoes, but calm down, people
Many an internet sleuth thought the alleged "beef" between The Carters and Kanye West was null and void after Beyoncé was spotted wearing the Yeezy Season 5 PVC Mules—or at least that's what they looked like. Bey shared photos of herself in a Yeezy-like clear wedge on her website, leaving many to suspect it was a subtle but definite message that all is cool between the two camps.
Kanye West himself seemingly believed that his shoe graced Bey's foot. He reposted a photo of Beyoncé and Jay-Z on Instagram, adding the caption, "famleeeeee."
https://www.instagram.com/p/Bn9WZ_qnYn-
But upon closer inspection, those aren't Yeezys. They're actually a much more affordable Yeezy lookalike. Yikes, did it just get hot in here?
Kanye's Yeezy mule has a soft, rounded curve on the back portion of the wedge. Bey's mule is a blunt rectangular shape. According to exclusive confirmation from Bey's camp via Love B. Scott, she's wearing a $50 Public Desire shoe.
Here are the Yeezy Season 5 PVC wedge mules:
And here are the Public Desire dupes: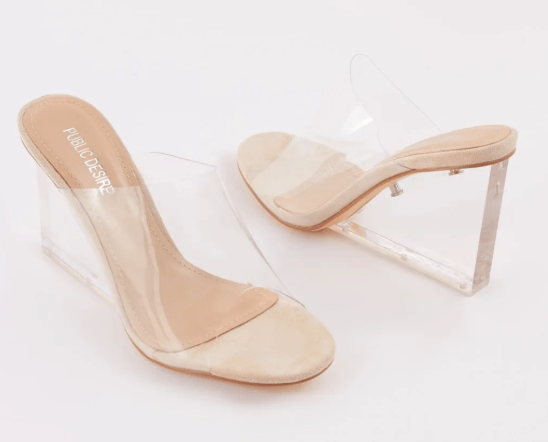 With a rumored Kanye-Jay-Z reunion album potentially in the works (according to Kanye's rollercoaster Twitter account, and despite his previous 2016 rant that a followup to Watch the Throne would never happen due to "political shit"), Bey's shoe move could be confirmation that a Watch the Throne 2 album isn't going to happen.
However, it's also just as likely that this "feud" is merely rumor and hearsay, and that Bey's choice of shoe meant literally nothing at all. The shoes are cute, and maybe that's all there is to this one.
Thoughts?