The internet is going crazy over these mesmerizing mermaid brushes, and like, we need them ASAP
So you've probably seen unicorn horn shaped brushes, but it's time to buy mermaid brushes as we spring ahead towards summer! We have seen the ones meant to mimic the scales of a mermaid tail, but now there are also chubby mermaid tails! Australian-based cosmetics brand Mermaid Salon is the company that brought us the brushes in the shell-shaped carrying case that would make even Ariel's collection complete.
The online store is taking a second wave of pre-orders for the Chubby Mermaid, a Curve and Contour paddle brush.
https://www.instagram.com/p/BRhFJfNBw7G
We haven't seen a buzz this big about brushes since the wizard wand handled precision eye brushes from Storybook Cosmetics! The Chubby Mermaid comes in three different finishes; silver, rose gold, and matte black. The multipurpose, vegan makeup brush can be used to apply powder foundation, blush, highlight, or contour.
https://www.instagram.com/p/BRk1DWFhjXD
These brushes are too cute! They're about $12, so we won't be breaking the bank! Mermaid Salon is currently running a promo where you can get a FREE lipstick (valued at $22) with every brush purchased from their store, and the Chubby Mermaid is included! The promo is intended to offset international shipping fees, which can be a little pricey.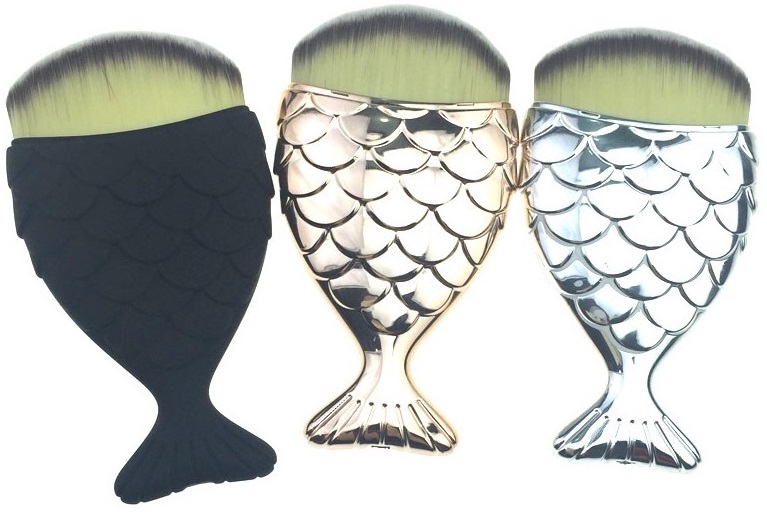 They are so shiny with flash!
Which color would you choose? We love the rose gold.
https://www.instagram.com/p/BRg3HMDhK_u
Okay, but the matte black is pretty damn amazing, too.
https://www.instagram.com/p/BRfXiZlhe1L
Pre-order your own Chubby Mermaid makeup brush in silver, rose gold, or matte black, here! Happy shopping.