The internet is having a small quack-attack because Lin-Manuel Miranda is joining "DuckTales"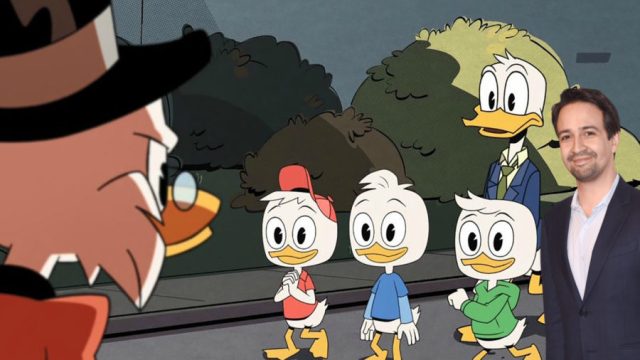 1987 just called, and it is sooooo jealous of us right now. While the original run of DuckTales on Disney Channel was pretty good as is, the 2017 revival just got a whole lot better. Lin-Manuel Miranda has joined the DuckTales cast, and wow, have you ever been more excited for an animated cartoon in your life?
The news was announced early Friday morning, and everyone had something close to a small quack-attack. Miranda is set to play Gizmoduck, and if you have to ask who Gizmoduck is, you don't understand.
Okay, fine, for everyone who didn't grow up watching DuckTales every day after school and on the weekends, Gizmoduck is actually Fenton Crackshel-Cabrerall (an intern forScrooge McDuck's personal mad scientist, Gyro Gearloose) by day, and Gizmoduck by night, one of Duckberg's finest crimefighters.
If you think you're excited about this, Miranda is even more excited. He's even changed his Twitter picture to Gizmoduck.
Glad we all have the shared interest of being stoked for DuckTales this summer.
This casting announcement quickly sent shockwaves across the internet, and with good reason. The role was developed specifically for Miranda.
"Growing up as a Cuban-American comics enthusiast, I was always hungry for a Latino hero to call my own. In developing the new series, [executive producer] Matt [Youngberg] and I leapt at the opportunity to adapt 'DuckTales marquee hero into a young scientist character with Latin-inspired roots, Francisco Angones, co-producer and story editor, explained in a statement.
Now, Miranda is hands down the biggest Disney multi-threat out there. Last year, he brought the music of Moana to life. He's set to star in the upcoming Mary Poppins sequel. He's also doing the music for the live-action Little Mermaid. Missing anything? Probably. But we'll get to that later. All together now: WOO-HOO!