The Humane Society just endorsed their first presidential candidate ever, calling Trump "a threat to animals everywhere"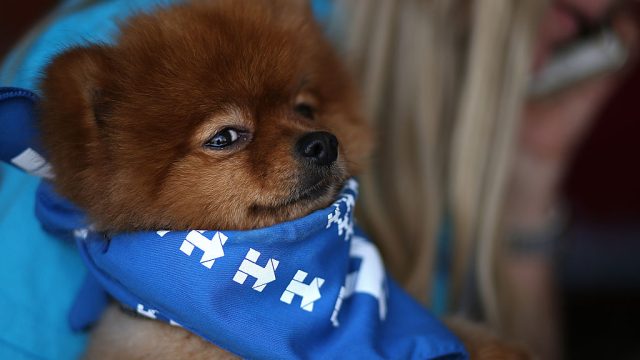 By now, you probably know that we love animals. So. Much. From the teensiest animals to the biggest, the cutest and the most bizarre, we definitely have a soft spot for our furry (and, well, not-so-furry) friends. But not everyone is a huge animal lover. As if this presidential election wasn't stressful enough, we have more curious news. We just learned that The Humane Society is making a rare presidential endorsement for Hillary Clinton because it believes Donald Trump would be bad for animals.
Recently, The Humane Society released a new ad saying that Donald Trump is a "threat to animals everywhere."
Yep, cue giant freak out, because how CREEPY does that sound?
https://www.youtube.com/watch?v=uktZk7iIgyU?feature=oembed
In a blog post by Humane Society Legislative Fund President Michael Markarian, the organization explained,
"In our view, Trump represents the greatest threat ever to federal policy-making and implementation of animal protection laws, and we are taking the unusual step of wading actively into a presidential campaign."
Another reason the organization is pro-Clinton is because of the role animals have played in her life.
"It's hardly unusual for pets in our lives to humanize us, and to bring into sharper focus the importance of national policies to help animals."
But, they say, Trump hasn't had much of a connection to the love of animals.
"The Clintons seem to have long felt the pull of animals, while the Trumps have not, with two Trump sons being better known for killing animals as a recreational pursuit."
Still, it isn't just about who does and doesn't like animals. It comes down to legislation surrounding the treatment of animals, and our environment.
"The next president will have an enormous impact over animal protection in this country for the next four to eight years, and the stakes are high with policy decisions overseen by the U.S. Department of Agriculture, U.S. Fish and Wildlife Service, National Park Service, Bureau of Land Management, National Institutes of Health, and other executive agencies."
And The Humane Society doesn't think Trump is the one for the job.