The hidden meaning behind Beyoncé's baby announcement is mind-blowing and beautiful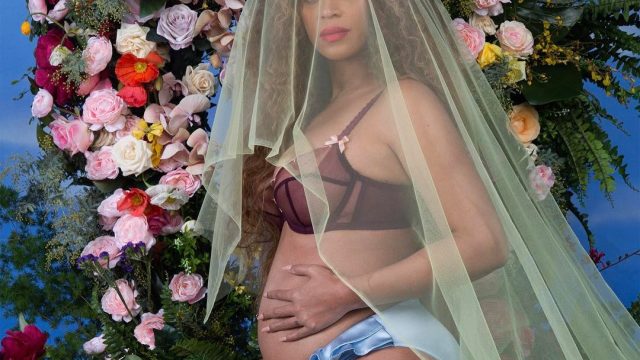 2017 is seemingly looking up, even if there have been some major disappointments happening in our country. Beyoncé just announced that she and husband Jay-Z are expecting not one more baby, but two. They're having twins! In all her Beyoncé-ness, she shared the news on Instagram in a mysterious way that has everyone gossiping around the water cooler (or on Twitter). She also shared a bevy of gorgeous photos on her website showing her bare belly, all with the caption "I have three hearts."
But Beyoncé wouldn't be Beyoncé if she didn't include some other hidden messages in the pregnancy announcement. Danielle Campoamor wrote about these hidden messages for Romper, and she has some compelling insight that has us all scratching our heads and wondering what Beyoncé is really trying to say.
For starters, Beyonce has got on a lovely green veil. It's a fashion statement, for sure, but veils have a strong religious meaning behind them. They are meant to protect the strong energy of whatever or whoever it's covering. Danielle sees this as a recognition of her duty to protect her unborn children. In Islam, the color green represents "submission to Allah's will," and when you see green in a dream it's meant to represent "benefits." Could Beyoncé be paying homage to Islam in this time of unrest, when Trump's Muslim ban is upon our country?
Also, the fact that the Instagram post came yesterday, the first day of Black History Month, says a lot. Beyoncé has been a big supporter of the Black Lives Matter movement for quite some time now, her performances always harken back to the Civil Rights Movement, and her visual album Lemonade was full of imagery that showed respect and awe for all the black women who have inspired her.
Just a couple weeks before this pregnancy announcement, Beyoncé posted a clip of one of her recent performances. Her dancers are walking down the aisle to Martin Luther King Jr.'s voice in the background, and the track is an excerpt of his "I Have A Dream" speech. Her next post after that was a picture of former President Barack Obama and our former First Lady Michelle Obama. Beyoncé is black magic incarnate, but she also shares black magic as much as she can, showing that she is always there to support and lift up her black brothers and sisters.
Danielle wonders if telling the world about her twins on the first day of Black History Month was an attempt to tell everyone that there are about to be two more influential black figures put out into the world.
These are all pretty intriguing ideas, and we can certainly see how they all make sense. Whatever her hidden messages are, we are *dying* to meet Beyoncé and Jay-Z's twins. They're already legends in our book.