Watching The Hate U Give reminded me that, even as a child, I knew my skin color was considered a weapon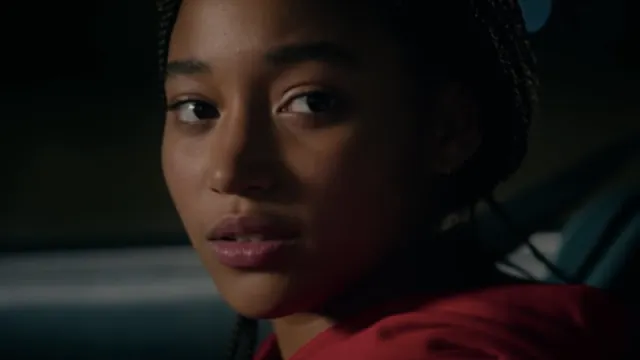 20th Century Fox's The Hate U Give, based on the bestselling novel by Angie Thomas, is in theaters today, October 19th. This essay contains spoilers about the book and movie.
I don't remember my parents ever giving me "the talk." Not the talk about the "birds and the bees" and how babies are made. The one about Black lives and the police, about what to do to increase your chances of staying Black and alive. The film adaptation of Angie Thomas's bestselling novel The Hate U Give opens with a young version of its protagonist, Starr, and her siblings getting "the talk" about police brutality from their father. He includes instructions for how to behave when pulled over during a traffic stop: Put both hands on the dashboard and make no sudden moves.
I read the novel a few months before the film's release, and as I absorbed its examination of police brutality and the story of Starr, of her majority Black, impoverished neighborhood, of her dual life as a private school student, I felt rage, empathy, and sadness.
While The Hate U Give may be a work of fiction, its events mirror the reality of being Black in America.
So much so that, not even an hour before going into the theater to watch the movie, I had an encounter in a restaurant that reminded me why The Hate U Give is a necessary story.
https://www.youtube.com/watch?v=3MM8OkVT0hw?feature=oembed
I took my dad to see the film, and since we had tickets for an early matinee showing, I thought it would be a good idea to grab breakfast first. We went to a restaurant in an area of my city that is heavily populated by typically white and typically well-off college students, but I'd been coming to this restaurant for years. The brunch is reasonably-priced and I'd never felt out of place there.
But on this particular day, our order seemed to take longer than everyone else's. Gaggles of students and other customers got their food brought out with lightning speed. I was fully prepared to hold out for my French toast, but after 30 minutes of waiting for a simple omelet, my dad—usually the epitome of calm—became visibly upset. He had a right to be: every non-Black person was stuffing their face while he and I sat there, waiting.
But as he walked up to the counter to demand a refund and mention that "seven people got their food before us," the only thing running through my mind was that he was being too loud, too adamant, and too noticeable. I wanted him to de-escalate and cooperate.
I've seen too many bloody videos in my newsfeed and too many tragic headlines not to fear the results of my six-foot, 275-pound Black father getting into it with a white cook as white Ivy League students looked on, their short stacks growing cold.
Eventually, our money was refunded and we left the restaurant without any altercation—but I can't help but think there was an employee waiting in the wings, their thumbs poised to dial 911 and report a "threatening" Black man.
So as I watched Starr's friend Khalil die after reaching for a hairbrush, as her father Maverick was accused of trying to score drugs, as he was hemmed up by police while his family stood helplessly nearby, I kept thinking that Black people are taught to cooperate and de-escalate from birth. We are told to make less noise, to keep our voices low, to not hit the white kid back after he bullies us on the playground, to not draw attention to our Blackness.
But we die anyway.
There is no justice for Khalil at the end of the movie. Much like there has been no justice for so many Black children, Black women, and Black men who lost their lives because our skin color has been weaponized.
The film includes a poignant quote that essentially gets at the reality that a Black person is never unarmed because our skin color has been deemed a weapon. Everything we touch—a hairbrush, a CD, or a can of iced tea—will always pose a risk to the life of a police officer.
My parents never gave me "the talk"; they never told me to keep my hands up or be compliant. That's a lesson I received via microaggressions, triggering news cycles, and the fear that my Black brothers' and Black father's lives would end in tragedy. A movie like The Hate U Give matters because it's a reminder that respectability politics won't save us, and making ourselves smaller won't save us. But we have to keep fighting anyway.