The "Grey's Anatomy" spinoff has a name now, and here's everything we know so far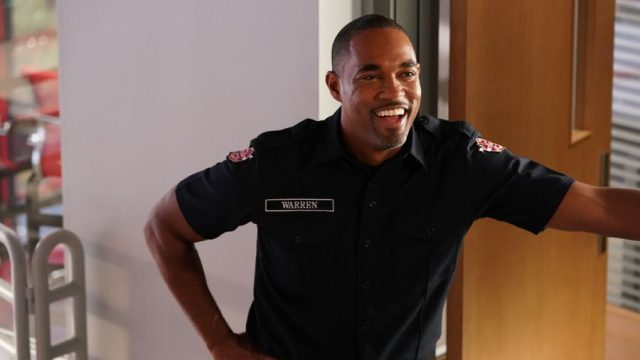 When we found out that Ben Warren was leaving Grey's Anatomy to become a firefighter, we were seriously just as upset as Bailey was. But now that we know the name of the Grey's Anatomy spinoff, we're a little more into the whole thing. The new show is going to be called Station 19 and will feature Jason George as Ben, along with the leading actress, Jaina Ortiz. The 10-episode (for now) series will focus on Seattle firefighters, their work, and their personal lives. The best news is that, according to the Hollywood Reporter, George will still be able to pop in and out of the hospital, so we're not totally losing him like we did the last time he disappeared to California.
Station 19 showrunner Stacy McKee said in a statement the the spinoff exists in the same universe as Grey's and that the "joke is that Fire Station 19 is three blocks away from Grey Sloan Memorial Hospital" which is kind of cool, if you think about the plot possibilities. She added that there was "a lot of potential for cross-pollination" and that there could be tons of crossover between the hospital and the station. So the next time a truck is on fire or there's a mass casualty, maybe we'll get to see some of Ben's colleagues in the waiting rooms.
This is the second spinoff from Grey's Anatomy, and the last one also had so many crossover plotlines. That one, in case you're a Shondaland rookie, was called Private Practice and lasted for six seasons. It featured Kate Walsh, who played Derek Shepard's ex-wife Addison. When Addison finally realizes that Meredith and Derek are #SOULMATES, she heads to California where she joins her best friend's fertility clinic, but she hopped back and forth between LA and Seattle when there were complicated surgeries to do on pregnant women or when her brother needed brain surgery.
As thrilled as we are for a new Shondaland creation and to follow Ben as a firefighter (we have to admit he wears that suit well), another perk of the spinoff is knowing that Ellen Pompeo negotiated herself a producer's credit on the show. She explained in an interview earlier this month that Shonda Rhimes coached her into becoming one of the highest-paid women on TV and part of that is having some creative input on Station 19. So the spinoff is good for everyone. Especially Grey's fans who need a little extra *something* in their TGIT life.