What are the Grabbies? "SNL" modeled its sexual misconduct awards after the Oscars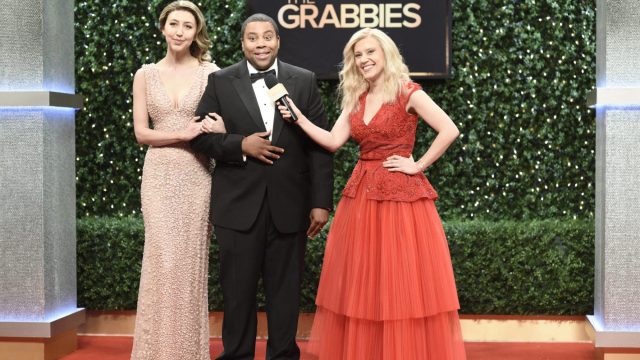 Saturday Night Live is known for putting a humorous spin on current events. But on Saturday, March 2nd, the show boldly went where sketch comedy had never gone before. SNL created a fake awards show called the Grabbies, presented by the fictional Academy of Sexual Harassment and Misconduct in Hollywood. Yup, they went there. (Oh, did they ever.)
Categories for SNL's inaugural Grabbies included "Handsiest Actor," "Most Open Robe," and "Best Non-Apology." To top it off, the Grabbies trophies looked like pairs of groping hands. SNL regular Cecily Strong led the red carpet interviews, accompanied by a series of rotating male co-hosts cycled out for — you guessed it — sexual misconduct.
While sexual harassment is no joking matter, SNL laced the sketch with thinly veiled digs at Hollywood's pervasive sexual misconduct problem. Upon accepting his trophy, SNL cast member Alex Moffat — whose character was nominated for the "Handsiest Actor" award — said, "It's such a tough category this year." This line called attention to the multitude of sexual misconduct cases in Tinseltown in recent months.
Likewise, in response to Strong's "This is such a huge moment for you, you must be so ashamed" comment, Pete Davidson's character replied, "You'd think so, but no." It's another portrayal of the lack of remorse displayed by some of the accused IRL.
Insinuating how eager offenders are to brush the allegations against them under the rug, Davidson-as-Grabbies-nominee then said:
"I'd like to thank guns for pivoting the national conversation away from harassment."
We really don't know whether to laugh or cry over these Grabbies.
The Grabbies didn't just shade men, either.
Cast member Aidy Bryant played the first female Grabbie nominee after she "bit off an intern's penis." When it comes to SNL skits, no one's safe.
https://www.youtube.com/watch?v=lGkmJbFWkzw?feature=oembed
The Grabbies will surely be top of mind as Hollywood's A-listers walk the 2018 Oscars red carpet tonight. Way to make things interesting, SNL!