This man's gorgeous photos of giant bouquets are taking over Instagram, and we can see why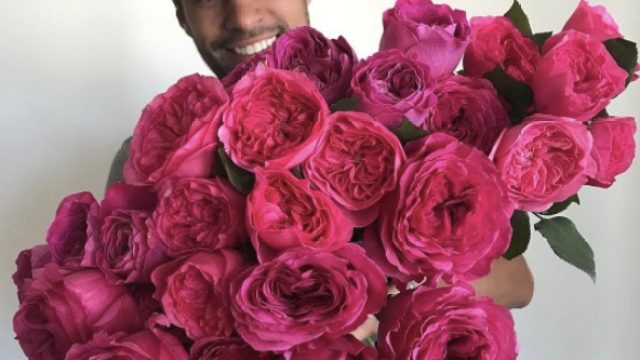 Looking for a fresh take on florals?  Montana-based wedding floral designer Julio Freitas is starting a new Instagram trend: "armful of flowers" shots.
Freitas' Instagram account The Flower Hat is racking up all the likes, due to stunning photos of himself carrying bunches and bunches of blooms.
We're all for a gorgeous aisle of flowers or a homegirl sending you epic birthday flowers. But Freitas takes arrangements to the next level.
His Insta-popularity has grown incredibly over the past year. Last November, he had over 3,000 followers. Now, his posts get upwards of 10,000 likes, and he's at nearly 30,000 followers.
The Brazilian-born floral designer tells Elle Decor that about half of his business comes from Instagram alone, so he tries to post up to three times a week. They're often a massive arrangement of one specific flower in his token "armful" shot.
Freitas admits he's come a long way from his first job out of college, working at the Hilton Garden Inn in Billings, Montana.
It was there that he started working on visuals for the hotel, including designing a silk floral arrangement each season.
He fully transitioned into weddings in 2014, but the now-infamous Flower Hat account took a few years to take root.
Freitas says a friend brought him a floral-patterned hat from one of her trips, and he was obsessed. He'd scour the internet for different versions, often wearing them while setting up weddings.
The name and look stuck with Freitas, and in 2016 he launched The Flower Hat account.
Brides-to-be should know the flower genius is now based in Bozeman, Montana, where he keeps a small, 7,500-square-foot farm.
Freitas' ability to locally source buds has made it possible to create affordable creations, like for a bride who had a budget of just$300.  
Something especially unique for Freitas is that he never does the same design twice, and his clients are his absolute priority.
With the absolute gorgeousness that is Freitas' designs, it's hard to think of any bride being disappointed.