"The Flash" got engaged, and the ring is perfectly flashy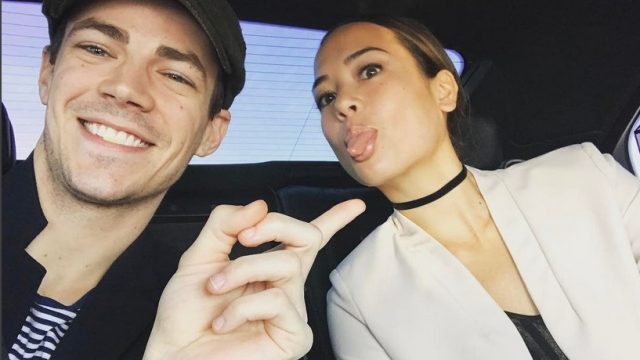 Yesterday, Grant Gustin announced that he is now engaged to his longtime girlfriend, LA Thoma! The Flash star and former Glee actor posted a picture on Instagram, showing off the beautiful engagement ring. It seems that he popped the question on a beach date — super cute!
Gustin teased the event by posting his Insta with no caption, but people had plenty to say. Candice Patton, who plays Iris on The Flash, posted her congrats. (Which, good to know his TV girlfriend is feeling no real-life jealousy!)
Another The Flash star, Andy Mientus,  couldn't contain his excitement, writing:
"DUDE!!!!! IS THAT WHAT I THINK IT IS?!??
Luckily, we didn't have to rely solely on Gustin's wordless post for confirmation. Leela Rothenberg, a friend of the couple, also posted a screenshot of herself video chatting with the couple as they celebrated the news.
It's nice to see everyone so excited for the newly engaged couple! Even Gustin's former Glee co-star, Melissa Benoist of Supergirl,  chimed in on the engagement with a "YAYYY!!!!!". We totally agree, Melissa.
So cute <3
The couple have been dating for a little over a year. While they try to stay out of the spotlight, they still can't help but post the occasional adorable photo.
https://www.instagram.com/p/BRzF7p4hWHW
There is no word yet on when they plan to tie the knot, but it's early days! We can totally understand them needing time to let it sink in and enjoy all the rainbows that giant sparkler of a ring is throwing off. We can't wait to see all of the cute pictures leading up to the wedding, and of the wedding, of course! <3