The evolution of figure skating hair and makeup: from teased bangs to sleek buns
The Olympic Games have always been filled with iconic beauty and fashion moments. Of course, the athleticism on display is mesmerizing and watching these competitors work so hard is incredibly inspirational, but the beauty lover in us can't get enough of the hair and makeup that we've been seeing.
The glory days of the late '80s and early '90s featured high-key makeup looks. Tonya Harding's bright pink blush and electric blue eyeliner will forever live in our hearts. But these days, there is even more artistry involved in a figure skater's look than ever before.
The hair and makeup are just as important as the skate dress and music choice in imbuing the performance with personality, power, and charisma.
It's not enough to get by with a clean skate; figure skaters at the highest level must also look the part. Their hair and makeup must be representative not only of their unique personalities, but of the essence of their routine. It all has to be complementary and flow together, adding to their performance but never distract.
Do you have a favorite look from the current games, yet? We were swept away by Mirai Nagasu's beautiful look during her history-making performance.
Each generation of figure skating has had an iconic beauty look, so let's take a walk down memory lane.
1960s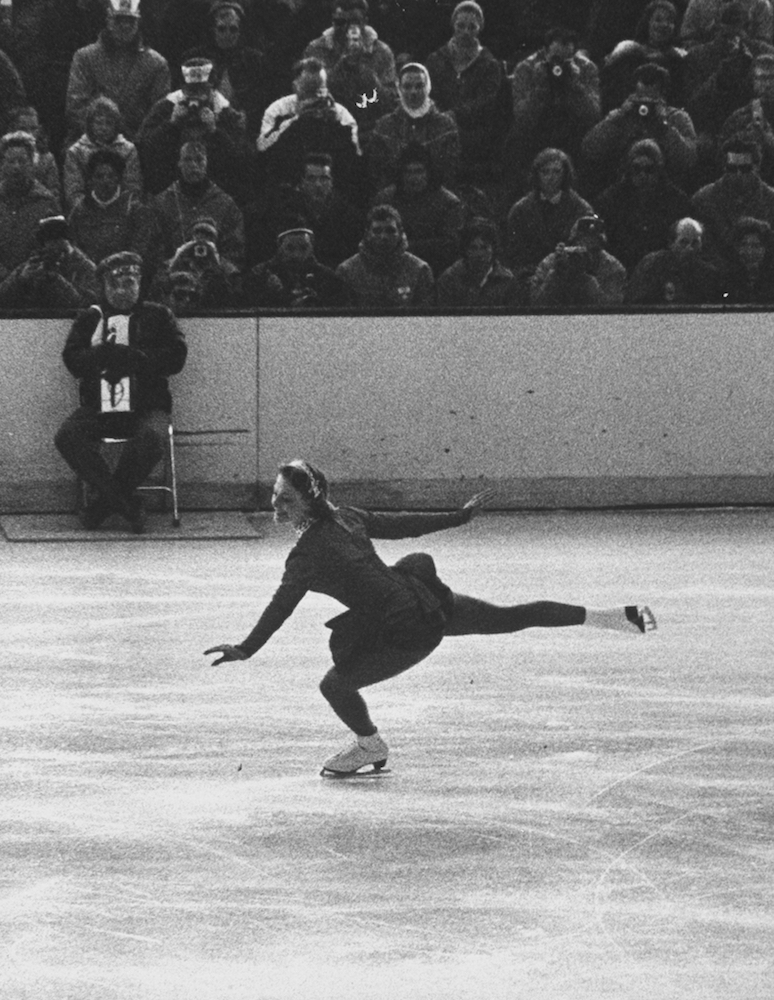 When Carol Heiss took the ice at the 1960s Olympics, it was clear that she was there to represent wholesome, apple-pie-American values, and it was reflected in her styling for the competition. She wore minimal makeup — only enough to define her features while still looking very young and fresh-faced. Her skin was pale and freshly powdered, with a hint of lipstick on her lips. The goal was clearly to give off youthful vibes, as the virginal, good girl '50s aesthetic was still holding strong.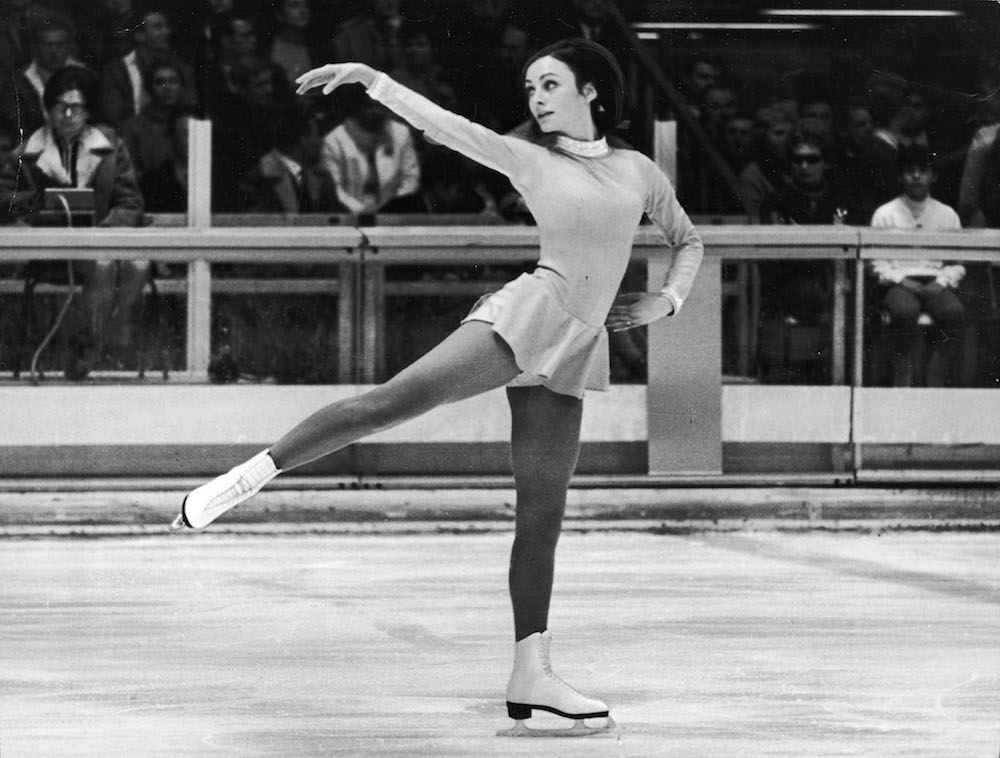 You can see the dramatic cultural shift taking place during the '60s when Peggy Fleming brought the glam to figure skating at the 1968 Olympics. In contrast to Heiss's simple, understated look, Peggy paired her beehive with dramatic cat-eye makeup, giving her a vampy, more grown-up quality. This is one of the first times you start to see personal style and expression creeping into professional figure skating. It's a very mod look that at the time was mostly appropriated by the artistic set, so it's fascinating to see it reflected in athletics.
1970s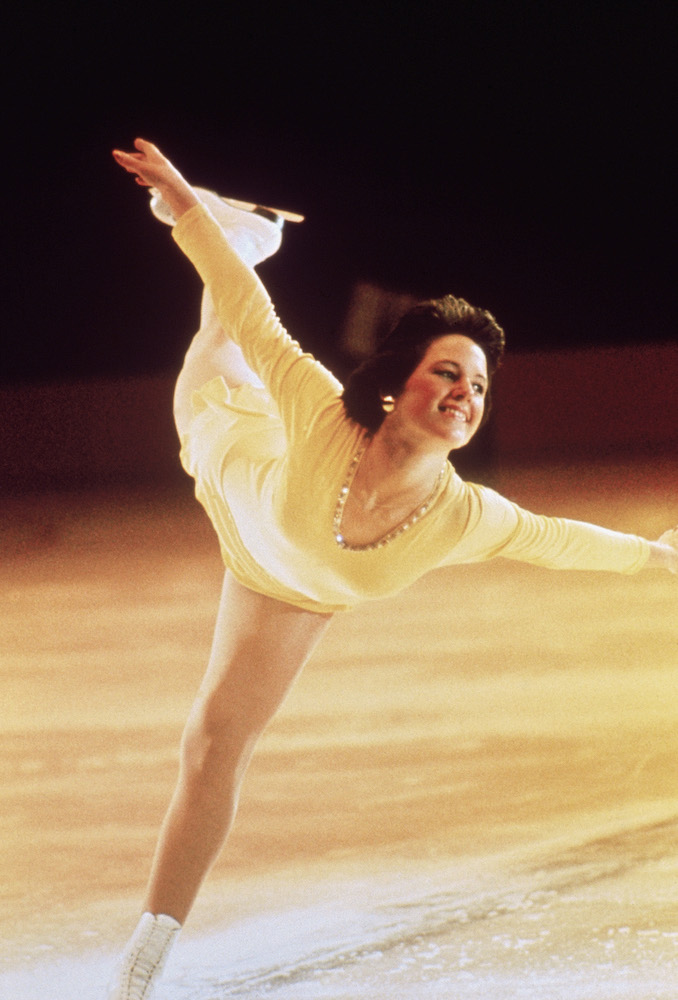 Dorothy Hamill inspired an entire generation of women to chop their hair into a questionable bowl cut, but her makeup is also very telling. She highlighted her youth and was almost completely bare-faced during her performance, instead letting her swishy hair do all the talking. Her blush is a very natural soft pink, as are her lips, though you can see that she did define her eyes with liner — a sure harbinger of what was yet to come.
1980s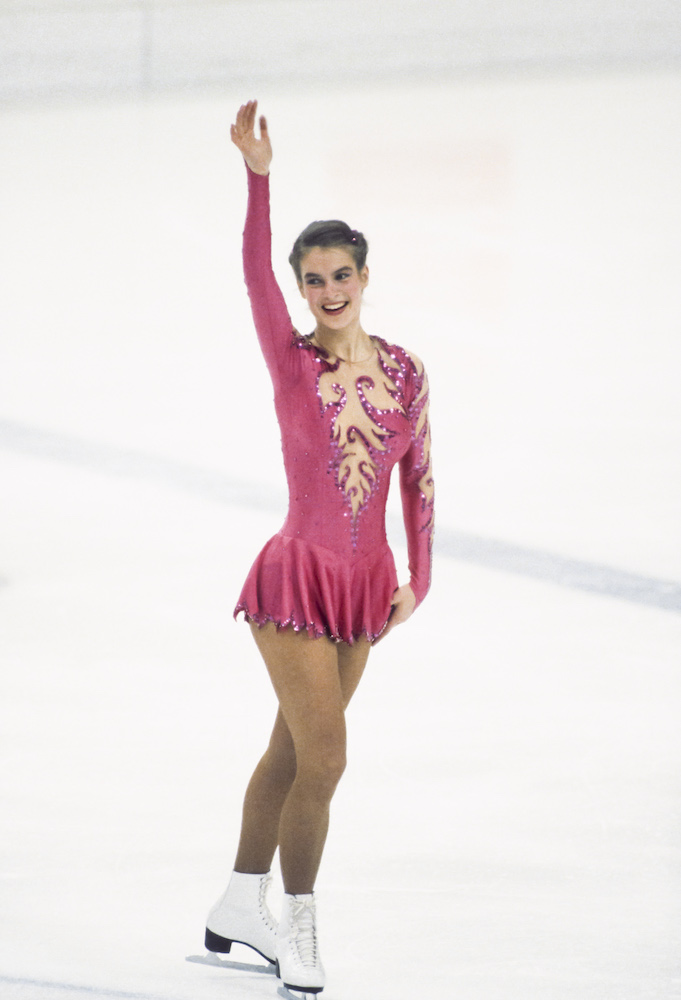 Now here's where we start to get funky. Katarina Witt perfectly embodied the aesthetic of the '80s and how the decade's bold aesthetic translated to the ice. At the 1984 Olympics, her eyes are ringed with that classic '80s black eyeliner — heavy and over-defined. We haven't gone full '80s yet— you can see that her blush is relatively subdued and her lips are a pretty berry shade that skews natural. But we know what's coming.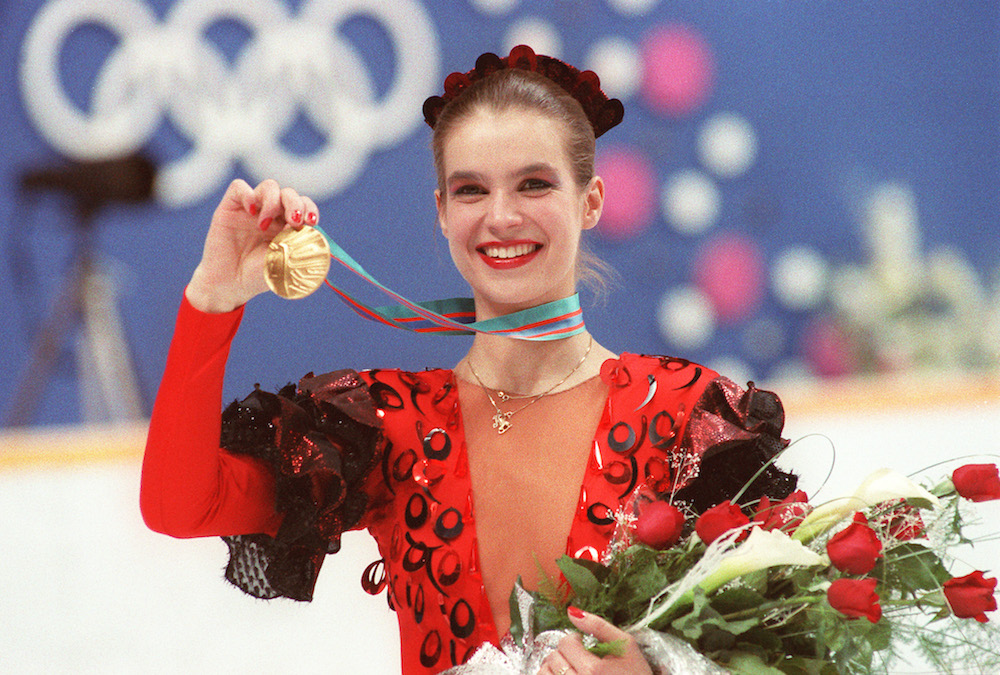 At the 1988 Olympics, Katarina goes all out with her makeup — lots of neon pink eyeshadow that goes up to her brow bone with her eyes rimmed in dark liner, a bold strike of blush on each cheek, and glossy, electric pink-red lips to tie it all together. It's the epitome of '80s figure skating makeup, and we love it. In a complete 180 from previous decades, the '80s are when the full, dramatic, cohesive styling from head-to-toe becomes de rigueur in figure skating. It's no longer about a pretty, simple dress and clean makeup; it's about self-expression and drama.
1990s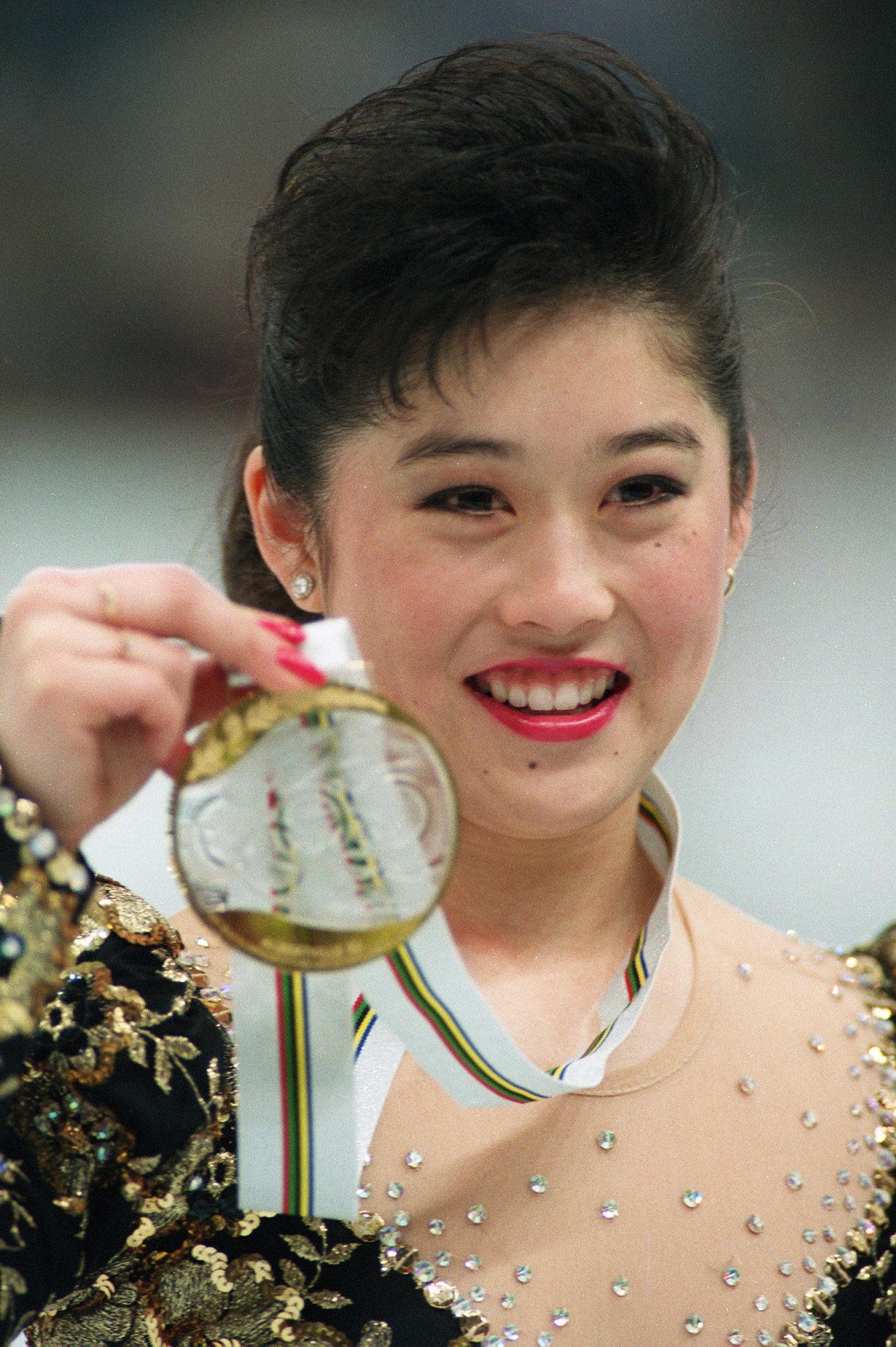 The 1990s start off similarly to the '80s in that we are still seeing a lot of bold colors. That said, there is less clashing going on. Kristi Yamaguchi's look at the 1992 Olympics still features a lot of bright pink, primarily in the form of her hot pink glossy lipstick. Her pink cheeks appear to be more natural, and while she's rocking that bold black eyeliner, they're not ringed with the same intensity as they were in the 1980s. And oh lawd, will you look at those bangs? Those stick around for the next few years, as you'll soon see.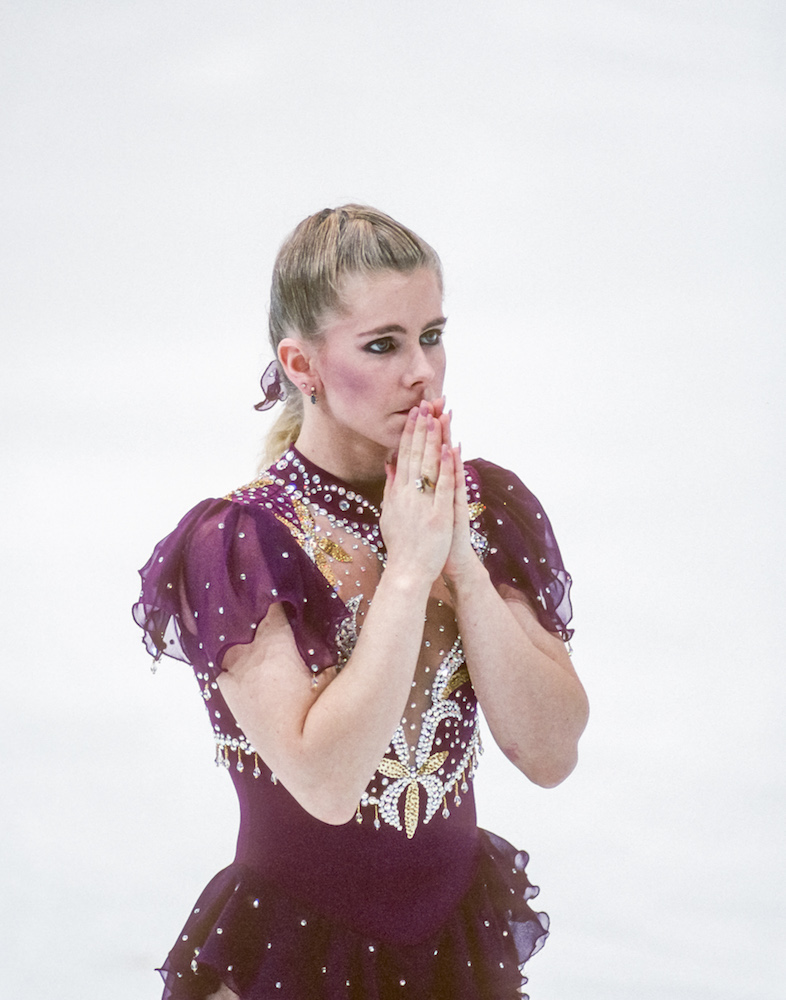 In 1994 we reach the #FigureSkatingControversy of the century, with Nancy Kerrigan and Tony Harding facing off following the knee-bashing incident. They, along with Oksana Baiul, perfectly capture the changing tide of beauty in the mid-90s. Much has been said about the differences between Tony and Nancy, both aesthetically and personally, but interestingly enough you see that Oksana's makeup and styling is much closer to Tonya's than Nancy's.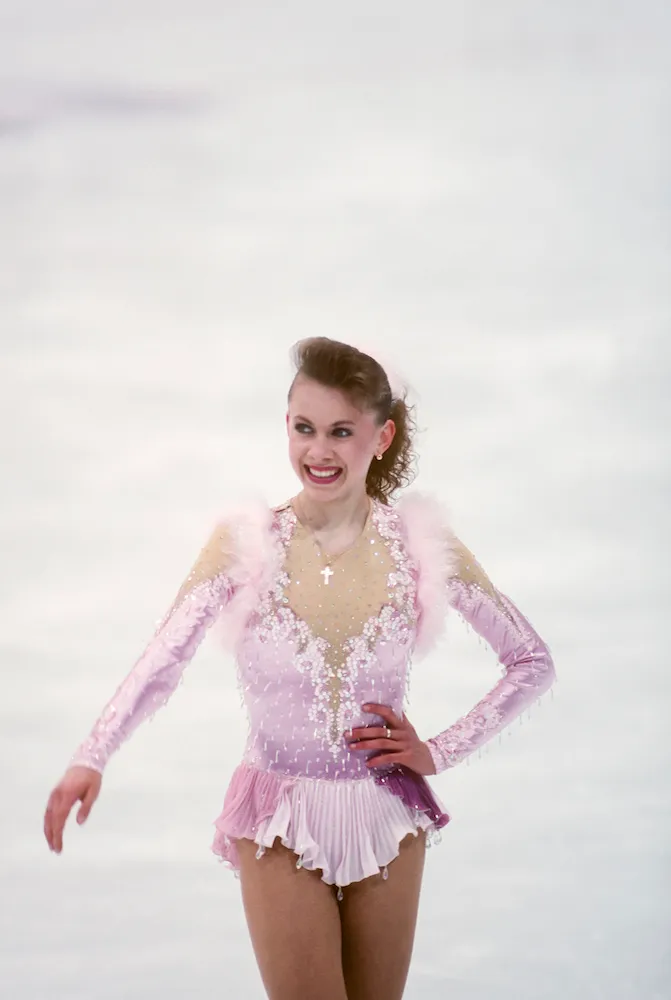 Tonya and Oksana are still wearing those bold, vibrant colors that channel the earlier part of the decade — their blush is streaked on, eyeshadow blended high and in bold shades with dramatic liner to match. And those bangs are back, baby! We're very much in the middle of the decade here, with Nancy being the perfect example of where the country's overall beauty aesthetic was headed towards — minimalism.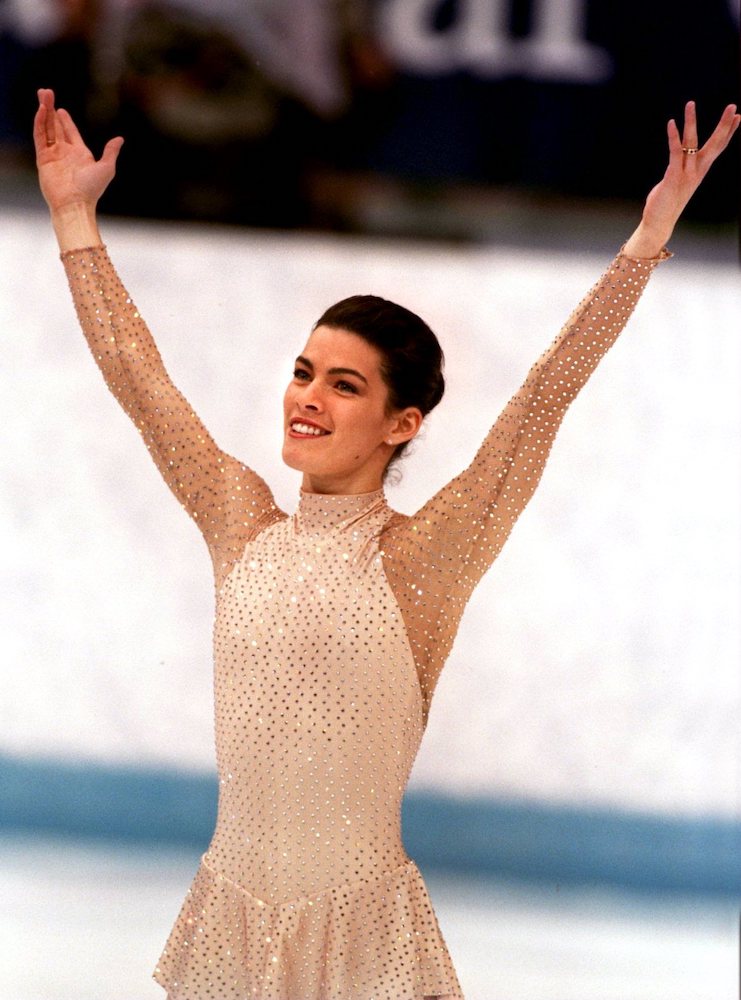 Her clear skin, coral red lips and pulled back hair stand in stark contrast to Tonya and Oksana's colorful look. These three are the beauty transition of the '90s personified.
2000s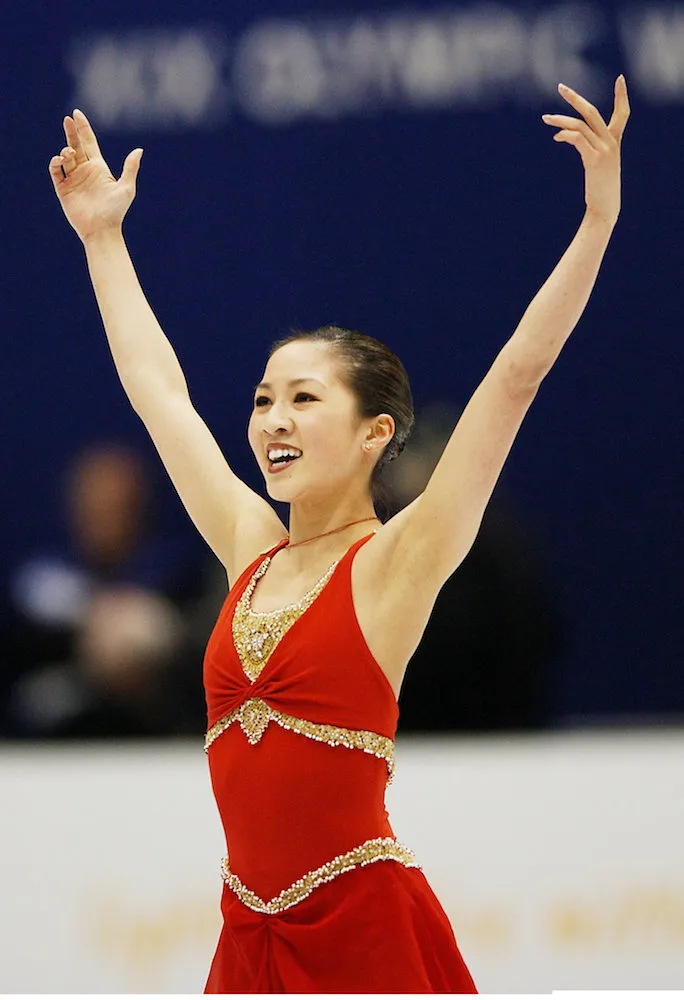 Michelle Kwan hit the ice in 2002 looking like we all did: with brownish-pink lipstick, smooth pale skin, and a hint of liner. What are the chances that she's wearing Stila's Natalie? (It's since been discontinued, much to our chagrin, since it was the berry brown lipstick of our dreams.) Gone is the streaky blush and heavily-rimmed eyeliner. The lipstick is bold, but has a muted quality that was very in fashion in the early aughts. It's the most timeless makeup look we've seen, and it's much closer to what current figure skaters are sporting.
2010s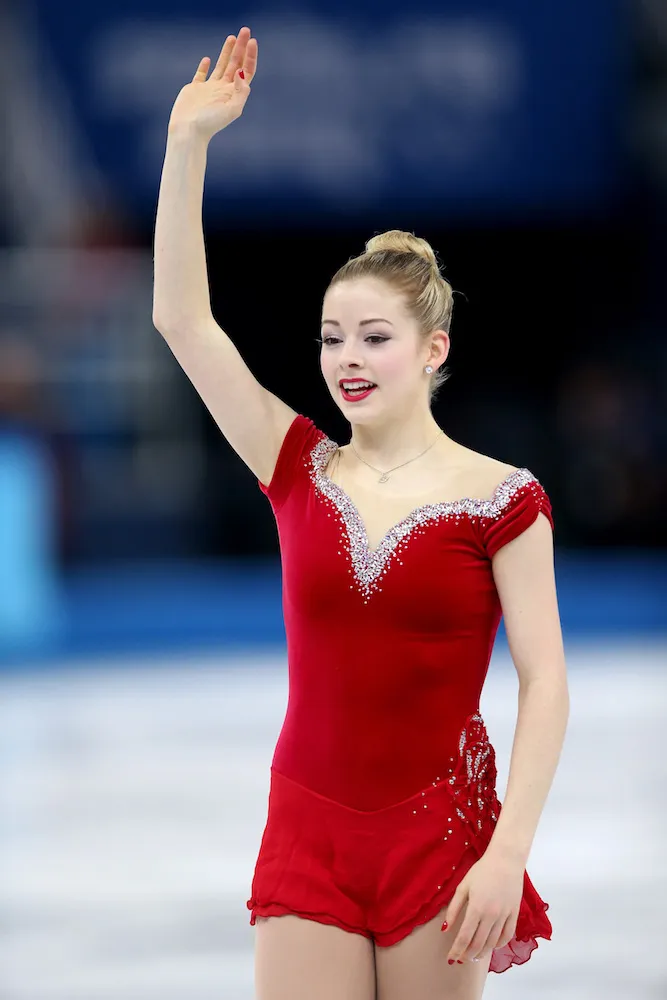 Both Gracie Gold and Mirai Nagasu are excellent examples of what the overall figure skating makeup aesthetic looks like these days. in 2014, Gracie Gold wore a beautiful, classic red lip that stood out against her flawless skin. You can see that she's slightly contoured, (though naturally so) with soft eyeshadows that are perfectly blended and look very elegant with her thin winged liner. This is very much a "YouTube light" makeup aesthetic that translates really nicely on the ice. It's got a touch of flair and drama, but still looks understated and elegant.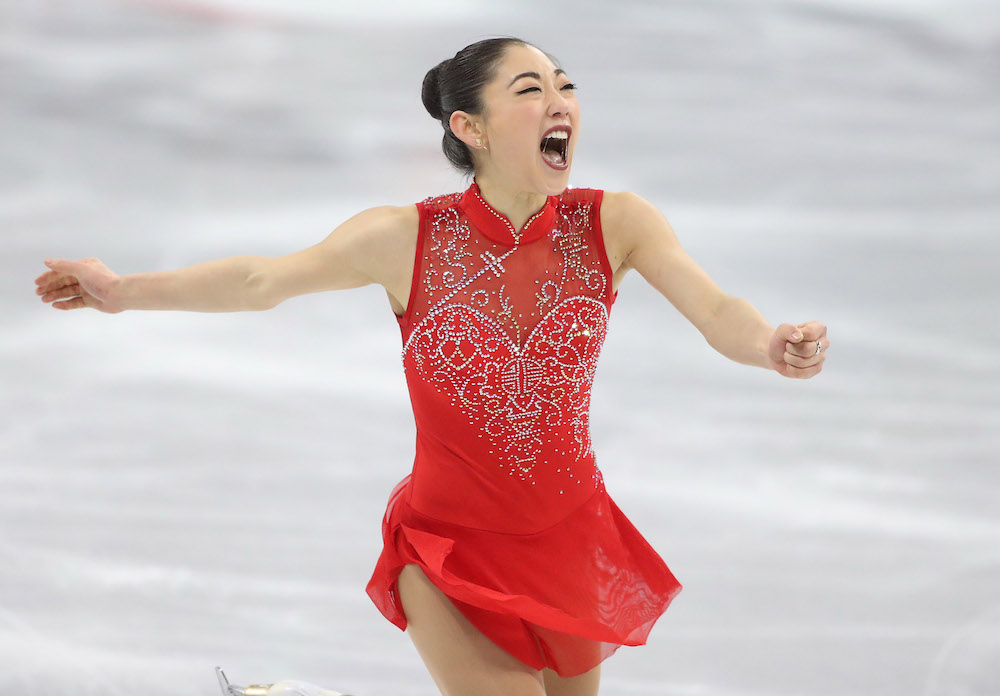 Last weekend, Mirai Nagasu gave us all a taste of her makeup style and we adore it. Her history-making performance was made all the sweeter with her gorgeous makeup. Her lips have a bold berry hue that looks gorgeous against her perfect skin. You can really see the rise of primers and that "photoshop finish" look that's prevalent in the makeup world. Both Gracie and Mirai's skin is divine. Clearly, makeup is no longer an afterthought.
You have to admit, it's such a trip to see how much figure skating makeup has evolved and in many ways, gotten back to basics. It's so interesting to see how the culture at large influences sporting aesthetics. We can't wait to see more in the coming weeks.