The Eternals will feature Marvel's first onscreen same-sex kiss, and it's about time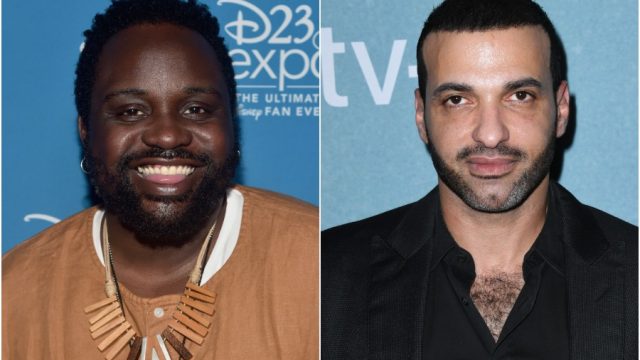 We still have a long way to go for LGBTQ representation on the big screen, particularly in blockbuster movies, but we do want to celebrate earnest steps in the right direction. After an insulting reveal of Marvel's first openly gay character in Avengers: Endgame, the Marvel Cinematic Universe is hoping to right its wrongs with The Eternals, which will include the MCU's first-ever onscreen same-sex kiss. This time, it seems like LGBTQ representation will be more than a "blink-and-you'll-miss-it" moment.
Marvel's chief creative officer Kevin Feige confirmed in the summer of 2019 that The Eternals would feature a gay lead character. EW notes that Phastos, played by Brian Tyree Henry, will be Marvel's first openly gay superhero. In a new interview with Logo TV's NewNowNext, Haaz Sleiman—who will star as Phastos' husband—reveals that the movie will not only feature an openly gay family but Marvel's first gay kiss.
"It's a beautiful, very moving kiss," Sleiman said to NewNowNext, revealing that "everyone cried on set" during the filming of the scene.
Sleiman opened up about what it means to him to be a part of such a historic moment in a big-screen blockbuster. "For me it's very important to show how loving and beautiful a queer family can be," he said. The actor also talked about working with his on-screen husband, and what Henry brought to the role.
"Brian Tyree Henry is such a tremendous actor and brought so much beauty into this part, and at one point I saw a child in his eyes, and I think it's important for the world to be reminded that we in the queer community were all children at one point," he said. "We forget that because we're always depicted as sexual or rebellious; we forget to connect on that human part."
The Eternals also stars Angelina Jolie, Gemma Chan, Kumail Nanjiani, and Salma Hayek, in addition to the onscreen reunion of Game of Thrones brothers Richard Madden and Kit Harington. We'll have to wait until the movie hits theaters on November 6th to see the love story between Phastos and his husband unfold. Hopefully, this is just the start of Marvel's commitment to representation onscreen.