James Franco is the best director of a movie about the worst movie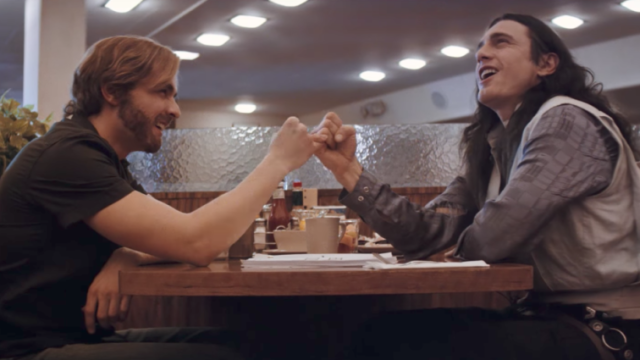 When James Franco sets his mind to something, he does it. On top of his career in Hollywood, he's lectured at UCLA and created some very avant-garde paintings for starters. And now, he's managed to completely nail his portrayal of Tommy Wiseau in The Disaster Artist.
And if you've never seen Wiseau in action, let us tell you — that is no easy feat.
Franco both stars in and directed the upcoming film, which gives a behind-the-scenes look at the making of Wiseau's The Room. You know, the film that's widely regarded as a cult favorite and one of the worst movies ever made. It also takes a look at the relationship between Wiseau and his co-star Greg Sestero, played by Dave Franco.
As if seeing the Francos starring in a movie together isn't enough to make you go running straight to the movie theater — the rest of the cast is also stellar. It's basically a who's who of Hollywood comedy royalty, including Zac Efron, Seth Rogen, Judd Apatow, Adam Scott, Lizzy Caplan, Bryan Cranston…the list goes on and on.
https://www.youtube.com/watch?v=cMKX2tE5Luk?feature=oembed
Plus, the film will not only display the sheer madness that was The Room, but also focus on the heart of the film.
"Yes — it was an insane story about insane people doing insane things," James Franco told Vanity Fair. "But underneath, Greg and Tommy had kind of written this universal story about dreamers."
The film screened at the Toronto Film Festival on Monday night, and Wiseau was on-hand to check it out — while posing for this glorious picture with his counterpart. 
He also gave the film a very favorable review.
But don't just trust Wiseau — who, admittedly, could be a little biased about the the whole thing. There's a whole slew of Twitter users who saw the movie, and are ready to hand James Franco all the Oscars.
https://twitter.com/udfredirect/status/907491620441948160
The Disaster Artist hits theaters on December 8th, and we can't wait to see James Franco in action.