The Crown Season 3 trailer is here, and fans are losing it over the show's new stars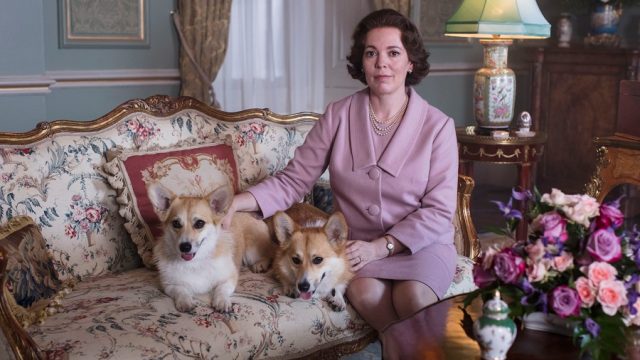 Someone put the kettle on because a full trailer for The Crown Season 3 has finally arrived. Anglophiles everywhere are losing it over the first glimpses of the show's brand-new, star-studded cast, headlined by Academy Award-winning Olivia Colman as Queen Elizabeth II and Helena-Bonham Carter, everyone's favorite goth, as Princess Margaret.
The trailer opens on the morning of Queen Elizabeth's Silver Jubilee celebration in 1977. Within the first 30 seconds, we're shown two glorious images that we think should somehow make their way into every Netflix trailer for the rest of time: Bonham-Carter throwing shade at an out-of-shot QEII and Colman being reluctantly chauffeured in an ornate, horse-drawn carriage. Later, there's also a quick flash of HBC (that's Helena Bonham-Carter, but if you read it as "Head Bitch in Charge" that's also totally acceptable) posing in a bubble bath wearing nothing but a diamond tiara. We're putting this on our 2020 mood board.
https://www.youtube.com/watch?v=vLXYfgpqb8A
Clearly, we're not alone in our worship of these two legendary women playing two legendary women.
Over on Twitter, Crown fans are expressing their excitement about the upcoming season in the best way they know how: memes.
https://twitter.com/udfredirect/status/1186290507183513600
Judging by the trailer's score (a dirge-like cover of Bob Dylan's "The Times They Are A-Changin'"), the Queen's assessment that "the place has fallen apart," flashes of mining strikes, national security threats, and a seismic economic downturn, we'd say this season's tone will be…pretty dark.
In a recent article, Entertainment Weekly confirmed that this season's subject matter will anything but light and fluffy:
"The notable historical subjects covered in Season 3 of The Crown include the 1964 discovery that the Queen's art adviser Anthony Blunt was a Soviet spy, and Labour leader Harold Wilson's rise to prime minister that same year. The show will also detail the 1966 Aberfan disaster, when an avalanche of coal waste buried a school in Wales.
Romance-wise, this season will focus less on the marriage between QEII and Prince Philip (played by Tobias Menzies, another Brit we love) and more on the tumultuous relationship between Margaret and her husband, the photographer Lord Snowdon. We'll also see the beginnings of a young Prince Charles' romance with Camilla Shand (later Parker-Bowles), whom he would later marry after the death of his wife, Princess Diana.
All ten episodes of The Crown Season 3 will be available on Netflix on November 17th. That's more than enough time to practice your royal accent.