Queen Elizabeth and Prince Philip's marital problems are front and center in this first look at "The Crown" Season 2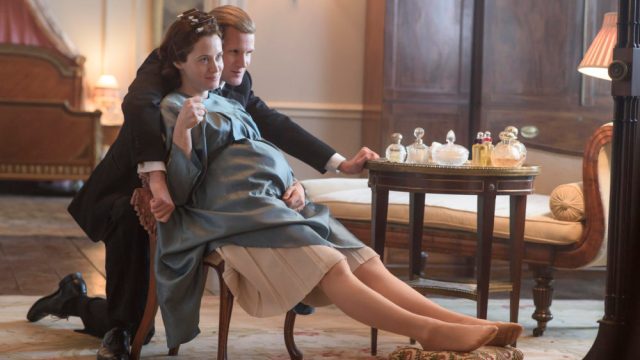 Polish up your tiara and put on your finest white gloves, because a teaser just dropped for the second season of The Crown, and things are HEATING up in Buckingham Palace.
If you've yet to binge-watch this deliciously decadent Netflix series — which, by the way, nabbed 13 (!) Emmy nominations — the show revolves around Elizabeth II's rise to power, and all of the drama and intrigue that came along with it.
Season 2 will pick back up in 1956, and span England's illegal war in Egypt, a humiliating scandal involving Queen Elizabeth's Prime Minister, and trouble at home with Prince Philip.
https://www.youtube.com/watch?v=k15O_eBfUuk?feature=oembed
We're also going to get a much more intimate look at the Queen's (Claire Foy) private life this time around.
"I think [Queen Elizabeth] starts to realize she needs to pay more attention to her personal life now that the other part of her life is going all right, Foy told Entertainment Weekly. "The world's changing faster than anyone can catch up with. There is no letup. She just keeps having to go from one crisis to another to another, and at some point, it's about five crises at the same time and you have no idea how she manages to get up in the morning."
Already steeling ourselves for that.
You should also expect to see a lot more of Prince Philip (Matt Smith) this time around, too. According to The Crown creator Peter Morgan, the season will really delve into the Prince's psyche, as well as his alleged affairs.
"I find him extraordinarily interesting — his childhood, again, you couldn't make it up, The Crown creator Peter Morgan said, per Elle. "The soul of Season 2 is about his complexity.
Incidentally, despite all of the drama between their characters, Foy and Smith could not look more picture-perfect. I meaaaaan…kinda royal looking themselves, right?!
This is all getting us so, so much more excited to dig back into alllllll of this monarchy drama come December 8th. Let your countdown to The Crown Season 2 begin now.