The Craft was the root of my preteen empowerment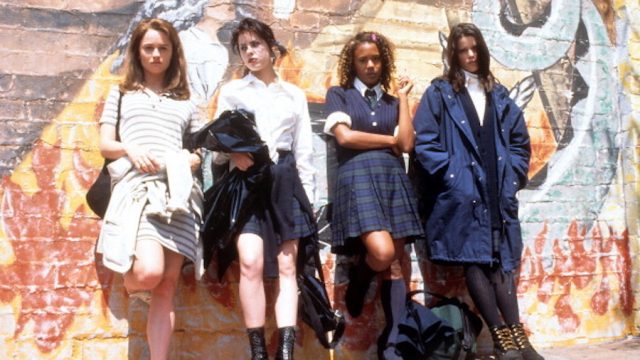 I scrunched lower into my seat as I watched three girls surround their friend lying on a bedroom floor. They each placed their index and middle fingers underneath the girl and started chanting.
"Light as a feather, stiff as a board. Light as a feather, stiff as a board."
They chanted faster until their voices softened into silence, and when the girl on the floor began to rise, an electric current rippled through my body. I released the breath I'd been holding in my chest and smiled wide. I wanted to climb through the movie screen and sit next to those teenage girls. Together, they'd broken the constraints of reality and attained the impossible. More than anything, I wanted to be Rochelle, hovering above the floorboards. She was nearly flying—something I had dreamed about for years and desperately wanted to experience. But like those girls, I wanted to fall headlong into the seemingly unending depths of freedom that came with being (em)powered.
When I watched The Craft for the first time, I was 11 years old.
I was equal parts enamored with the girls on screen and afraid that my parents would catch me falling in love with them. After all, I was a Christian preteen who knew the Bible explicitly condemned witchcraft.
But what my faith condemned, I clung to for empowerment.
Directed by Andrew Fleming and written by Fleming and Peter Filardi, The Craft debuted in 1996. The movie follows Sarah Bailey (Robin Tunney) as she moves to Los Angeles following a suicide attempt. She enrolls in a Catholic high school where she befriends Bonnie (Neve Campbell), Rochelle (Rachel True), and Nancy Downs (Fairuza Balk). These girls welcome Sarah, whom they believe is the rightful fourth witch to complete their coven.
Their friendship blossoms into a beautiful, yet fleeting, sisterhood. The girls cast spells that allow them to combat bullying and racism, heal emotional and physical wounds, discover love and inner peace, and escape the ravages of domestic violence and poverty. At its core, The Craft was about four outcasts taking control of their destiny in a society that pushed them out because they didn't belong.
Much of the television and film I'd seen portrayed witches as seductresses, framing them against the backdrop of repressive societies and focusing on their subservient relationships to men. Yet within The Craft, their existence represented women's rebellion and liberation.
At 11 years old, I wasn't learning about empowerment or feminism any other way.
I was painfully lonely and struggling to find control in a world that was spinning wildly around me. I had started menstruating, my body was expanding, and my friendships with boys had become awkward. I was also trying to understand my Black identity in a culture that didn't always represent all of me.
I connected with how The Craft illustrated the trials of adolescence and the trajectory of teenage female friendships. I loved how the movie showed girls blurring the edges of their environments to better fit their desires and aesthetic. Mostly, I resonated with the girls on an individual level. Each one represented a part of me.
Rochelle's storyline proved to me that the racism I experienced was (unfortunately) commonplace. She represented the part of me that had to deal with classmates mocking my hair and white peers saying I was undeserving of my achievements because I was Black. While being terrorized by her classmate Laura Lizzie (Christine Taylor), Rochelle stepped up in her fear and confronted Laura without magic. With her magic, she redirected the narrative to demonstrate that her Blackness was beautiful and powerful. Rochelle showed me that I (and all Black women) deserve respect, and we can be respected while being brave and vulnerable.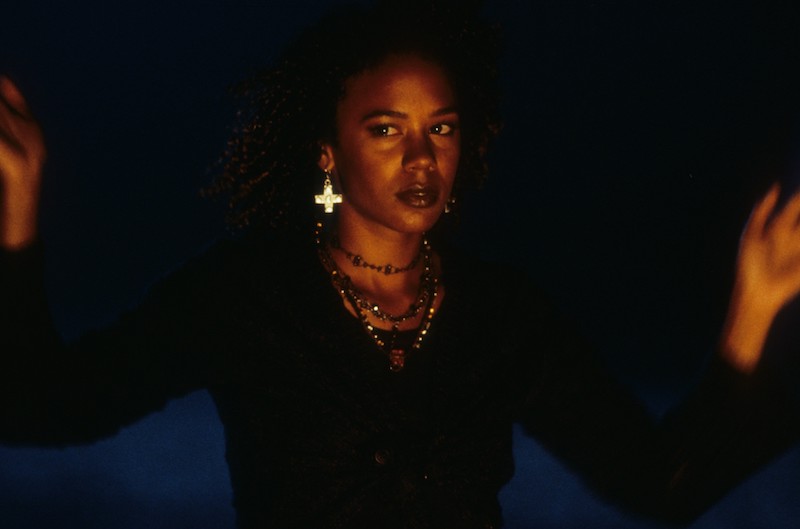 Bonnie was the embodiment of my insecurities. Throughout most of the movie, she wore long-sleeved, baggy clothes to cover up her burn scars. She cowered around other people and developed mannerisms that physically minimized her presence. I found comfort and familiarity with her character. As a preteen, I dressed and acted similarly to Bonnie because I wasn't comfortable with my appearance. I wanted to hide my developing body and kinky hair, and ignore the budding acne on my face. Like Bonnie, I had to push through emotional wounds to finally acknowledge my inner and outer beauty.
But the antagonist, Nancy, is my favorite character in the movie. She is wild and unrestrained. Even though she became drunk on power and independence, I wanted to be her. Nancy was the reckless representation of my female anger. I held in a lot of rage for the inexplicable changes in my life—a stepbrother I didn't get along with, a stepsister who started to bristle at our closeness, the complicated brew of puberty and loneliness. Nancy showed me that it was possible to (re)claim my identity, my womanhood, and my feminism in my own way.
Sarah was the new girl trying to find herself while simultaneously denying her inner power—she was like me. I was often the new girl at school because my mother's job required my family to frequently move. When The Craft was released, I was in the fifth grade and attending my fifth school. I struggled with self-confidence in new environments, and I suppressed my academic prowess and goofy personality to fit in with my peers. Through Sarah, I learned that it was okay to struggle with self-esteem. It was okay to make mistakes because, at some point, I would come into my own.
Even though The Craft spoke to several parts of my identity, I never told anyone how much it meant to me.
Practicing witchcraft was contrary to my religious beliefs. Raised in a Christian household, I was taught that witchcraft was synonymous with evil and satanic worship. I have since learned to distinguish between Wicca, paganism, and Satanism, but back then, I relied on adults and church leaders to inform me.
As preteens, many of my Black friends were not allowed to trick-or-treat on Halloween because the day was associated with witchcraft. Their church-going mothers taught them that wearing costumes and asking for candy was a form of celebrating "the devil's holiday," making you a devil-worshipper. At that same time, my mother was bringing home Bible tracts and asking my siblings and me to pass them out to our friends. Most of these tracts featured grotesque caricatures of witches, so how was I supposed to tell the adults in my life that four teenage witches helped me understand my identity?
My sister is the reason I finally embraced the movie's impact on my life. The summer after I first saw The Craft, I broke my right ankle and missed most of summer camp. When my cast was removed six weeks later and I finally joined my siblings at camp, I floundered in a sea of friendships that didn't include me.
On a day when the camp counselors had no activities planned, a group of us clustered together on the recreational field in boredom. With The Craft still on my mind, I offered the only thing I could think of.
"Let's play 'light as a feather, stiff as a board.'
Most of the kids were incredulous at my suggestion, but my sister stepped up to join me. A boy volunteered to lie down on the ground while my sister and I sat on either side of him. We chanted and lifted him up with our fingers to the amazement of the kids around us. More of our peers volunteered, and we repeated this again and again while a crowd gathered around us.
At some point, I looked over at my sister and we made eye contact. I could see that the same thrill coursed through us: The knowledge that we weren't using magic, but were still casting a spell of our own design. We were releasing our own power into the world, and claiming a moment of freedom.
That was a time when my sister had started to push against our sisterhood, so I cherish the memory of that afternoon because she didn't hesitate to join me in a moment of rebellion. It was a moment of affirmation; this strange part of myself was accepted and welcomed into the fold.
The Craft is integral to who I am. Its scenes still resonate with me more than two decades after I first watched it. The movie showed me that it was possible to access the confidence and power that I lacked. And every time I watch it, I reflect on how I've grown and actively taken control over my life.