Gather Your Coven to Watch the First 'The Craft' Reboot Trailer
That major callback moment? Literal chills.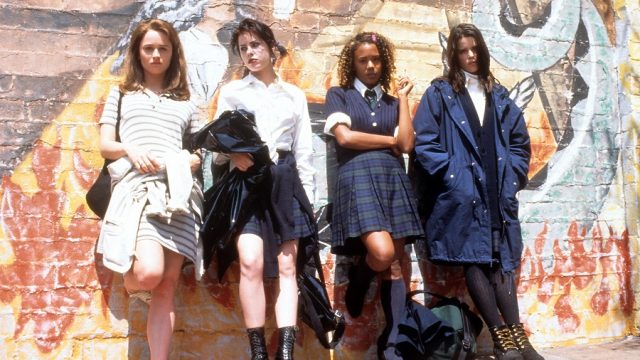 Update, September 29th, 2020, 2:08 p.m. ET: We're about to enter into Halloween month (yes, it gets a month in our hearts), so the first The Craft reboot trailer couldn't have come at a better time. Not only does it give us the spooky energy we are ready for, but it calls back to the original movie in so many ways that we're feeling nostalgic. And that Nancy Downs moment? Literal chills.
Zoe Lister-Jones wrote and directed The Craft: Legacy for horror studio Blumhouse, and it stars a new coven of witches. However, that doesn't mean we aren't still living in the, ahem, legacy of the original cast, Fairuza Balk (Nancy Downs), Robin Tunney (Sarah Bailey), Neve Campbell (Bonnie), and Rachel True (Rachelle). The first trailer proves it.
The trailer for The Craft: Legacy features callbacks like "light as a feather, stiff as a board," the iconic "We are the weirdos" line, and, most notably a new witch holding a Polaroid picture of Nancy Downs herself. Um, we might be talking a shared universe and/or sequel, rather than reboot, here.
The Craft reboot stars a set of up-and-coming actors for its new coven: Cailee Spaeny, Gideon Adlon, Lovie Simone, and Zoey Luna. You can watch it when it's released direct to video on demand just in time for Halloween on October 28th.
Update, October 17th, 2019, 10:45 a.m. EDT: He's no stranger to the spooky and the weird, so he's a perfect fit to join The Craft reboot. Deadline reports that X-Files veteran David Duchovny has been cast in the show about vengeful high school witches, and it feel like kismet.
Deadline doesn't specify what role Duchovny will take on, but our odds are on Mr. Bailey, new girl Sarah's father. (Though it hasn't been made official, speculation is on cast member Cailee Spaeny to portray Sarah.)
Now if we can only get Gillian Anderson on board, too.
Original post, September 20th: If you need more proof that the '90s are back—and big scrunchies, plastic chokers, and track pants aren't enough evidence—look no further than the spell nostalgia is casting on Hollywood. On one hand, you have Disney remake-mania. On the other, you've got The Craft reboot. That's right, the 1996 cult classic about a group of outcast high-schoolers who turn to witchcraft (a plan that backfires, ICYMI) is back. This time, there's an all-new, mostly unknown cast.
The original movie was a breakout for young actresses Robin Tunney, Fairuza Balk, Neve Campbell, and Rachel True. According to Entertainment Weekly, Cailee Spaeny (On the Basis of Sex), Gideon Adlon (Blockers), Lovie Simone (Greenleaf), and Zoey Luna (Pose) will form the new coven. Based on Spaeny's separate casting announcement, we'd speculate that she will portray Sarah, the new girl who befriends the other outcasts, long rumored to be witches who worship a potentially malevolent force known as "Manon."
Adlon, Simone, and Luna will split up the rest of the Craft characters, who are all affected by present or past traumas. Though their exact roles haven't been announced yet, here's who we're working with: There's Rochelle, the only Black student at the high school who uses magic to exact revenge against a bully; Bonnie, who is traumatized by a car accident; and Nancy, who is abused by her stepfather.
Sony Pictures is teaming up with horror movie-favorite Blumhouse for this new adaptation, which will be written, directed, and executive produced Zoe Lister-Jones. Whether the Craft remake will take liberties from the original script and change all of these details, only Manon can say. But we'll be ready to see the magic whenever it hits the silver screen.