'The Brady Bunch' got together one more time for Florence Henderson because TV families are forever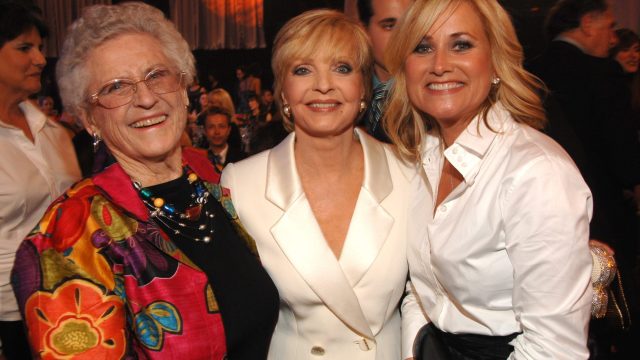 Don't all freak out at once, but the Brady Bunch cast had a mini-reunion. Granted, it was under sad circumstances, but it gave us a bit of the feels nevertheless. The iconic matriarch of the Brady Bunch family, Carol Brady, was played by Florence Henderson. Unfortunately, Mrs. Brady recently died at the age of 82, but boy did she leave a legacy behind her.
Everyone loved Carol Brady; when it comes to TV moms, she's about as classic and as cute as it gets. But Florence Henderson was just as sweet in real life, too. Just ask Maureen McCormick, who played the infamously image-obsessed Marcia Brady. Not only did the two share a sweet moment on the set of Dancing With The Stars after one of Maureen's performances, but Maureen was sure to share her praise of Florence even after she hung up her dancing shoes. After Florence's passing, Maureen shared that Florence Henderson was "a dear friend" who is in her heart forever. TV families are real, y'all.
Maureen McCormick wasn't the only Brady Bunch kiddo to have a warm relationship with Mrs. Brady off-screen. Susan Olsen, who played the absolutely adorable Cindy Brady, also has fond memories of Florence's loving legacy. In fact, Olsen remembers Florence Henderson as a second mother figure, saying:
All three of The Brady Bunch adult cast members treated us kids both as professionals and with some parental flavor thrown in. The attitude was 'Yes, she's playing a mom, but she is also a real mother.' We used to go over to her house because she had kids our age. I went to several sleepovers at Florence's house and got to see her being a mom to her kids. She was very much another mother figure.
 With a TV family that became an integral part of your life, it's no surprise that so many Brady Bunch cast members showed up at Florence Henderson's memorial. Namely, Maureen McCormick, Susan Olsen, Christopher Knight (who played Peter), and Mike Lookinland (who played Bobby) were all in attendance. Pretty sweet, right?
Now excuse us, we need some tissues.