The best ways to beat bad weather blues with self-care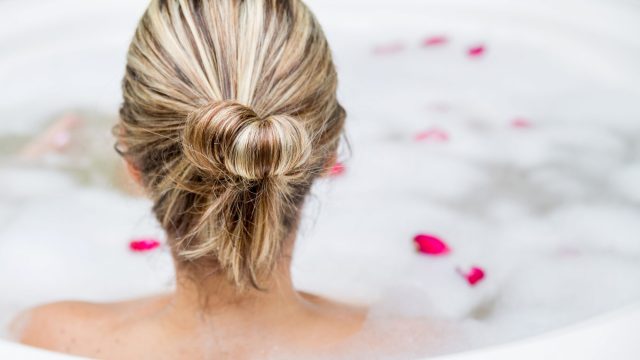 With fall well underway and winter right around the corner, it's no surprise that the winter blues may be creeping up. For some, seasonal affective disorder poses a very real threat as the days get short and cold; for others, the stress of holiday madness and frigid temps are enough to spur the bad weather blues. Either way the cookie crumbles, there are many of us who feel downright bummed during the winter season. Luckily, there are some scientifically proven ways to beat the blues with self care.
It's not easy — the weather's cold, you ate too many cookies and don't want to put on pants, and, well, everything stinks. But sitting alone and being miserable is no way to live. Turn off the Gilmore Girls marathon (or don't, but you know what we mean) and treat yo'self to some self care.
Here are some of our fave ways to beat the winter blahs.
Ditch junk food
Pizza is great; so are tacos. Trust us, we know how it is. But ditching greasy food and candy canes in favor of less processed alternatives will allow you to perk up your mood and reduce anxiety in the process. Plus, you can start working on your summer body a few months early. #winning
Hit the gym
Working out may seem like a drag sometimes, but you can have fun with it! Hitting the gym for a run, elliptical session, or some weight lifting will do wonders for your mood. Turn on the tunes, zone out, and let endorphins work their magic. If you don't have access to a gym, YouTube videos serve as a great substitute. Turn your living room into a fitness club by checking out Blogilates, Kayla Itsines' fitness programs, or even Teyana Taylor's new dance program; your body will thank you later and you don't even have to go outside.
Simulate dawn
When the sunshine won't come to you, you bring the sunshine. Using a dawn simulator has been proven effective for beating the wintertime blues, whether you have seasonal affective disorder or simply hate getting up when it's dark out. Shop around for a dawn simulator that will meet your needs and trick your body into feeling more energized and worked as an all-natural antidepressant.
Plan something positive
 When bad weather seems like it'll never end, transport yourself away from all the snow and sleet. That could be in the form of a nice vacation to some tropical resort with your family, girlfriends, or partner. Or perhaps it's simply taking time each Friday evening to gather with the people you care about for game night or dinner out on the town. Having something to look forward to will assist you with perking up your mood when the days seem long and the weather feels cold.
You do you
 You know yourself and your body best. So whether your optimal self-care consists of nightly baths, wine Wednesday, or sleeping in on the weekends, be good to yourself. Showing yourself love is a great way to combat the blues, no matter what season we're in.
Summer is coming, just not soon enough.