The 7 Best Shows and Movies to Binge This Weekend
A powerful historic documentary, a hilarious Hispanic horror comedy, and more for you to curl up with.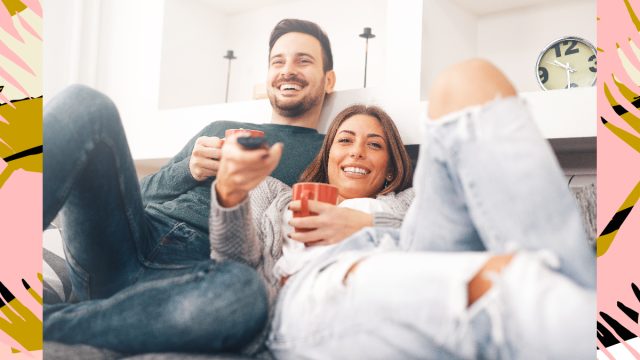 As cooler temperatures begin to set in, we're looking for more cozy activities to snuggle up indoors with. For most of us, that means we can indulge in movie and tv show marathons, maybe with a festive drink in hand, after pumpkin carving or fall baking. 
Not sure where to start? We spoke with Jamie Joffe, who created the Binge or Cringe empire. TV and movie fans go wild in the official Facebook Group, and you can hear great thoughts from great minds on her "Binge or Cringe Podcast."  
"The shorter days mean longer nights, which means I can start streaming earlier and not feel guilty," Joffe tells HelloGiggles. We are here for that kind of justification. Here are some of her top picks for shows and movies that you can binge-watch this weekend.
1. "Descendant" (Netflix)
"This should be required viewing for everyone," Joffe tells HelloGiggles.
It tells a story not many people are aware of: though slavery was abolished in 1865, the United States had already banned the importation of Africans as slaves in 1808. "So even though enslaving humans was already illegal, it didn't stop plantation owners and traffickers," Joffe adds. 
Clotilda was supposedly the last ship to bring slaves from Africa in 1860. But, when the Clotilda returned from Africa to the U.S. with more than 100 illegally enslaved humans, Foster intentionally sank the ship to hide the evidence. It is a hidden history rising to the forefront in this powerful documentary produced by Roots frontman Questlove.
RELATED: The 10 Best Books of 2022: Dazzling Fantasies, Medical Histories & Another Michelle Obama Memoir
2. "The Crown" (Netflix)
"The Crown" just released a lengthy trailer with scintillating scenes for the premiere of its fifth and final season on November 9th, 2022.
That means you have a long time to rewatch the previous four seasons, catch up on your British history, and pay a little homage to the recently deceased monarch (whom so much of the show is centered around).
3. "Shantaram" (Apple TV)
A fugitive who has escaped from a maximum security prison flees to Bombay. Though he attempts to disappear in this unfamiliar city, he winds up getting involved with some super shady people. Which is a problem.
"To make matters even more complicated, he becomes involved with a mysterious and dangerous woman," Joffe explains. "So much for staying under the radar."
4. "Los Espookys" (HBO)
Put your subtitle reading to the test with this hilarious Spanish-language comedy from the mind of Fred Armisen. Renaldo, a horror genre enthusiast, creates a business aimed at "scaring" his collection of unique clients.
Each of Renaldo's projects includes a fantastic supporting cast of family and friends, who will leave you struggling to breathe from the irreverent nature of the show.
5. "The Handmaid's Tale" (Hulu)
A show that's about to come to an end in its fifth and final season, take this weekend to rewatch the series that will have you questioning everything you think you know and feel about a woman's place in the world (question it in in a good way, but also in a frustrating, powerful, lets-hope-this-never-happens-in-real-life way, too).
Elisabeth Moss, who plays June Osborne, faces new challenges as she goes between freedom in Canada and the child that she left behind in Gilead. Remember: don't let the bastards grind you down.
RELATED: Is The Fifth Season of 'Handmaid's Tale' Imitating Real Life?
6. "Halloween Ends" (Peacock)
Yup, Michael Myers is still alive. Rumor has it that "Halloween Ends" will be the final film for the epic masked killer and for Jamie Lee Curtis, who reprises her role as Laurie Strode. But, the film's producer was brilliant enough to introduce a new killer: Corey Cunningham. 
"To be honest, I'm not sure how long this franchise can go on," Joffe tells HelloGiggles. "I mean at some point, Michael Myers is going to be old and unable to chase anyone." It's certainly worth a watch and maybe a binge of the other 13 Halloween films leading up to it.
RELATED: 'Halloween Ends' Scream Queen Jamie Lee Curtis Reflects on the Film Franchise That Launched Her Career
7. "The Watcher" (Netflix)
True crime meets real-life horror in this new Netflix series that viewers can't stop talking about. Created by legendary drama creator Ryan Murphy, the show is based on actual events surrounding a practically perfect couple (played by Bobby Cannavale and Naomi Watts) who purchase their dream home in an idyllic suburban town.
Then things start getting strange, spooky, and downright terrifying. You can read more about the true story on The Cut. 
Bonus binge: "Smile" (In theaters now)
"Ok, just the poster makes me want to cry," Joffe tells HelloGiggles. "The basic premise is that when a psychologist witnesses a seriously traumatic situation involving a patient, she begins to have frightening occurrences that she can't explain."
It's only being shown in theaters, which means you'll have to leave the comfort of your own home to see it, but it's worth it. After all, you can't spend your entire weekend on the couch, right?
Kat is a born and raised New Yorker exploring the world as she writes, eats, and everything in between.
Read more