The best celebrity airport looks of 2016 – because jet set style is chic af
Stars are just like us, except they frequently wear high heels on airplanes. Oh wait, so they're not like us! Celebrities and their airport style are the exact opposite of normal people, which is why we are constantly in awe over their chic ensembles as they step off a five hour flight and still look perfect.
Some celebrities look chic AF while getting ready to jet-set off on their fabulous tropical vacations or as they go from state to state promoting their latest film, and we've got the best looks from airports in 2016 for you to obsesses over below — you're welcome.
Seriously take notes, these celebs are about to give you serious #StyleGoals and quite possibly make you feel a little bad for your usual yoga pants and giant sweatshirt combo that you wear during your travels. Just kidding, you'd never give up comfort on a long flight because that would be insane — as are these fabulous airport ensembles.
To kick things off we've got Miranda Kerr, who is the definition of an aviation stylista. She's always arriving at the airport in the chicest ensembles we've ever seen.
Somehow she can rock a velvet top, camel-colored coat and leather pants that would make Grease's Sandy jealous — oh and she just flew all the way to Paris. How is that possible?!
We don't know if Eva Longoria was planning to attend a brunch as soon as she stepped off the plane in Nice, France, but we're kind of obsessed with her feminine frock and nude heel combo.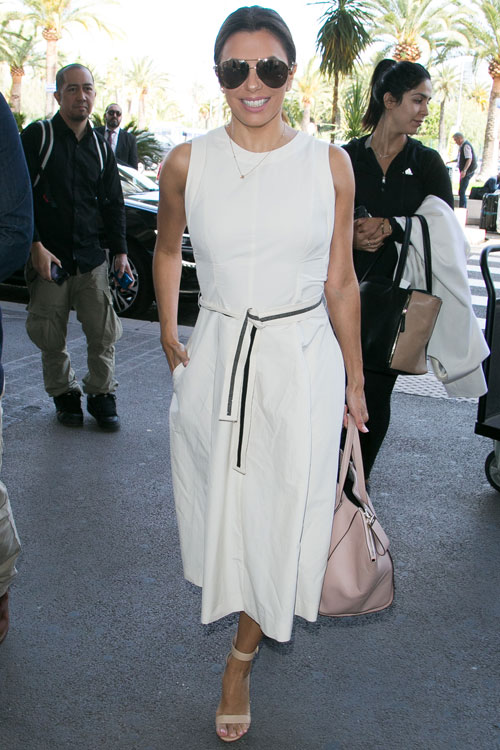 Whoever said that sweats can't be chic clearly hasn't seen Rosie Huntington Whiteley's closet. The model rocked the coolest sweatsuit while walking around LAX in late September.
We love every part of her look. The letterman-style jacket paired with sweatpants and topped off with a simple black, strapped heel? Yes, please!
We see you Kim Kardashian, rocking that skin-tight dress and knee-high boots. One question, did you have to take off those boots to get through security?
In case you forgot, Fergie is a rockstar, so obviously she dresses like one when she's arriving at LAX, no matter what time of the year it is.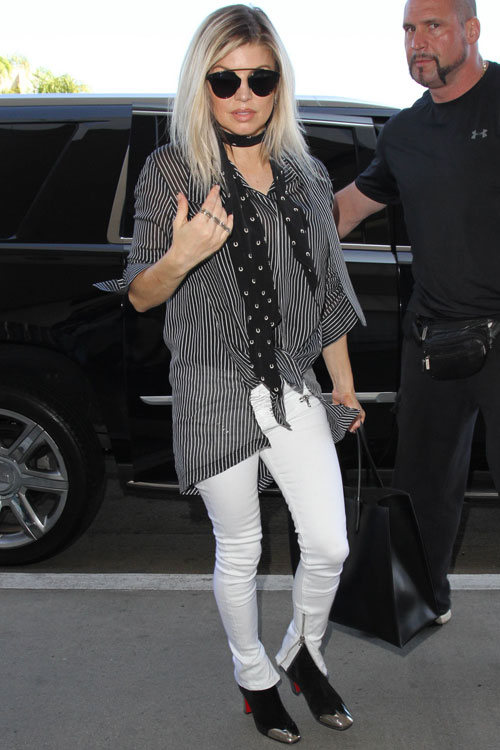 Selena Gomez is officially our comfort queen!
The 24-year-old singer managed to make an all-red sweatshirt and sweatpants ensemble look insanely couture and trendy at the same time. PS: she's wearing heels, because that's a celebrity airport staple, duh.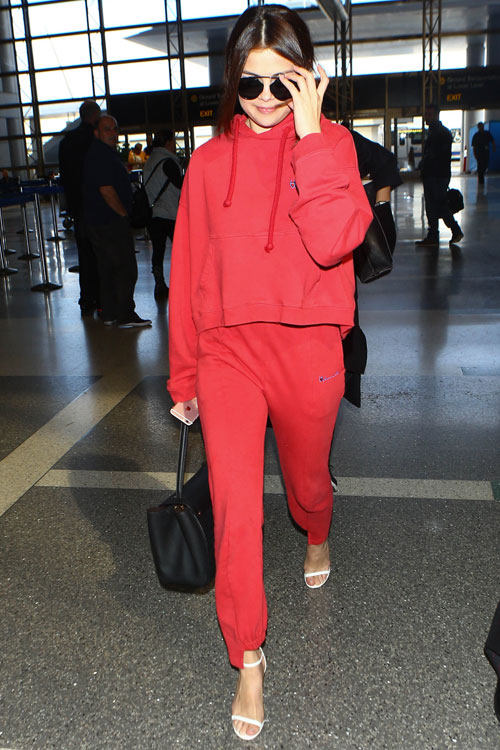 All hail the Duke and Duchess of Cambridge!
The Royal family looked perfect from head-to-toe as they stepped off their plane in Canada in September. Seriously, we're even jealous of Prince George and Princess Charlotte's ensembles.
Another trip, another Kardashian on the list. Khloe stepped out at LAX in September rocking the perfect Cuba-inspired ensemble (possibly thanks to her actual trip to Cuba in the spring) and we can't get enough of it.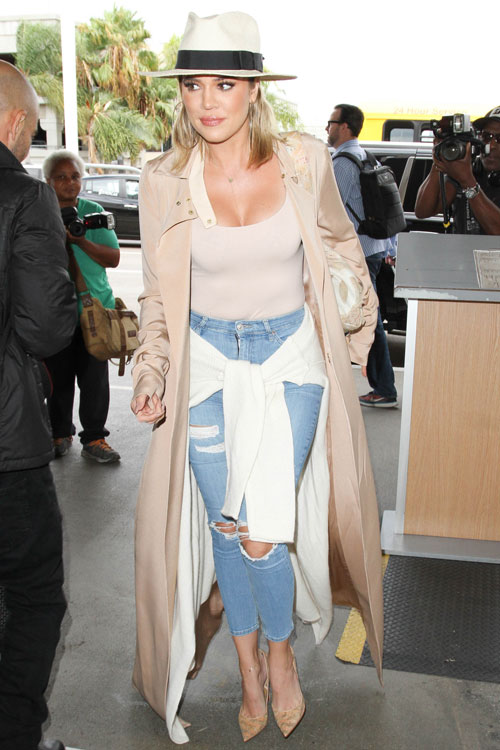 In this photo, Rachel McAdam's travel duds are both edgy and relaxing, which is exactly what we'd imagine the Canadian actress wears on her days off.
Denim on denim with a leather jacket for good measure — are you sure you're not a '90s rocker, Rachel?
Whenever Paris Hilton travels, she wears something functional and fashionable, because she is a fashion guru. In May she opted for a sleek dress and oversized sunnies that make us wish it was summer all over again.
Kate Hudson's casual, cool look is something we'd steal in a heartbeat. Her "I wish you were here" tee, skinny jeans and red pumps are perfect for attending any concert and apparently a traveler's best friend.
When Blake Lively arrived in Nice, France in May all eyes were on her and her all-white ensemble. Seriously, who else besides the Cafe Society actress could pull off this look?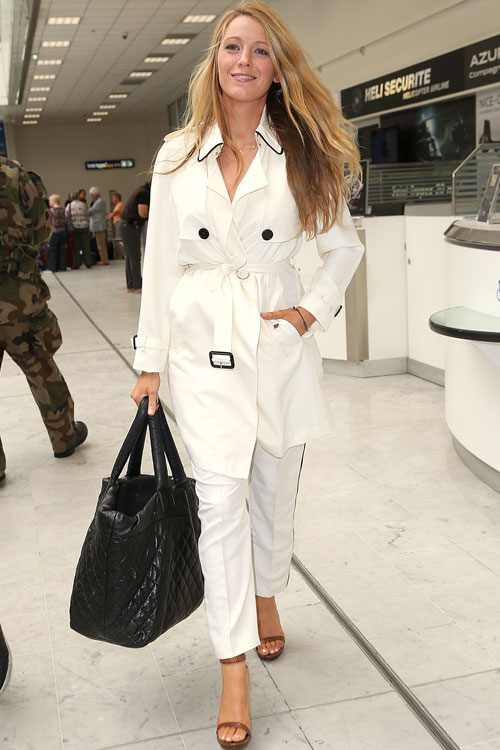 Is this a catwalk or an airport crosswalk?
Karlie Kloss wore a cat shirt, bandage skirt and leather jacket as she strutted her stuff in France and we're eternally in awe of her and her purr-fect style.
Kate Beckinsale looks fierce in her satin/silk pants and big scarf, so that's exactly what we'll be buying for our next trip. Note the fringe on her high heels as well, ah, we're in love.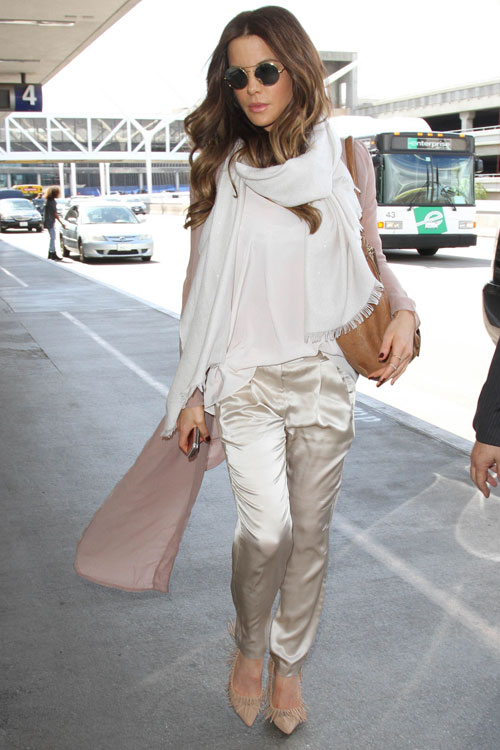 Gigi Hadid has always been one of our fashion inspirations and this look at Charles-de-Gaulle airport in January just proves she can do no wrong in the fashion game.
Bonus points for the heart and star patched jeans — they are so fetch! Yes, we are still trying to make fetch happen.
The Suicide Squad actress showed off her feminine side in Los Angeles this summer and she nailed it. Margot Robbie's blush-pink wrap dress is an easy look for a long flight and adding those suede pink mules just makes her look even more sassy.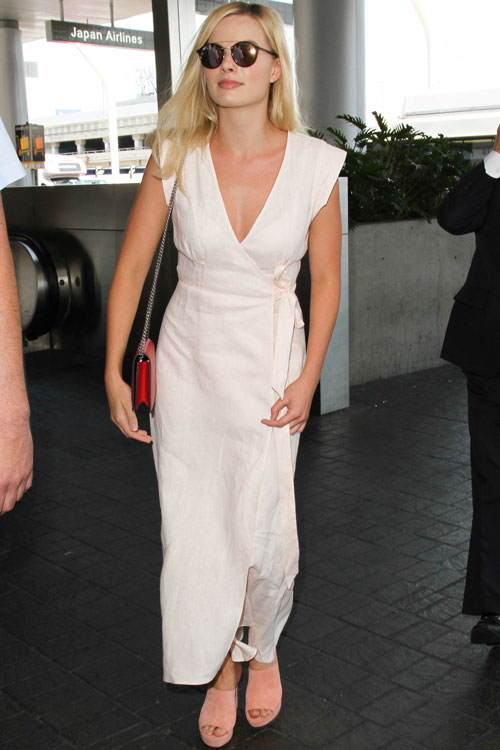 The winner of best airport style in 2016 has to go to Pixie Lott. Seriously, who else would win with this outfit as their competition?
The British singer wore a lemon crop-top and pant combo complete with matching wedges and handbag for the ultimate summer fashion statement. When life gives you lemons, clearly you should wear them while traveling!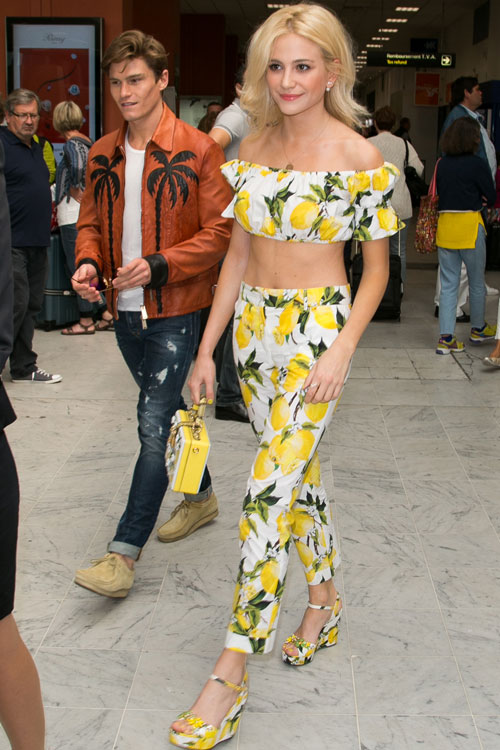 Which celebrity's airport style is your favorite?