The beauty vlogger who famously curled her hair with Cheetos just launched a curling iron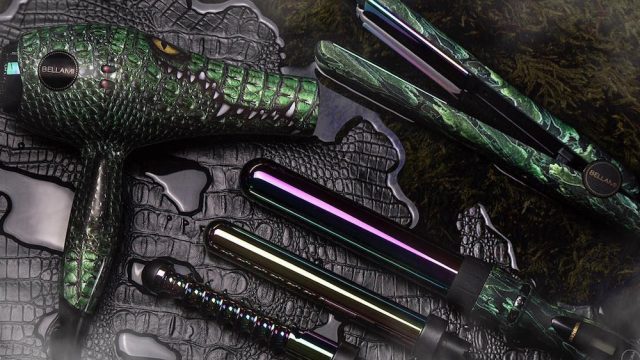 Whether it's eyeshadow palettes or pretty polishes, we always love a good YouTuber and beauty brand collaboration.
This is especially true when the products are fun and exciting. So, you can probably imagine how pumped we are for the new Bellami Hair x Grav3yardGirl hot tools collaboration, which will surely make you feel like you're Jane from Tarzan.
Bunny Meyer (aka the fabulous Grav3yardGirl) is known for her hilarious YouTube videos — remember when she curled her hair with tampons and Cheetos? She also has a whimsical and quirky fashion sense, and that fun spirit is reflected in her new collection with Bellami Hair. They've teamed up to release four new products you'll want to add to your arsenal immediately.
Bunny Meyer told HelloGiggles she created a collection of hot tool staples so everyone can use them, and yes, girl!
Giving off some major swamp queen vibes, the Grav3yard Girl and Bellami collaboration offers fun styling tools with killer (we're talking gators and rainbows!) packaging.
"The packaging was inspired by and made for the Swamp Family," Meyer tells HelloGiggles.
"It was so much fun to take these amazing professional grade tools and give them a sassy twist that I hadn't ever seen before."
To give you a closer look at the Grav3yardGirl and Bellami collaboration, here are the four epic tools that will totally spice up your hot tools drawer.
https://www.instagram.com/p/BbVRlNqDVUd
Packed with a stylish iron, blow dryer, and curler, this curl kit is sure to make the perfect holiday gift for any swamp queen in your life. And with two clips and heat resistant glove, you'll never have a bad hair day again.
https://www.instagram.com/p/BbU5o9-jtf5
But if flawless curls are more your thing, you'll totally want this curling set. It has three fun rainbow titanium barrels you'll simply drool over.
https://www.instagram.com/p/BbVKCQWjVZC
Heating up in eight to 10 seconds, this special flat iron can create sleek strands or sexy waves in seconds.
https://www.instagram.com/p/BbUqRF0jdcP
With two attachments and speed setting controls, this alligator-printed dryer is truly one of a kind.
With beauty loot this good, it's safe to say that the new Grave3yardGirl and Bellami collaboration is worth checking out.