Nicole Kidman had a wonderfully witchy suggestion for one of her "Beguiled" costumes
Spoiler alert! Plot details from The Beguiled are below!
Much of writer-director Sofia Coppola's The Beguiled looks like a fantastical dreamscape — in the scenery, in the lighting, and in the costumes. That is, until things take a dark turn, and blood is seriously shed.
Some context: The Civil War-era story kicks off when a wounded Union soldier John (Colin Farrell) arrives at an isolated girls' school in Virginia. Head of the house Miss Martha (Nicole Kidman) tends to his wounded leg and as he recovers, sexual tension builds between him and multiple women.
He tells Edwina (Kirsten Dunst), a lonely teacher, that he has feelings for her and that he'd like to visit her…in her room at night. When night comes, Edwina finds him in bed with her trouble-stirring student, Alicia (Elle Fanning). Edwina is, naturally, very upset and as she and John argue about the incident, she accidentally sends him tumbling down the stairs — and he injures his leg again.
This time, Miss Martha concludes that there's nothing that she can do, so she amputates his leg. In that process, her white, ethereal, angelic nightgown becomes covered in blood.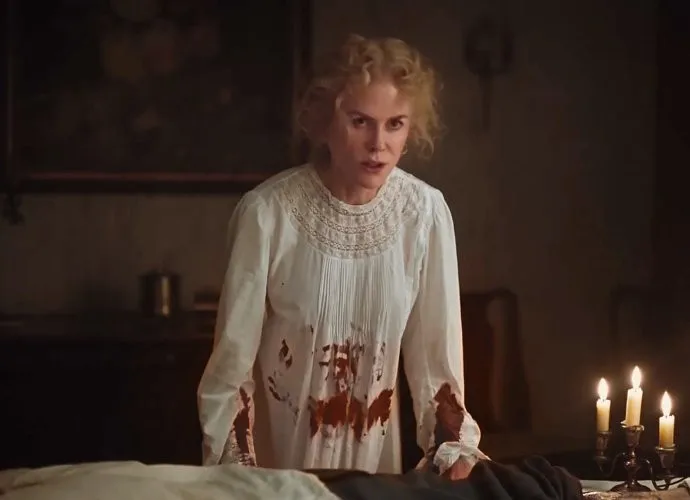 And as it turns out, the nightgown was Kidman's idea.
"I have to say a big thank you to Nicole, costume designer Stacey Battat told HelloGiggles. "I had originally thought that Nicole would be in her evening dress when his leg gets cut off. Then, Nicole at her fitting said, 'It might be nice if I was wearing my nightgown, and then we're like a witches' coven.'
Battat was thrilled by the suggestion. "I was like, 'Oh my God. You're totally right. That's the best idea in the world. Thank you for coming up with it.'" She added, "It was the right choice, 100 percent. And it was an amazing thing. I'm glad that she was wearing that delicate nightgown covered in blood."
The imagery is so striking and sort of beautifully gothic, so the feeling is definitely mutual. Catch The Beguiled in select theaters now.