The Becca x Jaclyn Hill Champagne Glow Face Palette is coming back and we are SO excited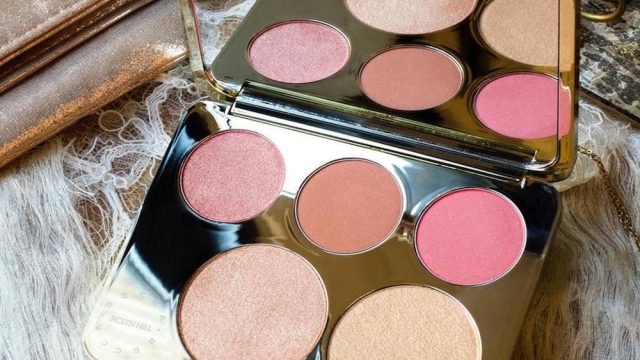 When a beauty product becomes a cult fave, it usually means that it's high quality, has beautiful packaging, is unique, works on multiple skin tones, is long-lasting, and gives beautiful results. Case in point: the Becca x Jaclyn Hill Champagne Glow Face Palette. It's been long sold out, but we can thank our lucky stars because it's coming back, baby! Just in time for the holidays, too! When this gorgeous and beloved palette debuted earlier this year, it was sold out faster than a blink of an eye. We truly thought all hope was lost, and we wouldn't be seeing it again, though we did console ourselves with their myriad other stunning products.
Luckily for us, their Champagne collection has been so successful that they're bringing back a limited number of Champagne Glow Face Palettes for us THIS SUNDAY!
https://www.instagram.com/p/BM71igXj03X
For the uninitiated, the palette contains two large golden-ish highlighters: Champagne Pop and Prosecco Pop, along with three small blushes: Satin, Matte, and Shimmer.
The holy grail!
Up until now, Becca Cosmetics was only available in the US and Canada, but their collaboration with Jaclyn Hill has been so wildly popular that they are expanding the collection worldwide!
https://www.instagram.com/p/BM2GN1AjzhI
How thrilling!
Beauty lovers around the world over will now be able to share the magic of these beautiful products, and we couldn't be happier for them! There is so much joy to be found in the success of brands who make products that are truly wonderful and well-loved, especially when it's women working together!
Grab yours at Sephora starting Sunday, Nov. 20th, for $52. And remember, it's limited-edition, so make sure you grab yours before they sell out again!