The beauty products a skin care-obsessed musician used on a 21-hour flight to Australia
Welcome to The Beauty Files, where HelloGiggles editors and contributors share what exactly they put on their faces, and why. We want to take you on this voyeuristic journey because we believe makeup means something different for every single person — applying makeup is a conscious, intimate decision we make almost every single day, and there's usually a method behind the madness. Join us every week as we spill the beans on beauty products, and feel free to submit your own Beauty Files. E-mail us at [email protected]!
Hi, internet friends. I'm Kristin, a musician and writer. I love talking about all things beauty, feminism, and chocolate. I've been traveling a ton over the past few months, so I've really put an effort into making my skin care routine as efficient as possible.
Because of that, I am extremely high-maintenance when it comes to my beauty regimen. My eczema forces me to be vigilant with my skin care routine, but at the same time, I also love wearing makeup on a regular basis. My fine, pin-straight, dry hair requires more work than you'd expect. This all means that long-distance traveling puts a serious damper in my beauty groove—don't even get me started on the toll that recycled air takes on my skin and hair.
I mention this because I recently took a trip to Australia, which required me to fly six hours from N.Y.C. to L.A., then 15 hours from L.A. to Sydney. I had a short 45-minute layover between. From before I left my apartment in New York to heading to my first event in Sydney, here's a breakdown of every beauty product I used. These items ensured I arrived in Australia looking snatched.
1 p.m. (EST)— Getting ready to head to the airport.
Something you should know about me is that I love a nice, long, deep-cleansing shower. This is especially true when I know I won't get to take another one for at least 24 hours.
Before I headed out, I made sure to plan my time perfectly. I had a good 30 minutes in the bathroom, and I even made time for my hair to air-dry. My shower routine prepped my hair, skin, and body for a full day of travel. After I shampooed and conditioned my hair with the Tresemmé Keratin Smooth set ($4.99, each), I used a dollop of Coco & Eve's Like a Virgin Nourishing Hair Mask ($44.90). I run it through my strands with the Tangle Teezer The Original Brush ($12) to help spread the product evenly. I then wrap my hair into a loose bun and secure it in the Shhhowercap ($43). I want to let the mask sit while I move onto my body.
For me personally, part of feeling clean is when I feel hairless, which is why I shave my arms and legs. I like to use a gentle exfoliant before I shave (I read somewhere that the stimulation makes your hair stand up for a closer shave). I rub the Frank Body Express-O Coffee Scrub ($20) all over my body before going in with my razor—I love this scrub because its whipped formula makes it more gentle and less messy than the original version. After shaving, I rinse off with a little bit of the St. Ives Oatmeal & Shea Body Wash ($3.97). Instead of using a loofah, I use my hands to spread it over my body. This makes it easier to feel if I've missed any spots while shaving. Finally, I use the Scrubee Body Butter from Lush ($7.95) for extra exfoliation and an added layer of moisture.
After I'm done showering, I slather Nivea's Shea Butter Body Lotion ($5.28) all over my body. For my lips and face, I apply the Blistex Lip Medex ($8.35 for a pack of 2) and dab on the Perricone Face Finishing Moisturizing Tint ($69). This is my favorite moisturizer because I feel like the hydration lasts. Plus, it has tiny pigment capsules that adjust to your skin tone as you rub it in—you're left with an even skin tone and a nice glow. I like that it also has SPF in it, because it feels like I'm getting a ton of benefits with just one use.
Next, I spray the Bumble and Bumble Hairdresser's Invisible Hair Oil ($28). This helps my hair air-dry smoothly and it gives it much-needed hydration. Finally, I spritz the Eric Buterbaugh Celestial Jasmine Perfume ($75)—I'm only bringing the travel-size bottle because the full-sized one would be too much work.
6:30 p.m. (EST)—Boarded and ready for take off.
Thankfully, I got upgraded to a seat with more leg room, so this flight should be easy-peasy. I've never flown Qantas before, but I'm enjoying the experience so far. The flight attendants are sweet and keep making sure I'm comfortable—I'm looking forward to a pleasant trip.
9:45 p.m. (EST)—My first steps of in-flight skin care.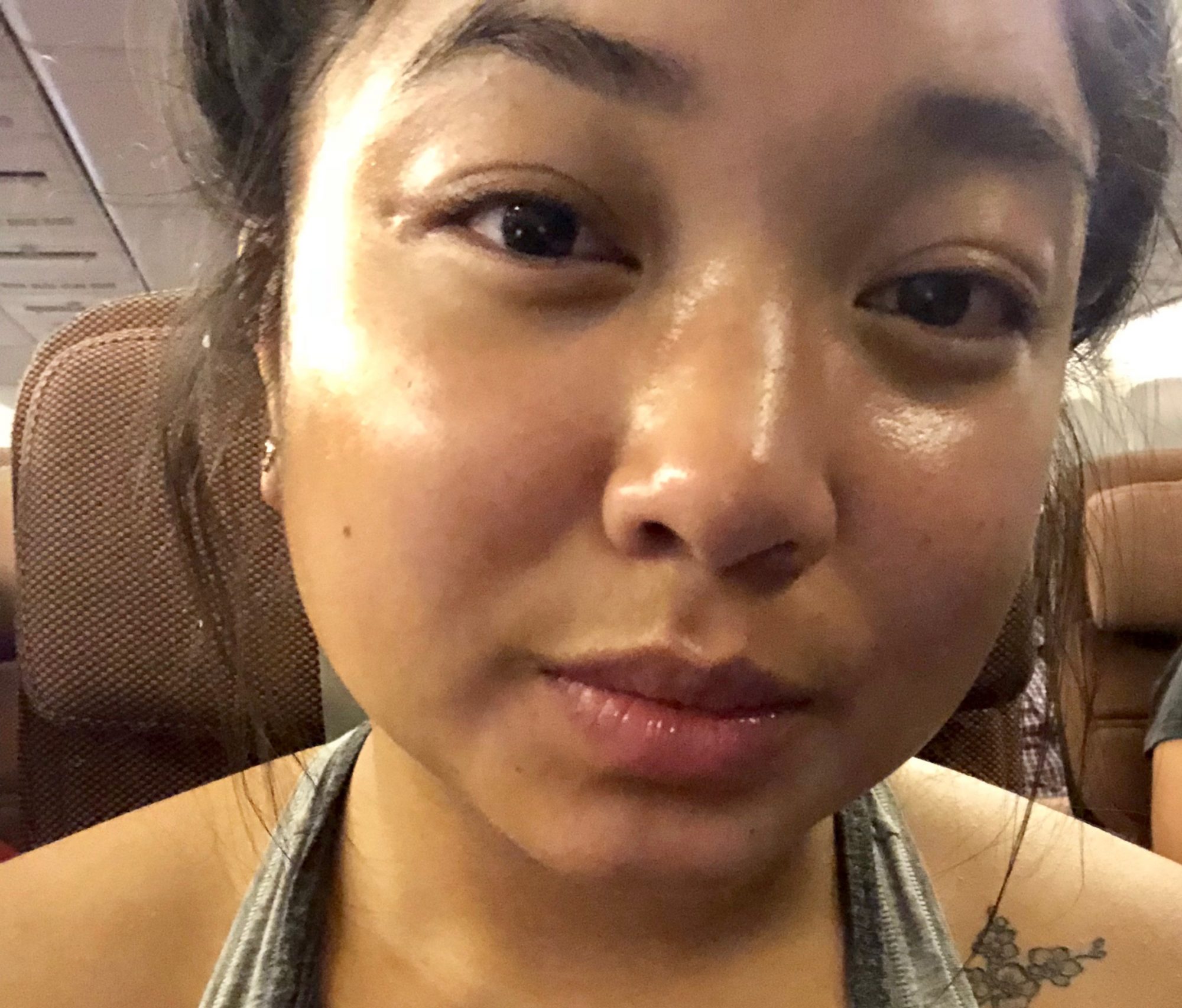 After we've been fed and in the air for a while, I grab my Away The Everywhere Bag ($195) from the overhead bin to start my skin care regimen. First, I apply Garnier's Micellar Cleansing Water ($6.96) and swipe away built-up dirt with a cotton pad. The micellar water normally comes in a big squeeze bottle, but for traveling, I transfer it into an old Tatcha Luminous Dewy Skin Mist ($48) container, which is TSA-approved and makes application easier. I re-apply some Blistex (my lips always seem to get chapped on long plane rides) and dot on my favorite toner, Leegeehaam's Grow Hyal B5 Toner ($30). To finish off, I squeeze a quarter-sized amount of the Summer Fridays Jetlag Mask ($48). Usually, I wouldn't use that much, but the pressure from the plane caused the bottle to slightly explode, and I don't want to waste any product.
9:50 p.m. (PST)—Rushing to get to my next flight.
With my luck, I only have 45 minutes from the time we land until the time my connecting flight to Sydney takes off. After I find my friend Lexi, who's traveling with me, I leave my carry-on bags with her while I freshen up in the restroom. I quickly brush my teeth and wash my face with the Glow Recipe Blueberry Bounce Gentle Cleanser ($34), which I miraculously snuck past TSA. This face wash is perfect for traveling because it cleans deeply, but it's still super gentle for sensitive skin.
11:30 p.m. (PST)—A little bit of skin care.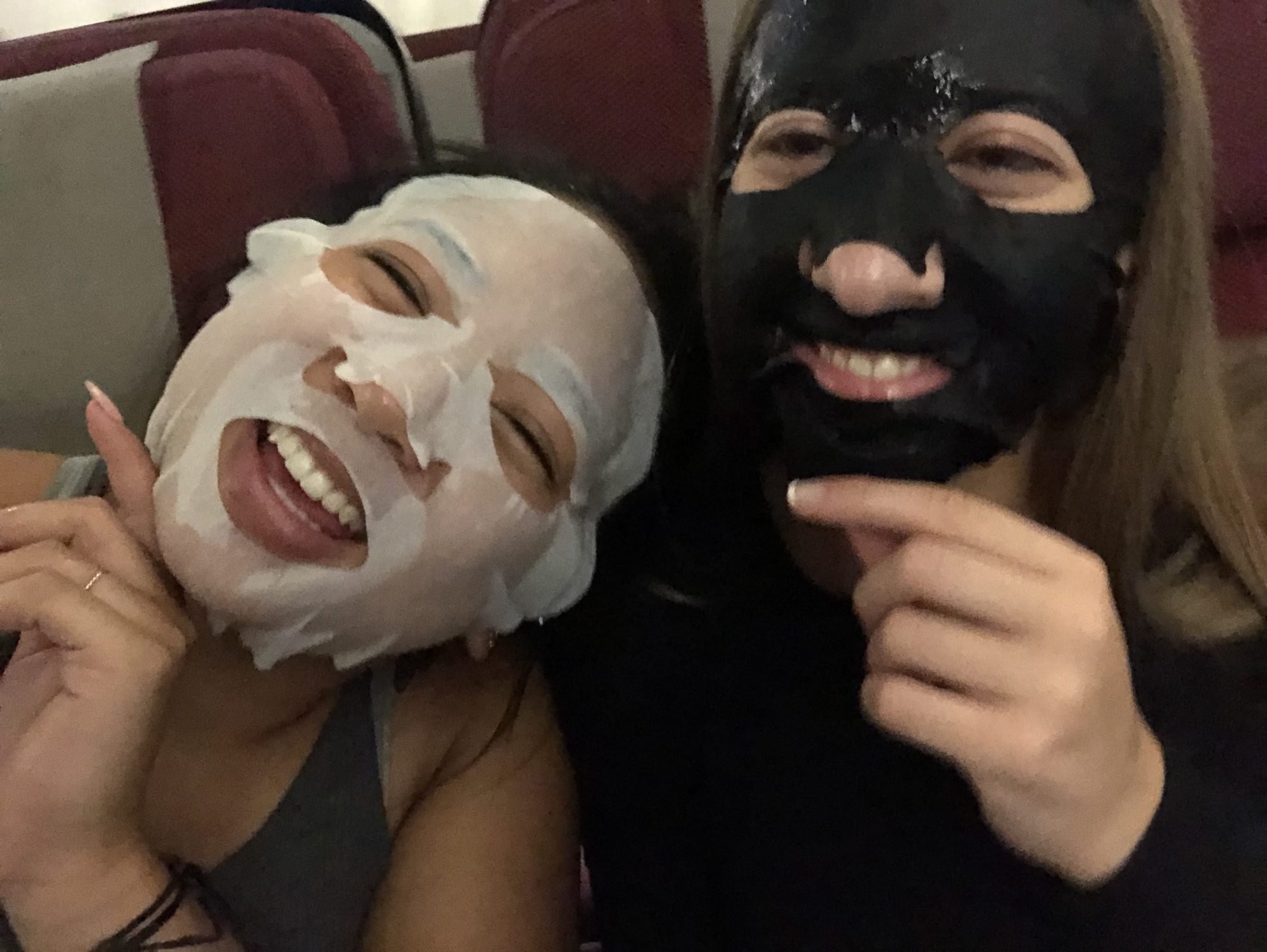 We've been in the air for a hot minute, so I decide it's time for some self-care (and I've finally stopped sweating after running between gates). The Dr. Jart Water Replenishment Sheet Mask ($7.50) is my weapon of choice for a boost of hydration. Lexi is also partaking in the skin care festivities with me, and she uses the Pore Minimalist Sheet Mask ($7.50) of the same brand. After about 15 minutes (and startling a couple of flight attendants), I peel off the mask and rub in the remaining serum with my Shiffa Jade Roller ($63), which gently massages and relaxes my face.
12:40 a.m. (PST)—Time for my nighttime skin care routine.
After eating dinner on the plane, I'm ready to pass out for the next 14 hours. But before I do, I decide to prep my skin like I normally would. I start off with my B5 toner, then spread one pump of the Nooni Radiance Dual Essence ($25), the Sunday Riley C.E.O. Rapid Flash Brightening Serum ($85), and the Sunday Riley Good Genes Lactic Acid Treatment ($105). Of all the serums and toners I've tried, this combination has made my Sahara desert dry skin more balanced and normal.
I top off my serum cocktail with the Kiehl's Creamy Eye Treatment with Avocado ($29). Then, I mix my holy grail moisturizer, the Drunk Elephant Lala Retro Whipped Cream ($60) with a few drops of the Pai Skincare Rosehip BioRegenerate Oil ($40). I start to feel dry spots near the corners of my mouth, so I spread on a tiny amount of the Doctor Rogers Restore Healing Balm ($30). Finally, I apply the Peter Thomas Roth Nighttime Eyelash Treatment ($85, currently sold out). I snap on my airline-issued sleeping mask, wrap my neck pillow around me, and head off for beddy-bed time.
12:25 p.m. (PST)—We're almost in Sydney.
We just had breakfast, and we're about to land soon. I notice that my eye bags look a bit rough, so I pop on the Joanna Vargas Bright Eye Firming Mask ($60) to perk them up.
7:45 a.m. (AEST)— Off to start our day.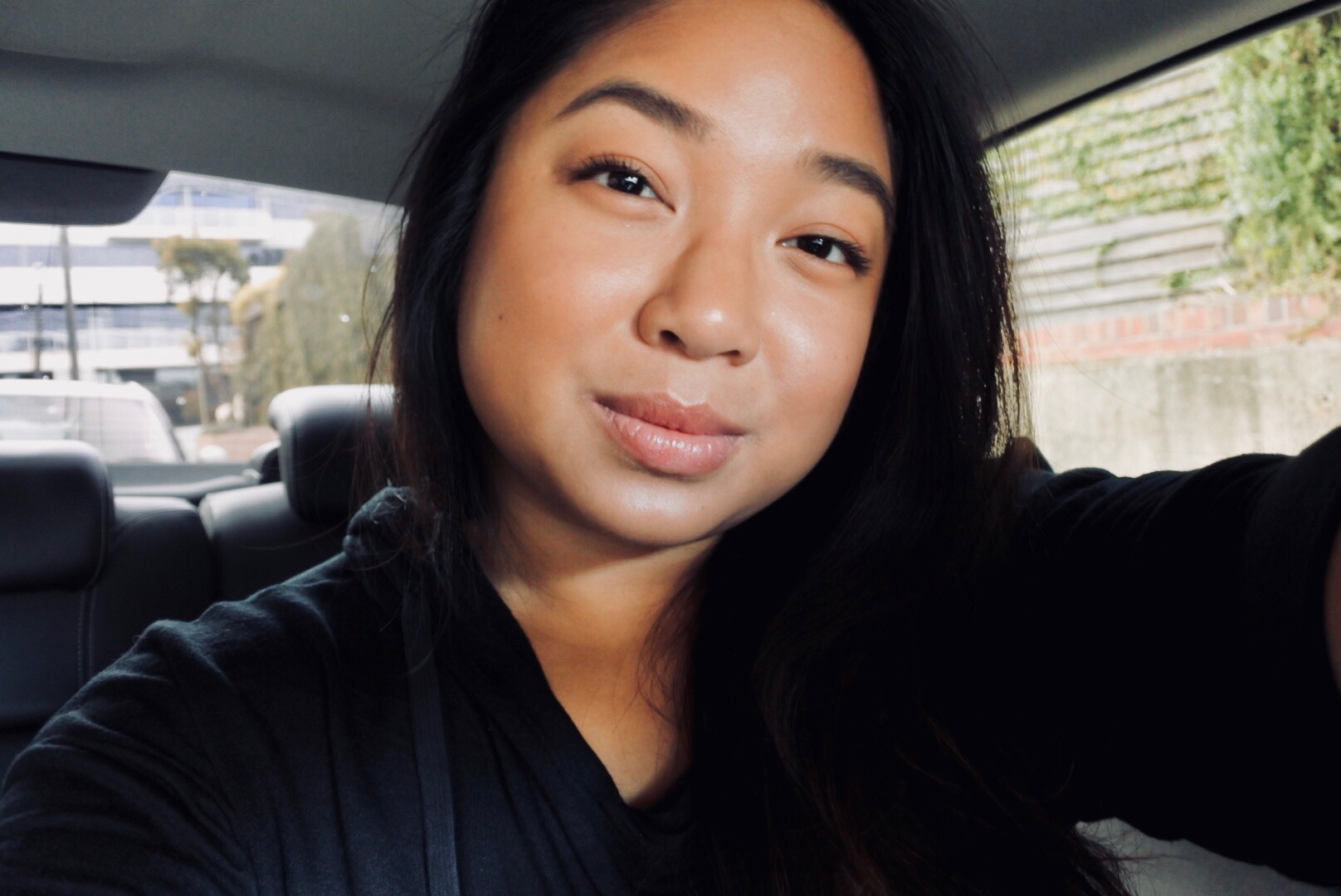 Lexi and I are off the plane and we need to get ready for a full day of activities. I grab my makeup kit out of my carry-on and attempt to do some semblance of my normal makeup routine in the car. To start, I dab on Volition's Prismatic Luminizing Shield sPF 50 ($35) and a little bit of the Perricone face tint for an SPF-fueled glow. Even though the UV index in Sydney is only two, it can't hurt to apply sunscreen—especially since we're going to be walking around.
For my makeup, I brought a bunch of my favorite cream and stick products (I love that they can easily be applied with my fingers). I smooth on the Nudestix Tinted Blur Stick in Medium 6 ($30) for lightweight, sheer coverage, and use the shade Light 3 to highlight under my eyes, middle of my forehead, and down the center of my nose. I warm up the contours of my face with the Nudestix All Over Face Color in Bondi Bae ($30) and tap Flesh Beauty's Lip Compact in Swollen ($24) on the apples of my cheeks, eyelids, and lips for a monochromatic look. I finish off with the Maybelline Brow Fiber in Dark Brown ($8.49), L'Oréal's cult-favorite Lash Paradise Mascara ($9.99), and Urban Decay's Hi-Fi Shine Ultra Cushion Lip Gloss in the shade 1993 ($20). After a MySpace-style selfie, I'm finally ready.
It's been a long couple days (and I've jumped 14 hours into the future), but I think my skin looks decent, and I'm ready to take on the week.
Indulge in beauty-themed voyeurism by reading all of our past Beauty Files, here.