The Balm Cosmetics launched their Nude Beach eyeshadow palette, and it's cheeky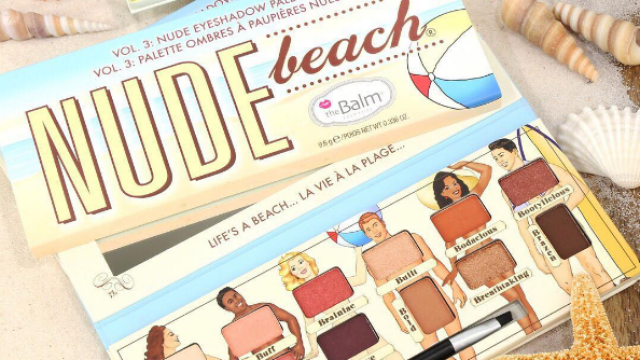 The sun is out and we have now officially arrived at beach season. It's the time of year where we can finally rid ourselves of pants while sipping on lemonade by the ocean, and now we can add The Balm Cosmetics Nude Beach palette to our baggie of summer beach accessories.
As you can likely gather from the name, The Balm Cosmetics Nude Beach palette was designed to specifically cater to our love of sandy, beachy nudes. So our makeup looks can now match our laissez-faire beach style.
The palette features 12 different shades of eyeshadow, ranging from the glittery purple Bootylicious shade, to the eggshell white Brilliant shade. You can easily mix and match shades for a wide variety of makeup looks.
As with most products from The Balm Cosmetics, the illustrations on the packaging are as alluring as the eyeshadow itself.
The full palette officially launches today, so you can kick off your weekend in style.
The 12 shades in the palette include: Brilliant (eggshell white), Buff (pale pink), Brainiac (a toasted pink), Built (a peachy nude), Bodacious (a deep apricot), Bootylicious (a glittery pink), Babe (champagne), Bright (rose colored), Brave (deep grape), Bold (tan), Breathtaking (muted gold), and Brazen (coffee).
You can purchase the brand new palette through The Balm Cosmetics online for $36!
What an ideal way to kick off the weekend!