The AstroTwins suggest what your 2017 style should be, according to your zodiac sign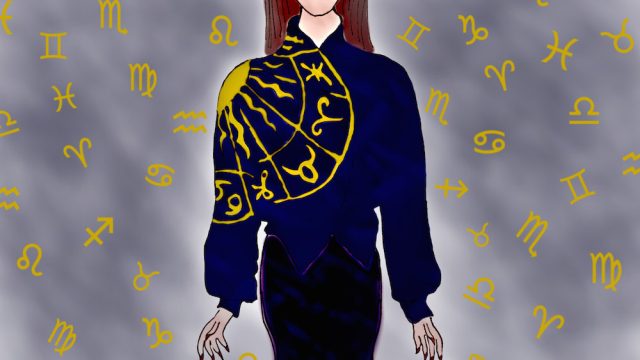 For those of us who have a real love for the zodiac, we'll turn to the stars for pretty much anything these days. From what bra we should wear to which career path we should take, our astrological signs can reveal so much of our personalities. Thus, they help guide us through both the important times in our lives and during less-serious matters.
And anyway, reading about our sun signs is fun!
Now that 2017 is just around the corner, we're looking to the cosmos for guidance more than ever. Since the New Year often brings a desire for renewal and change, it's natural for us to want to revive our wardrobes! What would make a better clothing stylist than our very own star sign?
We turned to the legendary AstroTwins, Tali and Ophira Edut (who are quite fashionable themselves), to find out what we can expect when it comes to our 2017 style direction.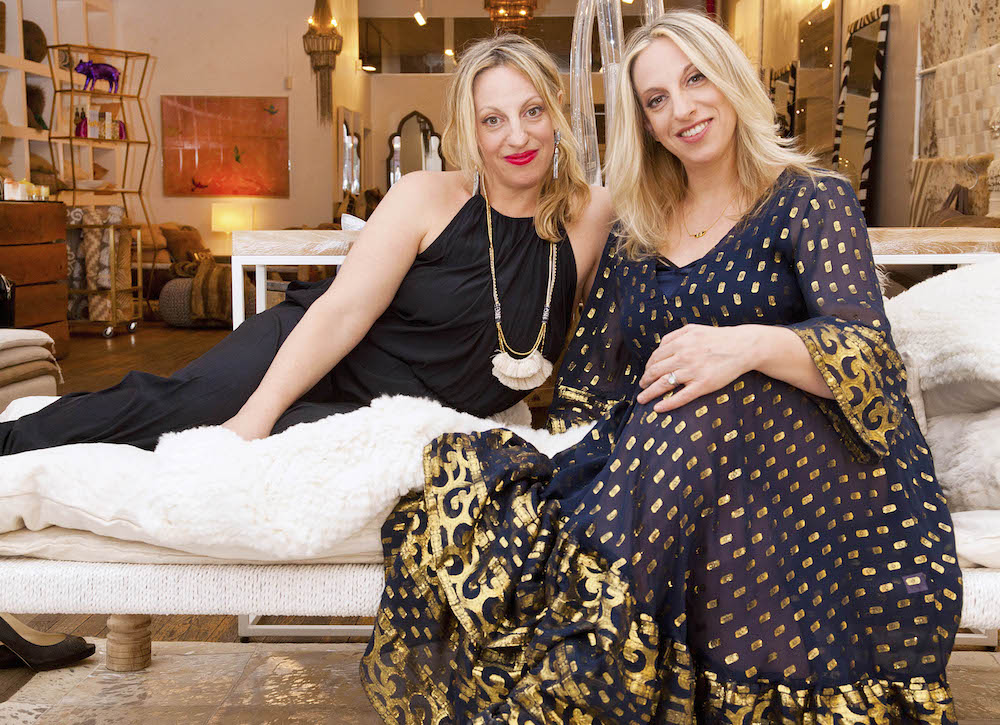 Not only are we embarking on a brand new calendar year, but since September 9th, 2016, Jupiter has been in Libra. Explains Tali:
"It's perfect because Jupiter is a planet of revival and awakening, and it is in Libra which is the sign that rules fashion, for a year."
So basically, the placement of Jupiter and Libra for each sign is a great guide for what to wear for the year ahead!
Ready to see what's in store for your wardrobe in 2017?
Aries (March 21-April 19)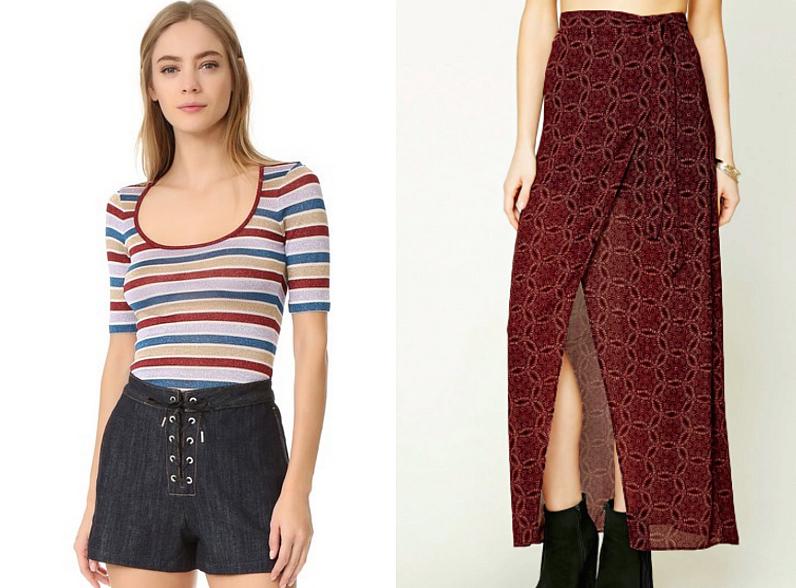 For those in the sign of Aries, you should experiment with wearing two things that wouldn't necessarily go together, but still make you feel good. Tali suggests print mixing or color clashing, and hints at letting yourself splurge on a "decadent upgrade." In that case, why not mix high-end with low-end designers? This gorge lurex striped tee from DSquared is a definite splurge, and would look great with this $16 Forever 21 woven maxi skirt that has a medallion-like print. It's pattern mixing AND price point mixing at its finest. "[Aries} don't usually dress for anyone for themselves, or care what anyone else thinks, but this year they'll be taking note of other people more than usual," adds Tali. Sounds like Aries wants to look HAWT in 2017, and we don't blame them!
Taurus (April 20-May 20)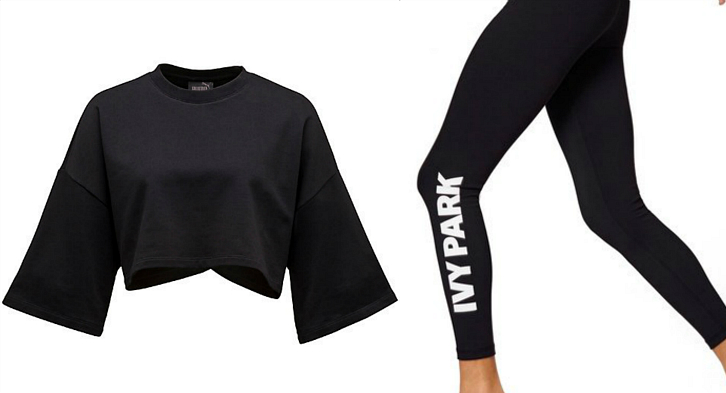 Taurus peeps usually go for fancier clothes, opting for cashmere sweaters and suits, but now they are entering an athleisure phase. "They'll find themselves spending time at the gym or doing yoga, and more fitness-related activities," says Tali. "So they need clothes that have more versatility to them." Is it gauche or genius to mix Rihanna's Fenty X Puma line with Beyoncé's Ivy Park collection? If you have no qualms, wear this $70 Fenty x Puma cropped tee with Bey's $42 Ivy Park leggings. A perfect outfit for Bar Method OR brunch, IMHO.
Gemini (May 21-June 20)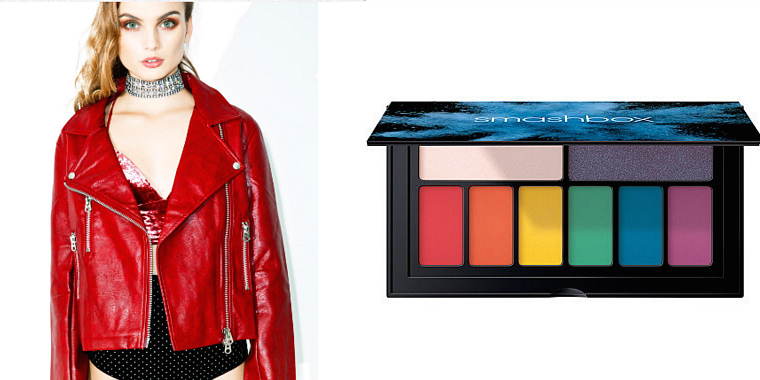 Geminis are having a flamboyant phase, which isn't really unusual for them, but it's time to wear something even more out-there. Colorful leather, like this $72 cherry red vegan moto jacket, would make a great piece for the Gemini 2017 wardrobe, as well as anything with faux fur. Think rock star. As for makeup, go for rainbow eyeshadow, like the new Cover Shot Eye Palette in Bold from Smashbox. Explains Tali:
"For Geminis, every day is a costume party for them."
Cancer (June 21-July 22)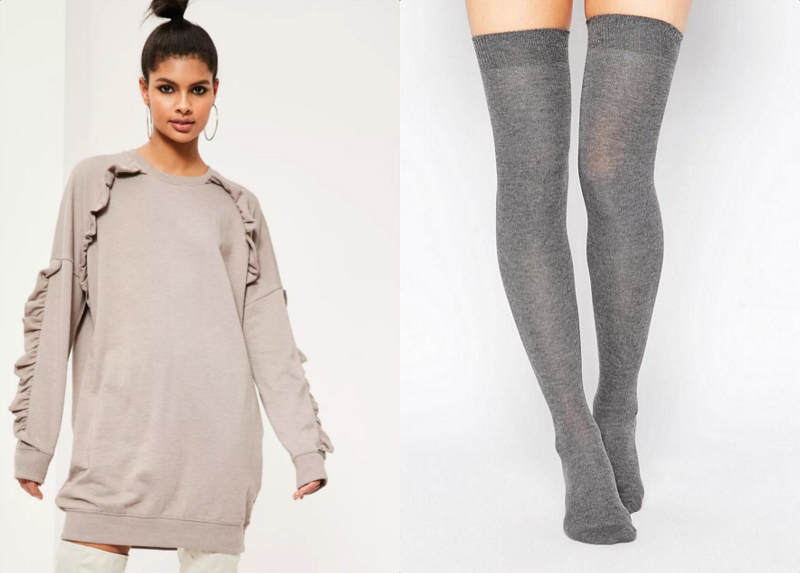 The Cancer sign is in their cozy element, which instantly points to oversized sweaters, cashmeres, and any kind of fabric that feels good against the skin. "They'll be in their crab shells a bit, so oversized stuff is good for them," Tali says. This oversized jumper dress from Missguided is a steal at $45, and is almost too perfect paired with these lush $9.50 thigh highs from ASOS. Beauty-wise, think rosy cheeks and soft, cream eyeshadows. Benetint, anyone?
Leo (July 23-Aug 22)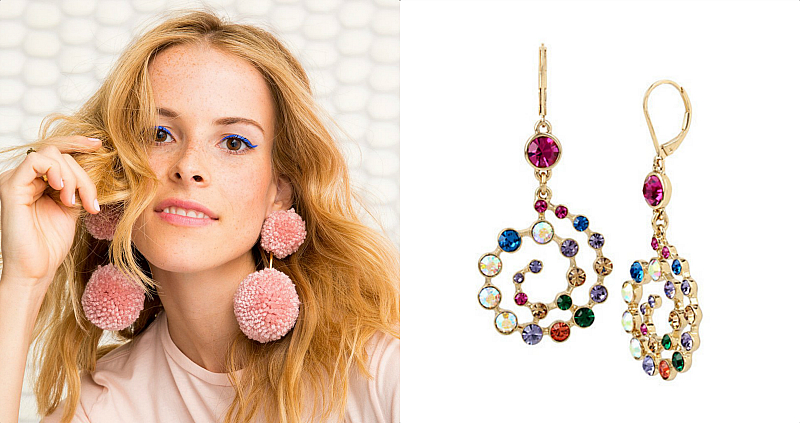 Leos are in their theatrical and social element this year, so they're going to want to turn heads by trying out the wildest trends. Tali says it's all about piling on the accessories for this sign. Huge rings, bracelets, and statement earrings would be key. Grab yourself a pair of these to-die-for $120 pom pom earrings from ban.do, and alternate with these $50 Betsey Johnson confetti spiral earrings. Then again, maybe it's time to head to Claire's at the mall to re-pierce the multiple holes in your ears. That way, you can wear these dope earrings all at the same time.
Virgo (August 23-September 22)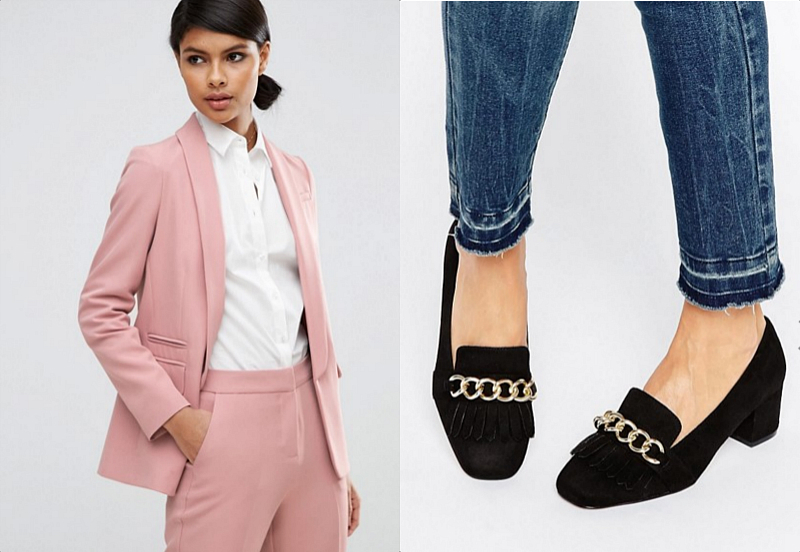 Virgo had a wild and experimental year, but will be going back to their toned-down, conservative selves. Still, don't throw away your hot pants yet — Tali says — but a sophisticated look is on the horizon for Virgo's 2017. This sign will be focused on work and their career path, so office-appropriate wear is a must. Go for sophisticated, cleaner, sharper lines like a nice suit. Might we suggest this tailored blazer in Millennial pink on sale at ASOS for less than $50?  If you've been eyeing a pair of vintage Ferragamo pumps at your favorite consignment shop, maybe it's time to splurge. If not, go for a pair of affordable heeled loafers like these, also from ASOS, on sale for $34.
Libra (September 23-October 22)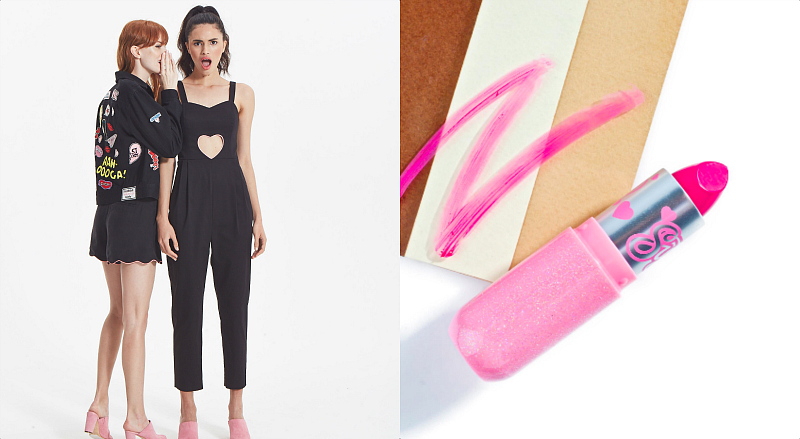 Tali says Libras get to REALLY play because Jupiter is in their sign. "Libras are ready to come out and be in the public eye, which means taking more style dares," she says. Asymmetrical clothing, interesting cut-outs, and one-shoulder pieces are great to try. On the beauty front, you should change your hair to a color it's never been dyed before, and draw attention to yourself with colorful makeup and bright lipstick. This heart cutout jumpsuit from Rachel Antonoff's new Betty and Veronica line seems like a perfect fit for Libra's zodiac style, as well as this bright pink lipstick from Sugarpill. Tali adds, "Skip the J.Crew and go for the edgy."
Scorpio (October 23-November 21)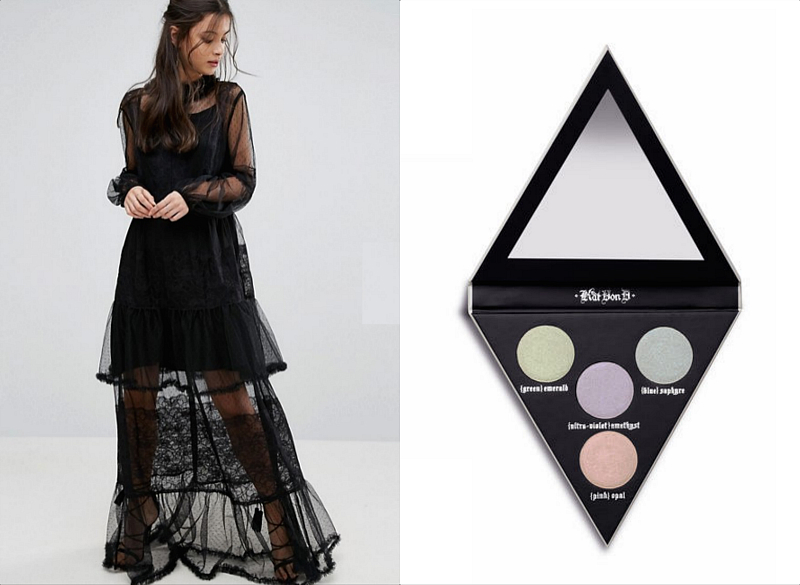 Scorpios are in an enchanted, mystical phase (when are they NOT?!) Bell sleeves and dreamy, fairytale-looking makeup are an ideal style combo for this mysterious sign. "They're in that romantic style, but still with that Scorpio mystique," explains Tali. Two words: Gothic romance. This lacy, $210 bell-sleeve dress from ASOS and Kat Von D's new Alchemist palette will help give Scorpio more "enchanted forest vibes" rather than straight-up American Horror Story: Coven.
Sagittarius (November 22-December 21)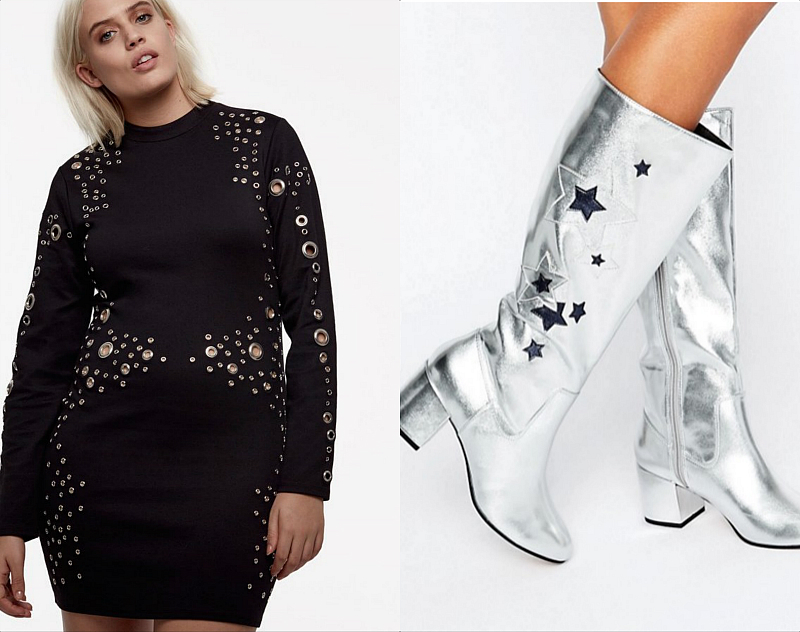 Sags are kind of going through a funky phase, so space age-y clothes, silver boots, metallic makeup are all great for this. This $35 grommet mini dress from Zendaya's line paired with these $49.50 galactic star boots from ASOS totally look futuristic. If you're a Sagittarius who hates wearings dresses, go for something utilitarian, like a denim pantsuit. Tali says:
"Sags need comfortable, active clothes that are also modern. Leave vintage in the closet, and go more future-forward."
Capricorn (December 22-January 19)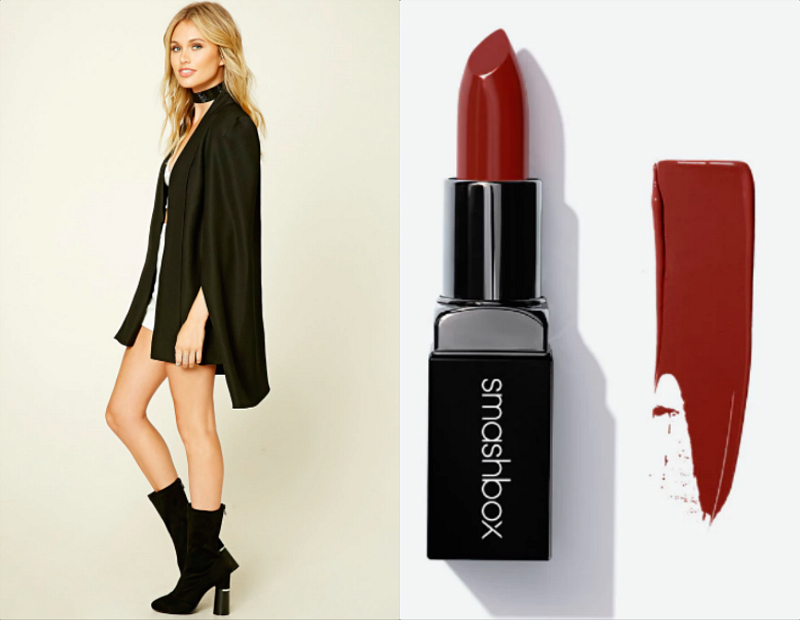 Caps are pulling out their suits from their closets for some ultra-professional style slayage. It's all about power dressing with this sign in 2017. Think bold shoulders and Hillary Clinton pantsuits. Tali says Capricorns should go for "smooth, '70s sleek hair and natural eye makeup, but with a red or burgundy power lip." Loves it. Nothing says power dressing, #girlboss style than a business, padded shoulder cape, like this $34.90 one from Forever 21. Swipe Smashbox's Be Legendary in Chestnut on your lips and you're ready to kick some New Year booty.
Aquarius (January 20-February 18)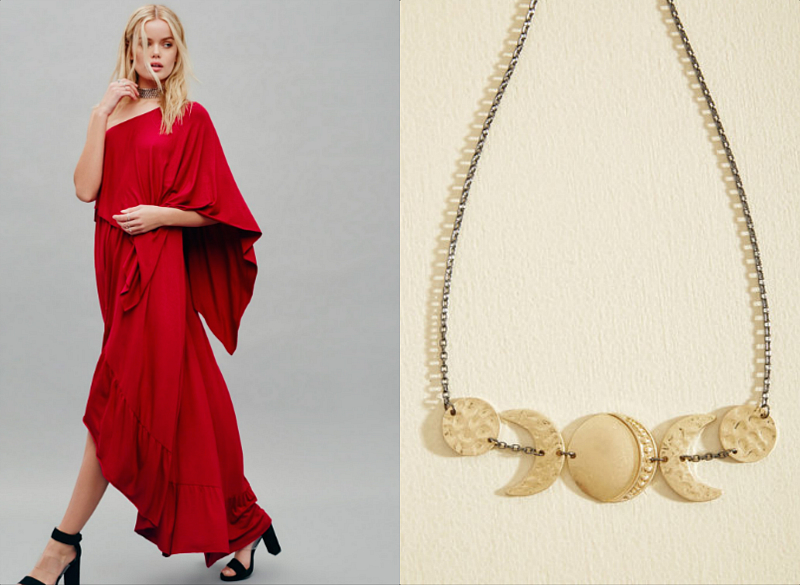 According to Tali, Aquarius will be all about boho chic this year. "They should definitely be trolling the vintage stores and putting their blow dryers away in exchange for wild hair." We're into it, even if we aren't Aquarians! This sign is known for being a world traveler, and the international travel bug WILL be biting this year. Add in some clothes and jewelry you got from your travels (without any cultural appropriation, of course). Think tunic tops and flowy pieces, like this $88 dress from Free People. And this $24.99 moon phase necklace from Modcloth is simply divine.
Pisces (February 19-March 20)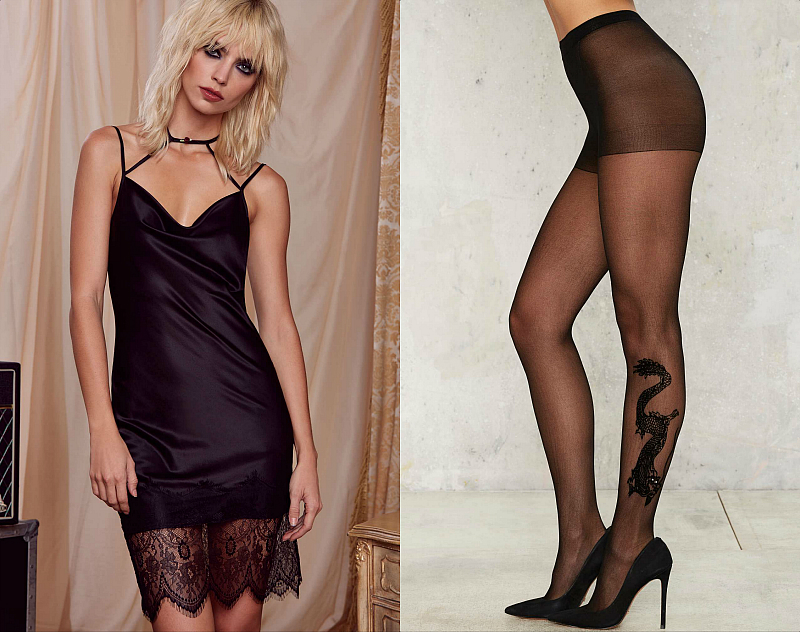 In Tali's words, Pisces are "a little bondage-y" when it comes to their wardrobes in 2017. They're having a seductive, sexy year, which means leather jackets, lingerie-inspired dressing, sheer fabrics, lace, smokey eye makeup, fishnets, and a LOT of black. What could be better for Pisces than the recent Courtney Love and Nasty Gal collection? This $88 slip dress  from the line with these $18 dragon tights (also from Nasty Gal) are a truly killer look.
With 12 badass looks to inspire all of our closets this coming year, no zodiac sign will ever be accused of being unstylish!