The 5 Best Fall Hair Trends You Need to Try
Fall must do's for your do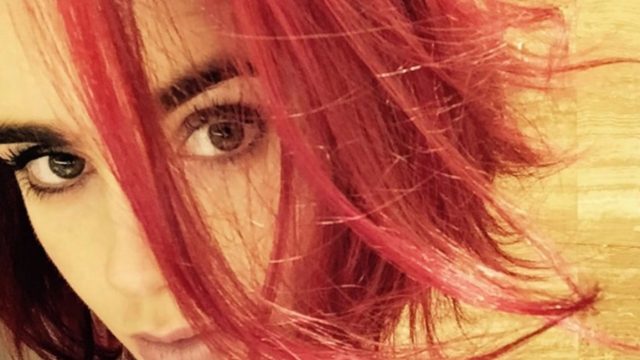 It's official: pumpkin spice season is upon us. With that comes a bevy of new beauty trends to gawk over, courtesy of the high fashion runways, red carpet standouts, and, of course, social media, where all of these things converge and influence us #IRL. As far as fall hair trends are concerned, there's already a few standout styles we're ready to test-drive.
RELATED: 20 Best Date Night Movies to Watch With Your Partner
For example, copper hair is reclaiming the spotlight. Need proof? Just look to Zendaya, Lily James, and other A-list beauties who went faux-rouge for this year's Primetime Emmy Awards red carpet. Fashion Month for Spring-Summer 2023 is also in full swing, and top designers are embracing all things simple and chic, like sleek ponytails and effortless waves.
These styles combine throwback appeal with modern versatility and are incredibly easy to pull off. In other words, this year's fall hair trends are for the person who wants to stay in step with the times and march to the beat of their own drum. Ahead, the 411 on five of our faves and quick expert tips to keep in mind if they're on your fall vision board.
Red Alert
If only one color could be synonymous with fall, it would be red. As it turns out, red is this season's hair color du jour too. After all, according to celebrity hairstylist (Gwyneth Paltrow, Carson Kressley) and author Cody Renegar, this is the time of year when people are also ready to tone down and richen up their tresses. 
"Red hair is having a moment, but for those who aren't ready to take the full leap into the fiery color, opt for a reddish-brown shade, which is the perfect look to transition into for cooler months," he suggests. "It's a more toned-down version of the copper trend you see on celebrities like Zendaya, Kendall Jenner, and Sydney Sweeney, yet still very fresh for fall 2022."
When it comes to hair color, weekly maintenance becomes even more important too (especially with shades of red), as you'll want to invest in products that keep color vibrant and prevent damage, like Kerastase Paris's best-selling High Shine Gloss Treatment. Toning shampoos also come in handy for neutralizing brassiness and turning up the shine — just be sure to invest in one for red hair, as formulas are not one color fits all.
Alternatively, if you're not ready for a permanent dye job, you can also take a chance on a color-depositing mask, like Manic Panic's cult favorite hair colors, that will fade away over a short period 4-6 weeks.
Edgy Curls
For people with textured hair, the big chop is a year-round look that never goes out of style. Still, as of late, short, edgy curls seem to be more popular than ever, as big-name style stars are cutting their curls or venturing into full-on buzzcut territory. There was Grammy winner Doja Cat who buzzed her hair and brows back in August, singer Kelela who unveiled a short (and very blonde) do with new music this month, and Golden Globe winner MJ Rodriguez who said she felt free after letting go of her hair at the beginning of the year.
And who could forget when Game of Thrones actress Nathalie Emmanuel cut her iconic curls into an equally stunning short cut? It's undoubtedly a transformative era for naturalistas and Renegar agrees.
"I love a short low haircut and fade for textured hair – it's super low maintenance, on-trend, and suitable for any face shape! Cutting off your hair and dyeing it is very daring, and the look comes off edgy," he says. Should you decide to trade in your local stylist for a barber, Renegar makes one recommendation: have fun!
"Do it in one solid color or multi. You can have your hairstylist create a unique design – the ideas are endless." Need inspo? Look no further than The Cut Life, an Instagram account where you'll find a steady stream of short hair inspo featuring Black women from around the world.
Lived-in Beachwaves
It may be fall but we're still feeling summer with this trend. When it comes to beachwaves, they can either be a lot of work, or no work at all, depending on your unique texture and desired result. Beachwaves is that hairstyle that screams "I woke up like this", even if you didn't and had to create the illusion of an effortless do. So it should come as no surprise that a look so versatile has morphed into one of this season's biggest hair trends, most recently spotted on multiple runways at New York Fashion Week, including Altuzarra and L'Agence.
And who better to school us on creating the dreamiest-looking beachwaves than Sarah Potempa, celebrity stylist and founder of The Beachwaver Co.? For a more uniform look, start by using a curling iron – like The Beachwaver Co. Beachwaver S1 – to curl one-inch sections of hair away from your face, leaving about 2-3 inches of hair out at each of the ends to create a more lived-in look.
"After all of your hair is curled and has cooled to the touch, take a soft bristle brush to brush through and smooth all of the curls. This will transform the curls into smooth, relaxed waves," says Potempa. "For added texture, you can spray your roots with a dry shampoo. This will add volume and absorb oil giving the look a natural and effortless finish."
If you don't want to go strand by strand, one of Potempa's favorite hacks is pulling the hair into a ponytail, curling the ponytail, before taking the elastic out and brushing through the hair. This also delivers a lived-in finish but on a time crunch.
Slicked Back Ponytails
When all else fails, or when you want to feel like a bonafide boss, it doesn't get fiercer than slicked-back hair. This was another go-to look during NYFW S/S2023, executed most beautifully on the Michael Kors and Laquan Smith runways. According to Potempa, the slicked back ponytail in particular is "timeless" and "the perfect way to elevate any outfit."
The key to mastering this look is starting with a smooth base. A dryer like  The Beachwaver Co. Pro Dry will ensure that your roots are laying as flat as possible, thus preventing flyaways and surprise bumps once the ponytail is in place. If your hair can tolerate heat, you might as well use the same kind of tool to smooth out the rest of the hair too. Whatever the case, be sure to apply a heat protectant beforehand, especially if you have textured hair.
"This type of look is amazing with added shine! Try spraying a soft bristle brush with our flexible hold heat protectant hairspray,  The Beachwaver Co. Great Barrier Heat Protectant Hair Spray, or using our new keratin and argan serum, Shine Bright," Potempa adds. "Both will give you that extra shiny finish while taming flyaways and reducing frizz!"
90s Throwbacks
From Kim Kardashian's bun with tail to Chanel Iman's retro updo on the Sergio Hudson runway to the handful of middle parts at the Primetime Emmys – Reese Witherspoon, Issa Rae, andSydney Sweeney, to name a few – it seems we're on a time machine back to the 90s. Not that we're complaining; these throwback looks are so much fun and easy to add personal flare to. 
One of Potempa's favorite comeback dos, and recommendations for trying on the 90s trend, is a set of double braids with some hair left out to play with — middle part included, of course.
"Use a small amount of  The Beachwaver Co. Braid Balm to help make your braids sleek and shiny. On the right side of the part, make a mini 3-strand braid down to the cheekbone. Repeat this on the left side," she says. As for the rest of the hair that's left out, get creative. If you're going for classic beachwaves or bigger mermaid waves,  The Beachwaver Co. B1 or The Beachwaver Co. 3B Waver are tools that will make achieving each one a lot easier.
But ultimately, the possibilities are endless, and don't forget: "accessories from the 90s like butterfly clips are so cute and can really transform the look."
Whichever one you decide to try, we're sure it'll look fall-rific and fabulous!