That's So Raven was groundbreaking for me as an early-'00s Black tween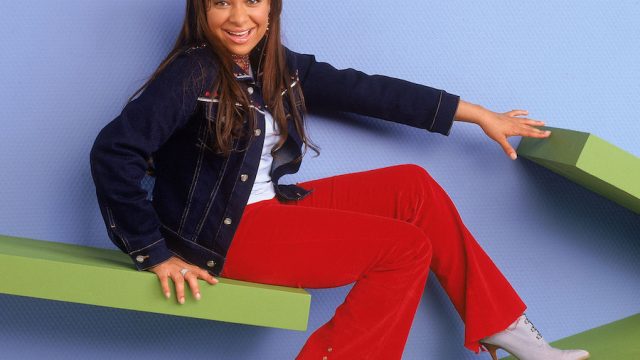 February is Black History Month. Here, an HG contributor discusses how the plots in That's So Raven tackled young Black kids' everyday experiences in a way that she desperately needed.
Before there was ever a K.C. Undercover, Girl Meets World, or Andi Mack, there was That's So Raven. Tweens in the early 2000s just couldn't get enough of the Raven-Symoné-led series about Raven Baxter, a psychic teen whose zany visions landed her friends, her family, and herself into all kinds hot water. I was one of them.
The series provided a fun and at times normal depiction of an African American family. At the peak of America's boyband obsession, it introduced viewers to Boyz N Motion, the best fictional musical group ever. It coined multiple comedic catchphrases like "oh snap!" and "ya nasty," both delivered by Raven with her over-the-top facial expressions that would put today's memes to shame.
Weird outfits and comedic catchphrases aside, though, the series was television gold because of how it excelled at tackling tough issues that tweens and teens like me were facing. Unlike other shows marketed towards a younger demographic then—and, let's be honest, now—That's So Raven wasn't afraid to go deep.
Case in point: Before being "woke" was an overused phrase on social media, Raven and best friends Chelsea (Anneliese van der Pol) and Eddie (Orlando Brown) tackled racial discrimination in the workplace.
The Season 3 episode titled "True Colors" shows Raven and Chelsea both applying for jobs at Sassy's clothing boutique. Given that Raven is a bonafide fashionista and makes her own clothes, she should've been a shoo-in for the job. Instead, only Chelsea is hired despite being grossly underqualified. After having a vision that the store manager refused to hire her because she is Black, Raven is crushed. "I always knew about racism," Raven says in the episode, "but I never knew how much it could hurt." Fortunately, she refuses to take the discrimination lying down. Chelsea wears a hidden camera under Raven's instruction and captures the manager saying, "I don't hire Black people," on tape. The manager is subsequently fired.
This episode didn't sugarcoat anything, and that's what made it great. Racism is racism, and the writers on That's So Raven had no problem calling it such. Workplace discrimination continues to be a hugely significant issue, and the show's ability to discuss oppression in a funny, informative, and real voice is a skill that many programs today still lack.
Body-shaming is another harmful societal practice that continues today, and That's So Raven tackled that head-on too.
In an episode called, "That's So Not Raven" Raven gets a vision of herself modeling her own designs in a fashion show. But that vision quickly goes sour when the magazine sponsoring the show photoshops someone else's body over hers, making her appear much thinner than she actually is. This was one of the first times Raven's weight was ever actually mentioned on the show—a plus, given the fact that most fuller-figured characters' stories are almost always only about their size. Therefore, it was also the first—and one of the only—times that the audience saw Raven's confidence rocked. After she embarks on an excessive exercise regimen, Raven's family and friends are luckily able to convince her that she is completely fine just the way she is. It's the magazine that has the problem.
Raven's rediscovered confidence leads to a showdown on the runway where Raven comes out modeling her own design and gives the magazine editor a piece of her mind. "Because in case you haven't noticed, people come in all different shapes and sizes, and they're all beautiful," she says. A hilarious booty bump follows and Raven struts down the catwalk to applause.
Covering social issues on the Disney Channel isn't exclusive to That's So Raven.
The network continued the practice with Girl Meets World, which explored different cultures and discussed the Holocaust. Similarly, K.C. Undercover delved into Black history and sexism when its characters traveled back in time to learn the story of The Organization's first Black female spy. But That's So Raven paved the way for this programming by tackling issues that young viewers were currently experiencing in their daily lives.
For the most part, everyone can agree that America's history is full of injustice. But with women dominating in Congress, Barack Obama as a former president, and Beyoncé selling out stadiums, some people refuse to recognize that racism and sexism still very much exist. From 2003-2007, That's So Raven dispelled this absurd myth time and time again by putting Raven and other characters in normal, everyday situations where they faced discrimination.
This was groundbreaking and eye-opening for viewers who didn't experience racism or body-shaming. And it was validating for me as a young Black girl who did—because it helped me know that I wasn't alone.
No shame, I also enjoy watching the spin-off series Raven's Home. Much like its predecessor, the new series tackles single motherhood and divorce with humor, wit, and wisdom way beyond its viewers' years.
It's been sixteen years since That's So Raven first premiered, and while Raven herself has unfortunately said problematic things about Blackness in real life since then, I still smile thinking about what the series gifted its audience when we were kids. The program made so many of today's tween TV shows on the Disney Channel and beyond possible, and that alone makes me "oh snap!" with pride.