18 Thanksgiving Outfits That Are Cute and Comfortable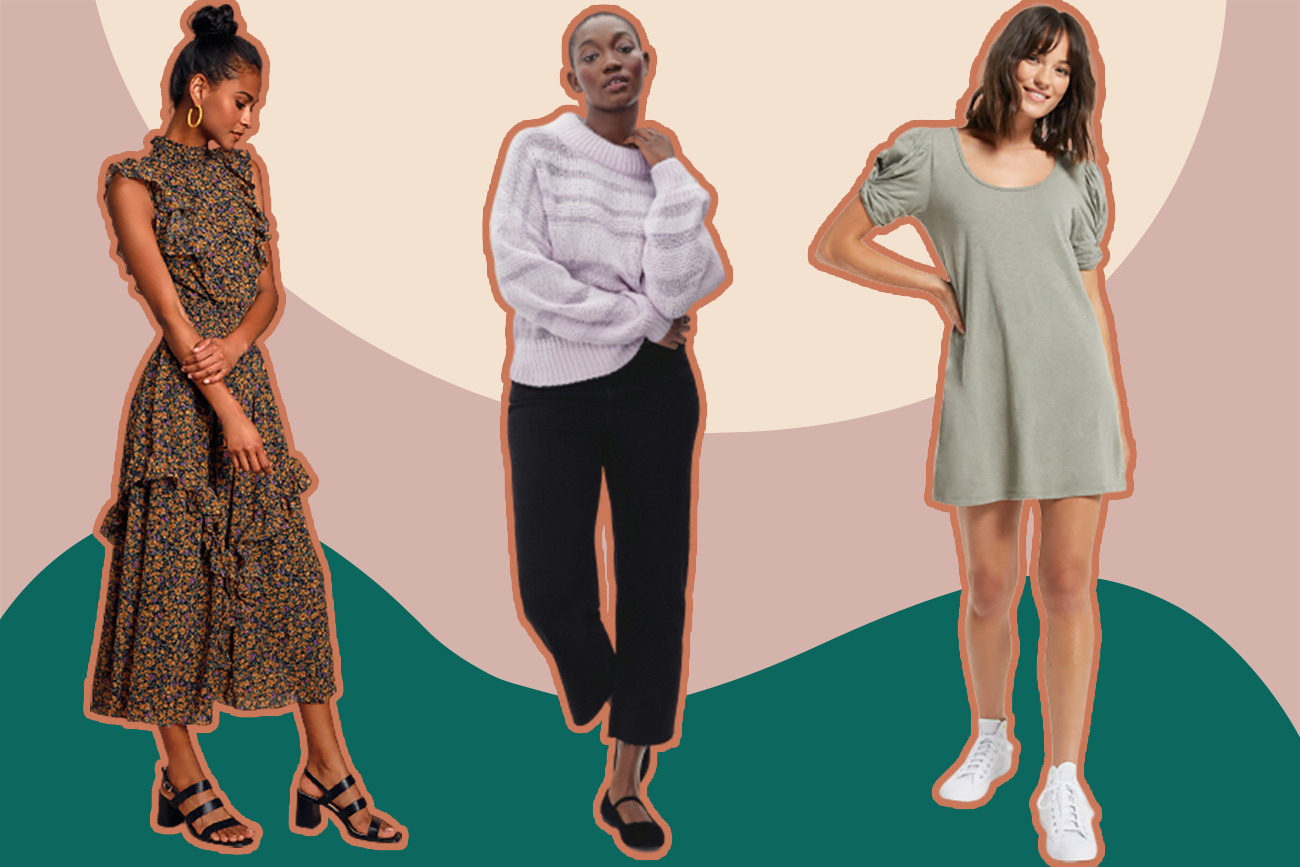 Fall is in full swing, and before you know it, it'll be Thanksgiving. In addition to all of the delicious food that we're already daydreaming about, we're also pumped for the fall fashion. However, since the holidays can be stressful with all there is to plan and prep, we want to take off one more thing from your plate by helping you choose your Thanksgiving outfit.
Whether your Thanksgiving dinner is a fancy occasion with all of your friends and family or a more low-key evening at home with your closest people, you're going to need an outfit that makes you feel cute and comfortable. From dresses to pants and dressy blouses to adorable fall sweaters, we've got you covered with 18 Thanksgiving outfit ideas that are sure to impress.
1. A flowing dress
A printed long, flowing dress is a fall staple and perfect for Thanksgiving. Whether you choose to pair it with heels, flats, or even casual sneakers, you can dress this piece up or down while still feeling dressed up for the occasion.
2. A casual puff sleeve dress
If you prefer a more casual style for the evening, this dress is a great choice. It's as comfortable as a T-shirt dress, but the addition of puff sleeves makes it feel more elevated. It's also the perfect blank canvas that allows you to add accessories, wear a statement shoe, or pair it with a light jacket to spruce it up.
3. Dark wash denim
This is the season to whip out all of your dark wash denim that's been in storage. For Thanksgiving, we recommend a pair of black-meets-gray straight leg jeans, like these, which are chic and have a vintage silhouette.
4. Plaid shacket
Shackets are trendy for their thick, warm material and similar fit and look as a flannel long sleeve. Throw one of these on over a basic T-shirt and jeans, and you instantly have a put-together, comfortable outfit for your Thanksgiving feast.
5. A button-up dress shirt
According to celebrity stylist Dani Michelle, an oversized button-up dress shirt is a must-have in your wardrobe. "What's funny about a dress shirt is you can wear it oversized, and it adds a professional look, but you can also wear it as a dress with really great shoes," she says. We recommend a pair from her collaboration with DSW. Overall, it's a great neutral piece that can be easily styled to your liking for Thanksgiving. 
6. A slip-on silk skirt
A slip-on silk skirt is not only lightweight, airy, and comfortable, but it's so versatile. Pair this printed skirt with a cozy knit sweater and a pair of boots for a chic dinner fit. Or, you can dress the skirt down with a T-shirt and sneakers for a more casual take.
7. A fluffy sweater
When in doubt, wear a statement sweater. Whether you pair it with a skirt, pants, or leggings, it's an easy, low-effort fit that requires little accessorizing and layering because the sweater is the star of the show. We love this one for the puffy sleeves, printed pattern, and soft material.
8. A belted cardigan
You can never have too many cardigans in your closet. For Thanksgiving, though, go with a belted option that you can adjust depending on how much stuffing you treat yourself to. The additional detail makes it double as a cute sweater and top that can easily pair with any bottoms and shoes.
9. An oversized blazer
According to Michelle, an oversized blazer is a go-to when you're in-between outfits. "If I'm not sure what to wear, I wear a blazer that's oversized because I feel comfortable without feeling like I'm in restricting clothing," she says. Pair it with a dress or a shirt underneath and any pants for a fashionable and modern Thanksgiving outfit.
10. A lounge dress
Hear us out: Loungewear may not seem like the automatic go-to for Thanksgiving, but if you spend the holiday at home, loungewear is the perfect dinner-to-couch outfit. The best part is that it doesn't have to look so casual. Take this slip dress, for example. Throw on a cropped cardigan on top, and you have an elegant and comfortable outfit.
11. A sweater vest
Sweater vests are having a moment right now, and we're here for it. You can wear it as is or layer it with a long-sleeve button-up or T-shirt underneath for a classic take.
12. Corduroy pants
It doesn't get more "fall" than corduroy pants. Opt for a fall-toned hue with a looser, boyfriend fit, like these. They'll go great with a range of tops, including sweaters, blouses, and graphic tees.
13. Wide leg pants
Whether you're going into the office, out for drinks with friends, or a Thanksgiving dinner, these wide-leg jeans are great for any occasion, especially when paired with chic heeled sandals and a cropped top, which Michelle says adds balance to the oversized fit on the bottom.
14. A loungewear set
Another loungewear fit that can pass as a sleek Thanksgiving outfit is this best-seller from Summersalt. To friends and family, it's a slick, monochromatic fit with its wide-leg silhouette and fitted mock neck top, but you'll reap the comfy benefits of the silky soft material that hugs the body in all the right places. The matching top is available for $45.
15. A button-up dress
You can take this simple, flowing button-up T-shirt dress from summer vacation straight to your Thanksgiving dinner table. It's cute, fashionable, and affordable. If it's a bit chilly outside, pair it with some tights and a warm jacket.
16. A ruffled denim dress
For fashionistas who love a good style moment, this patched denim dress is chef's kiss. It's like your typical chambray button-up shirt but with a stylish twist—we're obsessed. Pair it with your favorite fall boots for an instantly stunning look.
17. Bootcut denim jeans
A good pair of denim is the perfect canvas to build any outfit. These are comfortable, fitting, and high quality, and given that loose jeans are trending, we recommend adding one to your repertoire for Thanksgiving. Whether you pair it with an oversized blazer, sweater, or pretty blouse, you can't go wrong.
18. A denim pencil skirt
A pencil denim skirt is similar to jeans in that it goes with almost anything. The biggest difference is it adds a more structured shape and playful aspect to your outfit.