19 Thanksgiving Nail Art Ideas to Try Over the Holidays
From tortoise details to simple squiggles, these design are anything but basic.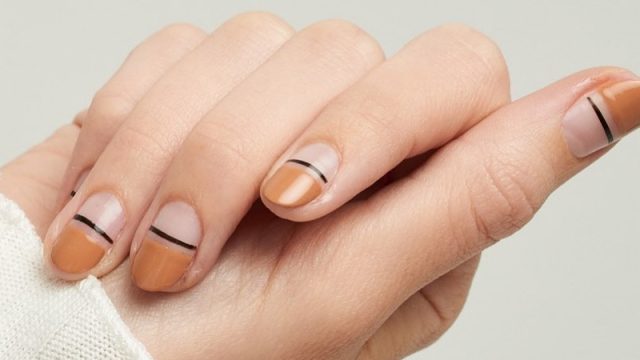 We're all about celebrating the holidays in every way we can. Whether that means spending time with loved ones, treating ourselves and practicing self-care, watching movies that fill us with joy, or getting into the spirit via our style choices, we're here for all of it. Honestly, anything that brings us a smile has the green-light in our book. One of the easiest ways to show your love for the upcoming holiday is also one of the most cost-efficient, and it's right at your fingertips—literally.
Thanksgiving nail art is the way to go for people who love a good theme, and it's so easy to recreate at home. Since this holiday is all about warm colors, cozy sweaters, and comfort food, we suggest you create nail art designs that reflect just that. From simple half-moon designs and warm metallics to nail art stickers and plaid patterns, there's something below for every personal style. Take a look below for some of our favorite nail designs this November, and allow yourself to be inspired.
1. Gentle Ombré
Test out your artistry skill for this beautiful ombré look. First, apply a nude base color and let it dry. Once it's completely dry, take a cosmetic sponge and apply your tip color to the upper half of the nail, blending it into the nude halfway through. To finish the look, use a nail art brush and draw on a thin gold line at the cuticle for a playful pop.
2. Metallic Halfies
Easy to achieve and super festive, this fun look is sure to spark joy. For hyper precise application, use a strip of tape to block off half your nail to use as a stencil to prevent wobbly lines.
3. Gravy Nails
Minimalist and chic, this simple nail art design is one of the easiest to recreate and will look good with every outfit you wear. Use a caramel-toned nail polish on the top half of your nail and then, with a nail art brush, draw a thin line using your favorite black polish. Wait for both to dry, then finish the look with a shiny top coat.
4. Autumn Leaves
You can easily make your own seasonal designs by applying a nail art sticker on top of the base color of your choice to take your mani to the next level. Finish off by applying a top coat to extend your manicure's life and have it last well throughout the long holiday weekend.
5. Dessert Details
Again with the nail art stickers! Choose to highlight your favorite dessert (as showcased above) by featuring it on your nails, but even though your fingernails will look yummy enough to bite, try to wait for the real deal instead.
6. Tortoise Tips
We know the French mani is back with full-force, so it's inevitable that variations of the '90s trend be thrown into the game. Combine the beloved throwback trend with a modern one, and create chic tortoise tips for Thanksgiving. To recreate, use a French tip sticker for clean lines, then fill in with variations of brown and black polishes. Follow this easy YouTube tutorial that breaks down the step-by-step.
7. Caramel Dots
This reverse half-moon mani takes nail art to a whole new level with its copper dot detailing. To recreate, use nail glue to place a gold dot where the polish starts and hold in place until it dries. Ta-da!
8. Thanksgiving Skittle Nails
If nail art is too much to deal with, simply paint each nail a different, but complementary color. Earthy tones are perfect for the holiday, and the ease of this manicure is definitely something to be Thankful about.
9. Nail Art Decals
You don't need to be a nail artist to pull off intricate designs. Achieve a pro-worthy mani with the help of a nail art decal—it's really as easy as that. Simply place the decal on your nail, file the edges off to fit your nail shape, and that's it! Some people like to apply a top coat for an extra-shiny finish, but it's not necessary.
10. Earthy Glitter
Playing with different finishes, designs, and colors can still look chic if you keep a minimalist approach and stay in the same color family.
11. Negative Space
Use your nail art brush to delicately outline 3/4 of your nail with a warm metallic polish for this minimal mani.
12. Cranberry Sauce
Thanksgiving wouldn't be complete without our beloved cranberry sauce, and we like it so much that we want it to inspire our manis. To recreate this look, paint your nails with your favorite crimson shade, and using nail tape, create the geometrical cut-out and fill it in with a heavy-duty gold nail polish. Easy!
13. Accent Nails
If you're feeling more fall than specifically Thanksgiving, add a simple nail sticker of a leaf to one (or more!) of your fingernails for a cute pop of autumnal spirit.
14. Plaid Party
Have fun with seasonal patterns, glitters, and solids to recreate this fall-inspired look—just don't forget your nail art brush.
15. Frothy Cappuccino
How cute is this nail art design? Simple draw on brown bubble corners over a white base and you're all set. Keep it nice and simple by leaving it there, or dress it up with a variety of rings to make it pop a bit more.
16. Warm Half-Moons
Half-moon manis are one of the easiest nail art designs to make, and thank goodness. The simple silhouette makes nails look elegant and trendy, while still very posh. Simply use hole reinforcement stickers (yes, the ones you used to buy for your binders) and apply polish over them—wait for it dry, remove, and apply a top coat to seal the look. Play it up by switching the color on each nail for a fun twist.
17. Sweater Weather
We love wrapping ourselves in warm, cozy sweaters, so why not bring our favorite fashion trend to our nails as well? To recreate, start with a cream base color, and with your nail art brush, create squiggles, straight lines, and dots to imitate the patterns of your favorite knit.
18. Paintbrush Designs
The point of this mani is for it to be imperfect, making it one of the easiest and most stress-free looks to recreate. Layer white, crimson, and emerald green nail polish colors over a nude base and seal them all in with a top coat. Picasso, WYA?
19. Glitter Tips
Step up your French mani with a festive Thanksgiving twist. Instead of paint your tips white, paint them a caramel color and top it off with a warm-toned glitter polish. Voilà!