Thanksgiving-in-a-blanket might be the most ingenious Thanksgiving leftovers recipe ever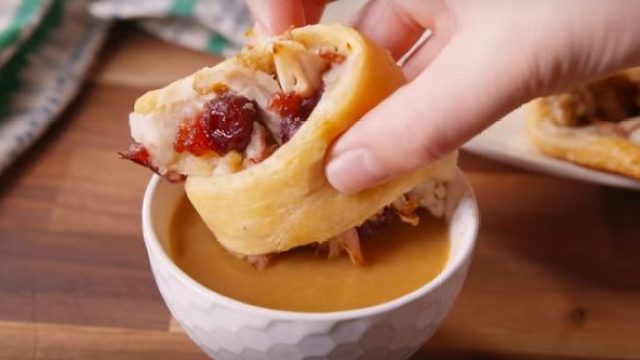 OK, folks. You made it. It's the day after Thanksgiving.
That means a lot of things: Waking up with turkey (or regular) hangovers. Shopping for Black Friday deals. Gilmore Girls on Netflix. And also, almost certainly, creative turkey day leftovers.
You could throw your leftover turkey, stuffing, and cranberry sauce on some bread and call it a day, but we say your Thanksgiving feast deserves better.
The recipe is so simple you don't actually need a recipe. Just whip out some crescent roll triangles, dollop on your favorite leftovers, roll, and bake. Ta-daaaaa! Instant festive deliciousness.
Delish, the site behind this ingenious post-Thanksgiving creation, has a few tips for anyone looking to try:
"Although you'll really really want to stuff them to the max, don't! Too much of everything will make rolling them up a sloppy affair," they write.
They also want to make sure you resist the urge to drizzle gravy inside the crescent roll. "Please don't," they warn. "Nobody likes a soggy pastry. Dipping the Thanksgiving-stuffed crescents in gravy is the better way to go."
You better believe we're trying this ASAP!