18 gorgeous fall flowers to make the perfect Thanksgiving centerpiece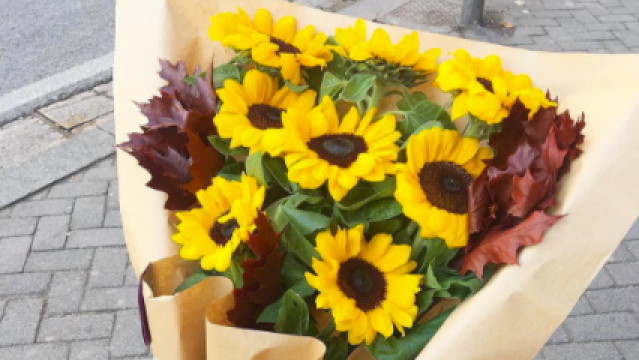 With Thanksgiving around the corner, you most likely got an invite to someone's holiday dinner. Bringing something seems like a no-brainer. While most folks will bring food, you can stand out by gifting a gorgeous fall flower centerpiece. As a result, everyone will love you!
Furthermore, rather than buying a bouquet of flowers, consider making one yourself. You have so many choices! Wildflowers, Pinterest, and Instagram are your best friends now. Get creative! Because even flowers are just a click away, you can even get a head start. In conclusion, as blogger Heather Eigler writes:
"Really, fresh flowers are so pretty that you can't get it wrong. Pick what you love and put them in a suitable vase on the table and you'll bring in that natural element that everyone enjoys. Once the table is set with all the fixings and surrounded by the people you love there will be much to be thankful for, floral arrangements included."
1. Chinese Lantern
The orange and brown hues are perfect for a fall table.
2. Goldenrod
Yellows can brighten up a space quickly!
3. Beautyberry
Another great accent color for the bouquet.
4. Helenium
Nicknamed "Sneezeweed," these flowers are harmless and won't actually make you sneeze.
5. Miscanthus Grass
Because no one else will bring grass to Thanksgiving. Guaranteed.
6. Ornamental Peppers
https://www.instagram.com/p/BLQKlWFFlWp
Edible arrangements are all the rage these days. In addition, you can stick some into a dish later on!
7. Heliopsis
While they may look like sunflowers, these are not.
8. Toad Lily
The name is pretty weird, and they look a little strange at first. But the beauty is in the fall coloring.
9. Witch Hazel
First of all, they are beautiful. Second of all, casting spells after dinner is awesome.
10. Iberis
Because these guys bloom during the fall and spring seasons!
11. Sunflowers
The only flower that has seeds you can enjoy for days after.
12. Garden Mums
https://www.instagram.com/p/BMOVWlSjR2o
Give your mum a garden mum.
13. Pansies
If you pick the right colors, they can bring a room together!
14. Fountain Grass
This fun-looking plant gives your flowers a pop of something extra.
15. Japanese Maple
The shapes of these leaves are so magical.
16. Colchicums
Because fall doesn't mean we can't have pink.
17. Sedum
https://www.instagram.com/p/BNBwGZcAH1z
You can also go with fall greenery for a less floral, but still homey, look.
18. Sweet Autumn Clematis
Fragrant and beautiful. How can you go wrong?