Want to send Hillary Clinton a thank you card? Here's how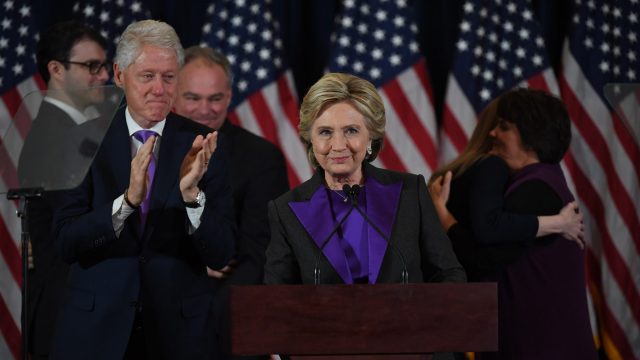 There's no real way to sugarcoat this, so let's just state the obvious: This has been quite a tumultuous week for the United States of America. There's been a lot of stuff that's happened this past week — good and bad. We have a new President Elect, Republican Donald Trump, and even though Hillary Clinton won the popular vote (at last count) she has conceded the election. We're not just kinda bummed, we're a lot bummed.
Hillary, as a political figure, has done SO MUCH for our nation, both in and out of office. She was First Lady, she was Secretary of State, she was a Senator from New York, she's a mother and a grandmother. She's done a hell of a lot; tbh, she's done more than many of us will ever do in our lifetime. This lady is ON FIRE, even if she's not holding the most powerful office in the nation.
Now that the election is over, maybe you're thinking about what you can now do for Hillary…and tbh, considering how accomplished she is, there's not a whole lot we could do for her, you know? But, there is a way to show your gratitude to Hillary, and it's one of the simplest gestures ever: Send her a thank you card.
There's a P.O. box set up for Hillary in New Your City (she lives a little bit more upstate, when she's not trying to change the world) and all you need is a canvas, an envelope, and a stamp, and you, too, can thank Hillary for all she's done for us. Here's her mailing address:
Hillary Clinton
Post Office Box 5256
New York, NY 10185-5256
The address was first tweeted out by YA author Heidi Heilig, who grabbed the address off of the website for Hillary for America. It has since been retweeted thousands of times all across Twitter. Though Hillary's campaign might be over, this address will still work. false
So for a $1.99 + the cost of a stamp, you can personally thank Hillary for such an amazing run.