Thank the beauty gods: Kat Von D's Pastel Goth palette is coming out WAY sooner than we thought
Even those of us who are in head to toe black are curious as to what is in Kat Von D's new Pastel Goth eyeshadow palette. Last week, the artist took to Instagram to show the colorful, yet gothic-inspired palette, but she didn't show us what is inside! Oh, the suspense!
Yesterday, Kat participated in a live broadcast on her Facebook page hosted by beauty blogger Kandee Johnson and Too Faced's co-founder, Jerrod Blandino. It was every beauty junkie's dream!
The FB live was meant to promote their upcoming beauty collaboration, the Better Together collection. The three set line comes out next Monday, December 26th. THAT IS NOT ALL. Kat let it slip during the interview that we can expect to shop Pastel Goth VERY soon.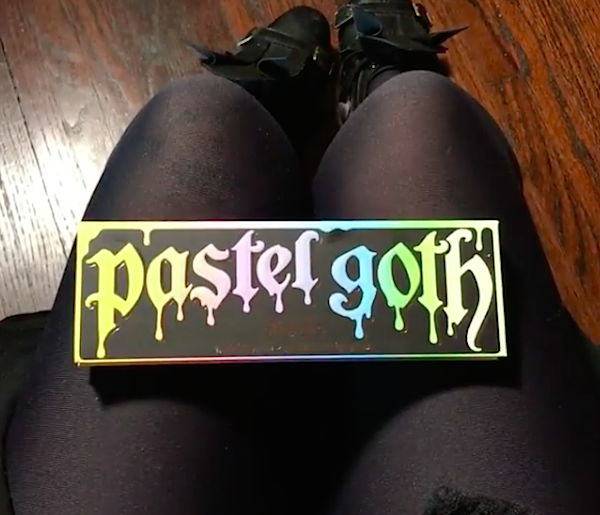 Off camera, Kat's team told her that swatches from the Pastel Goth palette have been shot! They are ready to be unleashed and we can't wait to see what goodies are inside. That's what happens when you're live on FB!
We can not wait to see what high pigment pastels Kat has come up with. She said they are total life changers. Coming from someone who usually dresses in all black, we believe her!
The Kat Von D beauty team also confirmed that the palette will be available between late January and early February. We expect it will join the rest of her collection both at Sephora and online at katvondbeauty.com.
It looks like we will have it just in time for Valentine's Day!
https://www.instagram.com/p/BNxeCkyBAEz
Kat's eyeshadows are a staple in her makeup line, with a wide color assortment and fun names! She often packs tons of colors into single palettes, just look at the Alchemist one.
https://www.instagram.com/p/BNIBil_h401
As an artist, and especially as a tattoo artist, Kat knows the importance of having a wide variety of shades to choose from. A complete eye look is like a complete tattoo, a thing of beauty!
We love this unique perspective that Kat lends when designing her products.
Leave it to Kat to bring the perfect light to balance out all the shade!