Thank the glitter gods: Stila released a new red hot Magnificent Metals eyeshadow shade
We can't think of anything hotter for summer than a sexy, daring glittery eye, and the best way to achieve one is using Stila's Magnificent Metals liquid eyeshadows — they're beyond stunning and come in a wide array of shades to suit your needs. We are so pumped to find that Stila has released a brand new shade just in time for the solstice, and it couldn't be more red hot.
The glitter lid is all the rage this year, but it can be tricky to accomplish IRL if you don't have the right products. Stila's Magnificent Metals collection makes it easy as pie thanks to its doe-tip applicator and impeccable formula that won't leave you looking like a tween in the '90s.
Currently, Stila's Magnificent Metals new shade, Next to Notte is only available to VIB Rouge members for $24.
But you better believe that the second it's widely available, we're going to be scrambling to get our hands on it.
Can't you just picture yourself rocking a red lid on the Fourth of July? Honestly, you deserve to look that hot. This oxblood, dark berry shade is rich, luxurious, and decadent. It manages to look flirty, fun and sexy while also being totally chic and classy.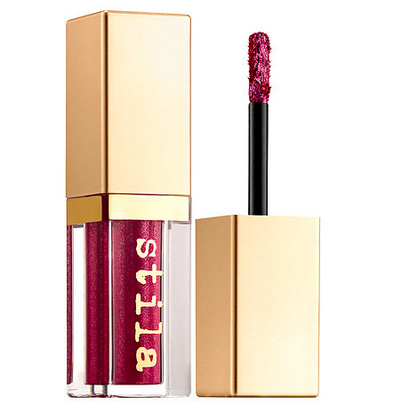 While you're waiting for Next to Notte to be widely released, treat yo'self to any of Stila's other gorgeous Magnificent Metals shades.
They're all just too good to be true.
This brilliant, long-wearing liquid glitter eyeshadow is the perfect blend of pearl and glitter, so you look radiant and lustrous — never tacky. It's lightweight and glides on effortlessly, but then it dries smoothly and locks in color so you don't need to be worried about fallout.
For those of you who are VIB Rouge members, you're in for a real treat thanks to this new shade, which you can shop here. Luckily, the rest of us have plenty of gorgeous hues to choose from while we wait for Next to Notte to join the ranks. Keep your eyes peeled, it could happen soon.