You should send these feminist facts to every single person you know today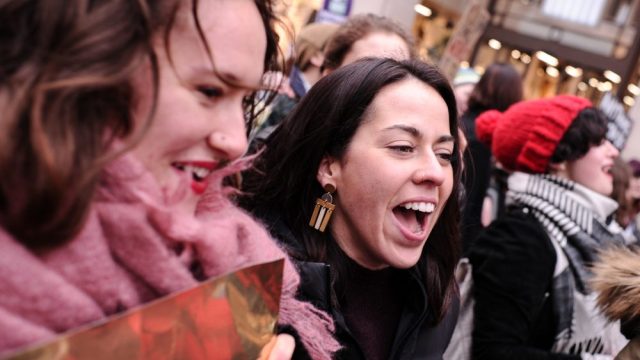 Thanks to the work of feminist activists all over the world, women in the U.S. have significantly more rights and privileges compared to women of past generations. We can open our own bank accounts, own property, go to college, and vote—to name just a few. Today, March 8th, is International Women's Day, and we're celebrating all of these victories in the fight for gender equality. And one website has come up with the perfect, most shareable way to show our appreciation for activists of the past with their "Thank a Feminist" facts.
The site, School of Feminism, created eye-catching, colorful posters and shared them on Instagram. Each poster pairs simple icons with factoids about women's rights. (Be sure to click right on the posts below!)
You can view and download all of the posters at the School of Feminism website, and the site has versions available in English, Spanish, Italian, and Catalan (a language spoken in eastern and northeastern Spain).
It can be all too easy to take our basic rights for granted—especially if we grew up never knowing any other way. And while it's true that the gender wage gap still exists, reproductive rights are still being challenged, and violence against women happens every single day (and it's important to recognize and work to change all of this), we're grateful for how far we've come. Today, we're taking the time to remember all of those who came before us in this fight, and we're already thinking about what we can do next.