Thandie Newton's Golden Globes dress is dipped in glitter flames
If there's one takeaway from this year's Golden Globes, it's that sparkles and glitter were the top trend on the red carpet. Celebs came out disco ball dresses in all shapes and forms, but we're especially loving Thandie Newton's minimalistic glitter. The Westworld star stunned in a white Bardot gown, with dark gold-ish orange sequins running down the bottom of the dress, looking like a beautiful flame. Dare we say, her look is on fire? While most celebs seemed to be covered in sparkles, the Golden Globe nominated actress' take on the trend really stands out.
Check out her look below: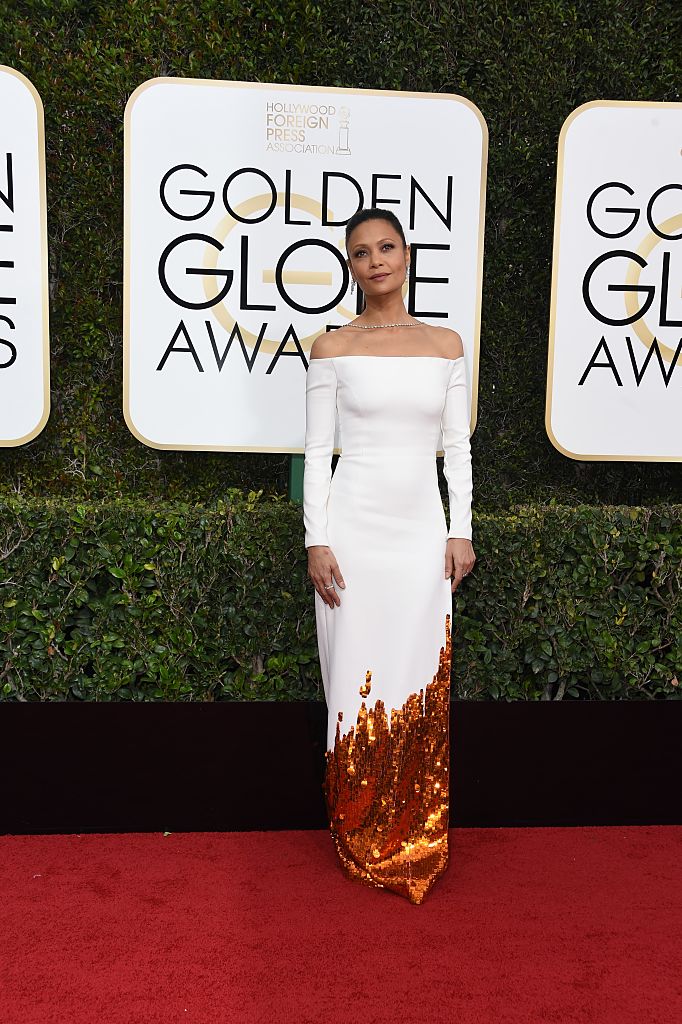 Is the look inspired by her Westworld character, Maeve? (Spoiler alert if you haven't watched or finished Westworld, TURN AWAY NOW!) In one of the final episodes, she sets the camp on fire in order to be brought to the Westworld headquarters — and while everything is ablaze she gets it on with Hector (Rodrigio Santoro).
The actress recently opened up on her decision to take on the role of Maeve in Westworld, including her decision to bare all on screen. She said:
"Of course I'm an empowered woman. I wanted to do Westworld for my kids, particularly for my girls .They have created a world which deals with the issues I've struggled with all my adult life – exploitation, ignorance, and a culture of complicity and disconnection. It was deeply empowering.
We love how she's not afraid of standing up for herself and empowered women everywhere and we absolutely love all she brings to Westworld. Keep slaying, Thandie.